Accounting Apprenticeships Overview
Apprenticeships are an effective substitute to universities. If an individual opts for a degree apprenticeship, he/she can graduate with several years of work familiarity under their belt. An apprenticeship is an occupation with considerable training and expansion of transferable skills. It enables an individual to gain work experience along with real qualification, and the opportunity for higher earnings. The best part of the apprenticeship program is no university debts – an individual is earning all through the apprenticeship period and there is no coaching fee. In simpler words, an apprenticeship is a combination of study and work – apprentices are usually entitled for the same rights as other employees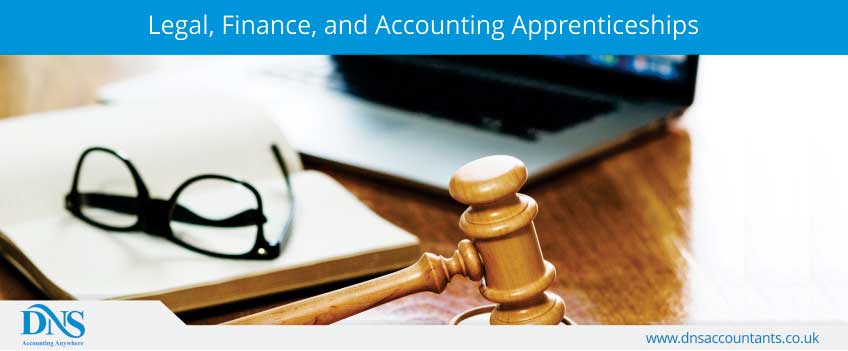 Kind of Apprenticeships
An individual needs a fact-finding mind and the aptitude to comprehend large amounts of multifaceted data in many jobs in legal service area. If an individual has such skills, law might be a suitable field. Also, the financial services industry provides a selection of roles. An individual will be required to be good with numbers and have good business, organisational, and people skills in these jobs.
There are positions accessible in several sub-sectors of the accounting, legal, and finance sector:
Accountancy
Chartered legal executive
Paralegal
Insurance
Solicitor
Apprenticeships have corresponding educational levels mentioned below:
| | | |
| --- | --- | --- |
| Name | Level | Corresponding educational level |
| Intermediate | Level 2 | General Certificate of Secondary Education (GCSE) |
| Advanced | Level 3 | Advanced Level (A-level) |
| Higher | Level 4, Level 5, Level 6 and Level 7 | Foundation degree and higher |
| Degree | Level 6 and Level 7 | Bachelor's or master's degree |
In order to apply for accounting, finance, and legal apprenticeship, the eligibility criteria is as follows:
An individual should be 16 years old or above
An individual will be eligible to work in England
An individual should not be in full-time education
Highest Paid Apprenticeships in the United Kingdom in 2017
Financial services apprenticeships

There are a range of apprenticeships existing in financial services, which cover a range of specialisations comprising: operations, investment, finance, and technology. Investment banking firms such as JP Morgan provide schemes that cover investment and finance, while Lloyds, Barclays, and Santander provide trainee roles in audit and management, digital technology, and finance. These schemes are comprehensive and often come with an assured job, based on successful accomplishment of the apprenticeship. Below mentioned are apprenticeships details:

Beginning pay prior to tax: Between £15,000 and £21,996
Qualifying pay prior to tax: More than £31,000
Eligibility criteria: Three C grades at Advanceed-Level or a similar level; Mathematics and English grade B or higher at General Certificate of Secondary Education (GCSE)

Accountancy and business apprenticeships

Prominent professional service multinationals' such as Deloitte, EY, KPMG, and PwC offered apprenticeships that empowered students to become fully-qualified professionals without even completing a degree. These jobs range from diverse sectors comprising: taxation, M&A, technology and management consultancy, assurance. The trainee programmes are city-based and normally can be completed in three to five years, dependent on the structure and certifications an individual undertakes

Beginning pay prior to tax: Between £17,000 and £20,000
Qualifying pay prior to tax: More than £25,000
Prerequisites: Five General Certificate of Secondary Education (GCSEs), comprising English and Maths, at grade C or higher, and three Advanced Levels at grade C

A profession in accountancy can encompass working in three diverse environments – could be in accountancy practice; working in various industries such as manufacturing or retail; public sector. In order to cater to the varied needs of clients, accountancy can be classified into a range of offering such as:

Tax accounting

is governed by the Internal Revenue Code (IRC), which decides the rules to be followed by organisations and individuals while preparing tax returns

Financial accounting or financial reporting

where financial statements are produced based on a set of principles referred to as GAAP (Generally Accepted Accounting Principles)

Governmental accounting

looks into the performance and financial position of organisations in the public sector

Forensic accountants

reconstruct missing or duplicate data in circumstances of fraud and misrepresentation. Accountants in this field usually operate as consultants, as a small number of corporations are in need of a round-the-clock forensic accountant

Public accountants

operate for a public organisation, and perform auditing, consulting, taxation for businesses and individuals

Internal auditing

encompasses the examination of an establishment's financial performance to categorise fraud, waste, or over-all errors within the establishment's internal systems

Management accountants

prepare material for an establishment's management, for internal operational reporting

Accountants have a tendency to dedicate themselves to one of these accounting types. Additional information can be sourced from United Kingdom's main industry bodies:

Chartered Accountants Ireland (Northern Ireland and Ireland)
Institute of Chartered Accountants in England and Wales (ICAEW)
Institute of Chartered Accountants of Scotland (ICAS)

Accounting apprenticeship salary

Below mentioned are the rates for National Minimum Wage beginning 1st April 2018

| | |
| --- | --- |
| Age | Current Rate |
| 25 and above | £7.83 |
| Between 21 and 24 | £7.38 |
| Between 18 and 20 | £5.90 |
| Below 18 | £4.20 |
| Apprentice | £3.70 |

Considering apprentices are required to work for a minimum of 30 hours a week, the normal salary for the initial year apprentices is about £8,500 - £9,000

Legal apprenticeships

The United Kingdom government is working towards launching an apprenticeship structure that will enable school leavers to turn into fully-qualified legal representative despite completing a degree. The scheme allows apprentices to sign up for a five or six year programme, straight from school, which is more work-based education and assessment that provides them the prerequisites of legal representative. Additionally, there are numerous other legal apprenticeship programmes presently used by employers. Leading legal firms such as Fieldfisher and Gordons combine on-the-job preparation with courses from Chartered Institute of Legal Executives, which meet the requirements of a chartered legal executives. This offers them a comparable role to a legal representative, yet selected areas of their work must be administered. Apart from this, other apprenticeship programs include alliance with universities. For instance, a partnership was signed between Manchester Metropolitan University and Co-operative Legal Services to train personnel as paralegals, attorneys and administrators

Beginning pay prior to tax: circa £17,000
Qualifying pay prior to tax: More than £35,000
Prerequisites: Five General Certificate of Secondary Education (GCSEs), comprising English and Maths, at grade C or higher, and three Advanced Levels at grade C

Digital marketing or creative apprenticeships

A number of social media and marketing firms provide apprenticeship arrangements intended for school leavers. These programs are provided in cities across the United Kingdom, and trainees take advantage from a well-planned development curriculum, which provides candidates the possibility to grow into future management leads and strategy heads

Beginning pay prior to tax: circa £18,000
Qualifying pay prior to tax: More than £25,000
Prerequisites: A noticeable interest in social media and marketing. Work experience in marketing/advertising, a blogger, or a creative curriculum vitae will all be considered favourably

Computer hardware apprenticeships

Advanced degree-level apprenticeships are offered across the information technology and data processing sector. From software engineers to computer manufacturers to electronic engineers, these programs are ideal for an individual who has technical skills and who has a keen interest in arriving to solutions in a logical manner. Apprenticeships in this sector have robust potential of developing into leaders of tomorrow and additional opportunities to focus on as an individual progresses

Beginning pay prior to tax: More than £15,000
Qualifying pay prior to tax: Once specialised, wages can extent above £40,000
Prerequisites: Five General Certificate of Secondary Education (GCSEs), comprising English and Maths, at grade C or higher. Other applicable higher qualifications such as Advanced Levels, diplomas, National Vocational Qualifications are required for an advanced apprenticeship
Higher and Degree Apprenticeship Segments
Accounting, Finance and Legal
Administration and Business and Law
Animal Care, Agriculture, and Environmental
Childcare and Education
Commercial and Retail Enterprise
Communication and Information Technology
Construction, and Planning
Design and Creativity
Digital
Hospitality and Catering
Manufacturing and Engineering
Mathematics and Science
Procurement, Marketing and Sales
Public care and service, Health services
Publishing, Arts, and Media
Security and Protective Services
Transport and Logistics
Examples of Employers Providing Apprenticeships
WSP
Willis Towers Watson
Wessex Water
Wates
Vodafone
Virgin Media
Unilever
TUI
Troup Bywaters + Anders
Transport for London
Thales
Tesco
Staffordshire University
Sky
Skanska UK Plc
Siemens
Severn Trent
Sellafield
Santander
Sainsbury's
Royal Navy
Royal Air Force
Rolls-Royce
Renishaw
QA
PwC
OMG
Network Rail
Nestlé
National College for High Speed Railway
McCann Worldgroup
Marks & Spencer
Mace
Lloyds Banking Group
Laing O'Rourke
KPMG LLP
JCB
Jaguar Land Rover
P. Morgan
IBM
GSK
Grant Thornton
GE
GCHQ
Fujitsu
EY
EDF Energy
Dyson
Dentsu Aegis
Deloitte
Civil Service Fast Track
Cisco
CGI
Capgemini
BT
Boots
BDO
BBC
Barclays
Balfour Beatty
BAE Systems
Babcock International Marine & Technology
Atkins
Army
Arcadis
Airbus
AECOM
Accenture
Speak with an expert
Any questions? Schedule a call with one of our experts.