On 5th March 2019, HMRC launched its consultation on introducing the off-payroll working rules to the private sector from 6th April 2020. In the Autumn Statement 2018, HMRC had announced its intention to make these rules applicable in April 2020, and from the consultation it looked to receiving feedback on the suitability of the reforms and solution to successfully implement it in the private sector. Summary of responses received from tax experts, recruitment, contracting and legal sectors warned HMRC that if these changes are implemented in April 2020, it may cause damage to the flexible workforce and UK private limited companies.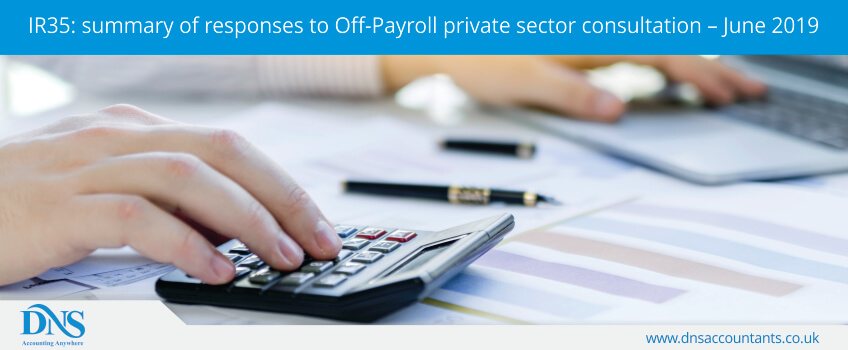 The recurring issues and recommendations made were –
Halt reforms until April 2021
To provide employment rights to the deemed employees.
HMRC'S Check employment status for tax (CEST tool) still not fit for the purpose.
Extensive non-compliance of off-payroll working rules in the public sector.
Exemption to small companies are considered unsuitable.
Liability model grossly unfair on compliant parties.
Strong opposition to client led disagreement process.
Timing of the proposal is a concern in relation to Brexit.
There are around 29 consultation responses received as a feedback from Institute of Chartered accountants in England and wales (ICAEW), the recruitment and employment confederation (REC), the confederation of British industry (CBI) and the association of independent professionals and the self-employed (IPSE).
CEO of Contractor calculator, Dave Chaplin highlighted that "We analysed the summary of responses and found many practical and ethical issues in HMRC's proposal to implement off-payroll working rules in the private sector." He also added that "we don't believe HMRC that they will present the accurate representation of the feedback as previous concerns shared by the respondents are properly ignored by HMRC".
New off payroll consultation brings old issues to the front
In response to the previous consultation in September 2018, large majority of responses received from the respondents brings many old issues in the limelight again. Dave Chaplin said "This proves that HMRC is not doing enough to address these important issues that off payroll working rules brought to the front".
He also said that the summary responses received by us in our September 2018 report, identified the 10 most important issues raised by insiders & industry experts. HMRC try to address just two of them but solutions to these issues are shot down with considerable arguments.
Again, stakeholders urged HMRC to give employment rights to the deemed employees. Further they highlighted the reforms may damage the workforce flexibility of contractors as less people will be willing to work as self-employed and if the flexibility is disrupted significantly, it can hamper the necessary supply of medicines and services to patients as warned by pharmaceutical and locum bodies.
IR35 advisors, Bauer & Cottrell commented "No proper analysis has been done in the past at the time of implementation of off-payroll public sector working rules to know how public sector rules have worked and what is its true impact"? It is properly ignored by HMRC at that time. Dave Chaplin also added that many organisations has taken interest and raised concerns after analysing the off-payroll rules and their effects on the public sector, but it is not good enough on the part of HMRC that they continuously ignored the concerns raised by these organisations.
Stakeholders expose fundamental flaws in HMRC's new proposal
HMRC tried to address the issue of unfair burden that compliance requirements put on small businesses. However, in response to it, taxman proposed that the majority of respondents found that it is complicated to apply small company exemption accurately in practice as well as it may receive exploitation from large number of firms.
HMRC's proposed client led status disagreement process also received heavy criticism with many persons highlighting that the proposal of HMRC restricts access to tribunal and may encourage risk-opposing blanket assessments.
IPSE also added that "It is against justice that the dominant party between the two should be empowered to lead the disagreement process".
As per the responses received, all respondents want to delay extension of off-payroll working rules to private sector until April 2021 as HMRC has not given adequate time to businesses to prepare for April 2020. There are many flaws in the plans that HMRC want to implement in April 2020, especially the CEST which has received heavy criticism. Therefore, with Brexit looming, it is better that HMRC should seek more time to work on these concerns and right now postpone the date of off-payroll working rules to April 2021 for private sector.
The draft legislation due to be published on 11 July 2019, will make it clear if HMRC is prepared to delay the reforms. Though looking at the timing it doesn't seems like HMRC has taken time to review the responses and the consultation was merely another tick box exercise before introducing the perceived catastrophic reforms bound to hamper the contracting industry.
Speak with an expert
Any questions? Schedule a call with one of our experts.