With so much in the headlines about residential and buy to let mortgage rates and landlords being affected by rising rates, is now the time to switch mortgages and remortgage a buy to let property?
There may be a number of reasons why as a landlord you are looking at how to remortgage a buy to let property. Remortgaging can be a great way to release equity, but it may depend on the equity held in the property and the current deals on the market.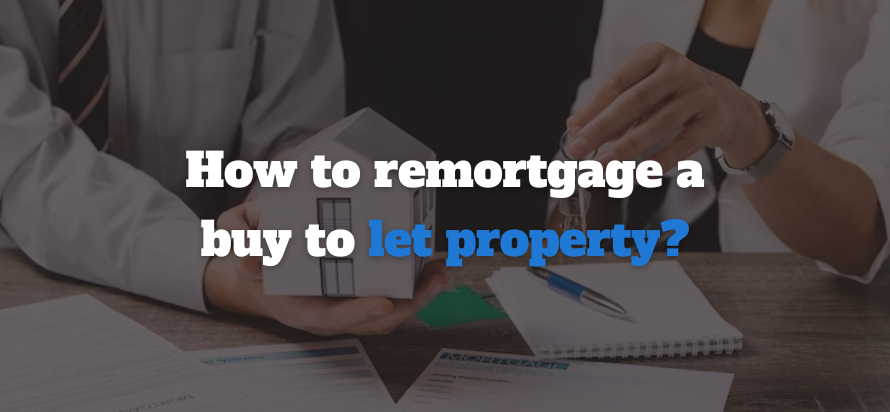 The buy to let market is suffering monthly repayments increasing, a rise in the interest rate, house prices not yet dramatically dropping, increased legislation and landlords selling up and getting out of the market altogether. For those landlords coming out of fixed rate mortgage deals, it is a turbulent time.
In this blog, we look at:
What is a buy to let remortgage?
Why remortgage a buy to let property?
How does a buy to let remortgage work?
Is now a good time to consider remortgaging a buy to let property?
What is a buy to let remortgage?
A buy to let remortgage is simply when you switch to a new mortgage on a property that you rent out. This may involve a new mortgage lender or simply a change of mortgage with your current lender and signing up on a new deal.
Why remortgage a buy to let property?
1) Your current mortgage deal is coming to an end
Some buy to let mortgages were taken out on a fixed rate for a set period of time on a current property. Your previous mortgage may have been a 2, 3 or 5 years for example and that fixed rate term may be coming to an end. If you dont actively remortgage at end of that fixed term, your lender will put you on the lenders standard variable rate mortgage (SVR), this is usually higher than the fixed rate and may not necessarily be the best deal at that time, so it pays to shop around for better deals with other lenders or switch to another deal with your current lender.
2023 has seen significant increases in mortgage rates compared to previous years and many landlords are facing significant buy to let mortgage increases as their fixed deals come to an end.
You may choose to remortgage and fix your future rate (even on a rate that's higher than you'd like) just to get some financial stability for a fixed period. Alternatively, you could take out a variable rate mortgage to get a cheaper rate today, but the knowing that the mortgage rate may continue to rise.
The best thing to do is seek advice from a specialist buy to let mortgage broker, who will look at a range of mortgages on the market and advise you on your options.
2) Save money
For many landlords coming to the end of a fixed rate deal is likely to increase costs, however, if you simply allow your buy to let mortgage move onto your banks standard variable rate (SVR) automatically, then it is likely to be more expensive. So, in this case shopping around, finding the right lender and remortgaging a buy to let property now vs your banks standard variable rate mortgage could save you money.
Whether or not you can find a deal that's cheaper than your existing one will depend on your current deal and the options you have available to you.
3) Carry out property improvements
If your property has gone up in value or you have equity in the property, then you may have the ability to release the money needed for things like property improvement. You may need to show that the improvements will add value and attract higher rents.
4) Release equity to purchase additional buy to let property investments
It's fairly common for landlords to remortgage their existing investment properties to raise money to purchase an additional buy-to-let property, thereby expanding their portfolio and increasing rental income.
Depending on how many buy to let properties you already have, you may need to remortgage to a lender that specialises in landlords with a portfolio of properties. Some landlords find that a portfolio mortgage, which consolidates all your buy-to-let properties or for consolidating debts into one mortgage, helps them to manage their finances. When you take out a portfolio mortgage, it's possible to release equity at the same time.
You should think carefully before consolidating debts via remortgaging as you may pay more in the long term. There may be costs involved in doing this or higher interest rates so, again seek advice from a specialist mortgage broker.
5) Change a buy to let mortgage to residential
If you once rented a property out but you now want to move into the property, you will need to change the mortgage to a standard residential mortgage instead of a buy to let mortgage. A residential mortgage may be able to be arranged by your current lender or you can again search the market for the best residential mortgage deal. Residential mortgages tend to have lower interest rates and lower fees than buy to let mortgages, and you can shop around for best deals, so this could save you money.
How does a buy to let remortgage work?
The process of taking out a buy-to-let (BTL) remortgage can be fairly straightforward. If you fulfil the criteria, you can either remortgage to a new deal with your current lender or search the market to find the best deal from other lenders. Not all lenders will look at the same criteria, loan to value ratios or offer the same deals .
The BTL remortgage process will be longer if you are switching lenders because you are applying for a new mortgage all over again. A new bank will therefore want to run credit and affordability checks and carry out a valuation of the property, so bear this in mind and build additional time into your plans.
Factors that affect your buy-to-let remortgage
Your lender or a new lender will need to reassess you in the same way as when you took out a previous or original mortgage to ensure you can cover the repayments.
They will look into the following things before offering you a remortgage:
Your income.
The amount of equity you have in your current property.
Your credit score.
How much your buy-to-let mortgage repayments will be.
How many other buy to let properties you have, their value and outstanding debt on them.
If youre looking to purchase a new buy to let investment property you will need to fulfil the criteria of a buy-to-let mortgage, as well as the remortgage, unless you've used equity to buy it outright.
Is now a good time to consider remortgaging a buy to let property?
As the UK sees soaring mortgage rates and a cost-of-living crisis, the rental housing market undergoing changes, landlords need to navigate a myriad of challenges and opportunities, especially when it comes to remortgaging a buy-to-let.
If your current mortgage deal is due to finish within the next six months, then now is certainly the right time to at least review the various options that are available to you. Planning ahead means that if you find a deal you like, you can secure it now without having to commit to it until later.
Landlords remortgaging a buy-to-let are likely to be facing significantly higher interest rates. Landlords transitioning to standard variable rates after fixed deals are also likely to experience a substantial increase in mortgage costs.
However, there are opportunities in the market for landlords as house price growth slows, rental prices increase, giving landlords the ability to take advantage of available stock, negotiate better deals and potentially increase their portfolios.
However, we see mortgage lenders offering less mortgage deals and implementing stricter lending criteria on their buy to let remortgages.
Whether now is a good time to remortgaging a buy to let property will depend on your own personal circumstances including your previous mortgage deal, early repayment fees, your credit history, your current property portfolio, rental income, rental yield etc.
Seek advice from your accountant and a specialist broker to consider and plan for all your options.
Here at dns accountants we support and advise thousands of landlords. If you are a landlord and need help and advice on your finances, tax or your buy to let property portfolio call our team on 03300 886 686, or email on enquiry@dnsaccountants.co.uk.
Speak with an expert
Any questions? Schedule a call with one of our experts.