As a business owner, you may dream of the day when you can sell up and retire. However, for many business owners this dream doesn't become reality, either because the business has little value or there just aren't potential buyers out there that are interested in the business in its current state.
Many business owners over value their own business, so it's important you get an accurate business valuation and understand the key drivers that will increase the value of your business.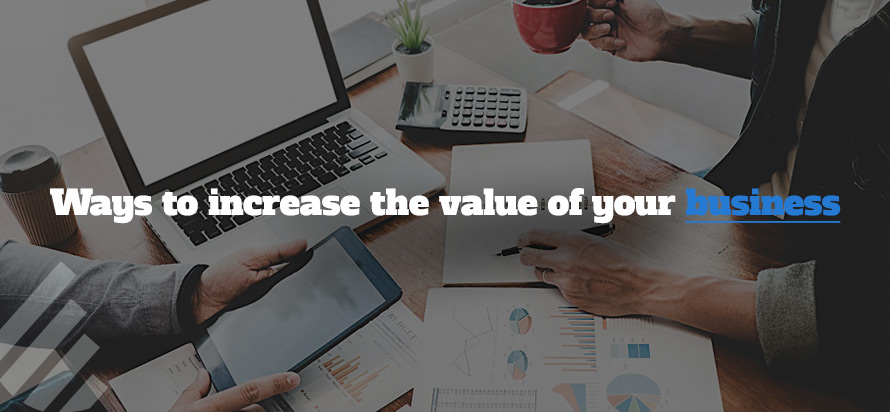 So, if you are dreaming of the day you sell your business and you want to increase business value, you need to consider all the ways to increase the value of your business.
Improve margins and cash flow
Being profitable with cash reserves in the company, having healthy margins and healthy cash flow is crucial to increase business value. You cannot maximise business value without focusing on margins, current cash flow and future cash flow.
Buyers want to see healthy cash flow. But don't make the mistake of relating cash flow with revenues. You can have healthy revenue but have high expenses leaving you with struggling cash flow. Cash represents growth and stability to a buyer, which will add value.
Strong management team
The less dependent a company is on you the owner, the more valuable it is. A successful and valuable business is one that doesn't rely on its owner to run it.
At first you may be indispensable to your business but, eventually you need to step back from the day-to-day operations and build a strong management team.
Systems and processes
Buyers look for companies that have effective systems and repeatable processes in place. This again relates back to over dependency above. With the right systems and operations in place, the company is likely to increase efficiency and improve business value to potential buyers.
The future success and growth of a business will depend on having the right processes and systems in place and this is what potential buyers will look for in a successful business.
Having a clear operations strategy assures potential buyers that the business is well positioned to sustain and increase profits and value.
Competitive advantage
Having clear sight of your competition and working to maintain competitive advantage is crucial to increasing the value of your business.
Competitive advantage may be achieved by having a unique unique selling point (usp) or product, or the people, systems, processes, operations and plant and machinery you have.
Diverse customer base
As much as you don't want your business to be over reliant on you, the business owner, you also don't want to be over reliant on a small handful of customers. A diversified customer base is what buyers will look for, where no single customer accounts for more than 8-10% of total sales.
This avoids major financial issues through the loss of a major customer. Customer concentration is something to be avoided, so diversify and extend your customer base in your business to increase value.
Consistent revenue growth
Buyers will look at three years or more financial data. Sales revenue is vitally important. Showing steady and consistent growth and recurring revenue streams will add value more than ad-hoc high spikes in earnings, interspersed by flat or negative earnings.
Having consistent revenue makes it more possible for buyers to understand where the business will be in the future.
Financial controls
Many companies lack reliable financial reporting meaning that buyers can't clearly see or track revenue streams, profits or cash flow. Bad or out of date financial reporting can indicate to buyers that there's an underlying problem or can be seen as poor management.
Forecasts should also be in place, so buyers can see that the company is managed well and that they can assess the future of the business based on well thought out future forecasts.
Formal contracts with customers, suppliers and employees
It's crucial to increase value that all the right contracts are in place with customers, suppliers and employees.
Ensure you contractually secure all relationships as this adds certainty and stability for potential buyers to see.
Scalability
A scalable business is one in which profit margins increase as revenues increase. To be scalable a business has to be able to increase profit marginsbut not increase costs in line with increasing revenue. To add value, you need to ensure that your business is scalable now and in the future.
Summary
If you want to create more value in your business, you need to plan ahead, prove to potential buyers your company's and management track record and have clear forecasts, plans and processes. Not only will all these things increase business value, but they will also attract a potential buyer to your business.
Small businesses often lack the foresight to consider the drivers in their business that will increase value and then fail to sell their businesses for a healthy figure or fail to sell their businesses at all.
If you'd like help and advice on increasing the value of your business or on selling your business, then our experts as dns accountants can help. Simply call us today on 03300 886 686, or you can also e-mail us at enquiry@dnsaccountants.co.uk.
Speak with an expert
Any questions? Schedule a call with one of our experts.