Improving cash flow can be a challenge for even the most profitable businesses but understanding where cash flow issues occur and tackling them before they get out of control can massively improve your business success.
Cash flow management is key to running a business and tackling cash flow problems head on is imperative.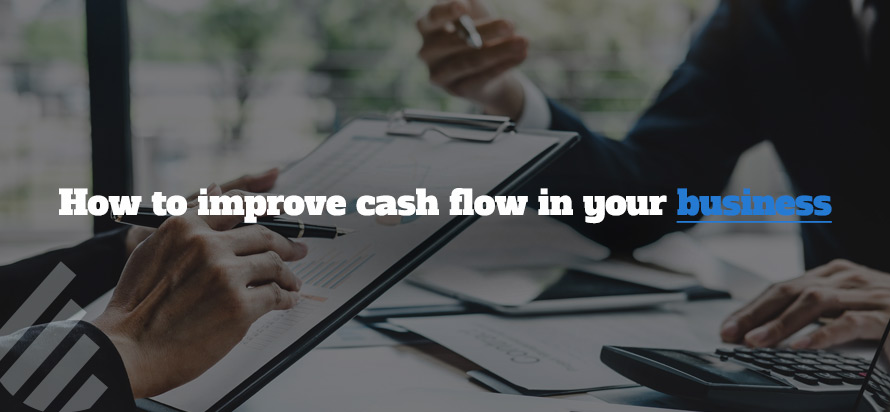 Actively managing and improving cash flow will help make your business stronger in the long term.
In this blog we cover 10 ways to improve cash flow.
Ways to improve cash flow
Lease instead of buying.
Getting paid quickly.
Send invoices quickly and make them clear.
Check your supplier payment terms.
Do customer credit checks.
Cut unnecessary spend.
Control inventory.
Raise prices.
Understand your cash flow statement and produce cash flow forecasts.
Consider invoice factoring.
1. Lease instead of buying.
Often leasing can work out more expensive in the long term but it can help hugely with maintaing a healthy cash flow for day-to-day business operations.
Leasing will help you to avoid large up-front costs of new equipment and other capital expenditure. Leasing equipment for a monthly or quarterly fixed fee spreads the cost of the equipment and will preserve your cash reserves.
Leasing can often include repairs and maintenance, so factor this in when considering lease vs purchase options.
2. Get paid quickly
How do you encourage your customers to pay early? Delayed or late payment can be one of the big factors in cash flow problems. Making sure your clients pay on time is imperative. If your accounts receivables (cash inflows) are delayed because customers aren't paying on time or quickly, it'll lead to negative cash flow. Late payments can cripple a business.
To help quick payment, negotiate terms with your customers to pay as early as they can. Asking for a deposit upfront or 50% payment at the start of a job can alleviate some of the issue and generate some quick cash.
Offering a small discount to customers for early payments could also work but factor this discount into your prices and quotes.
You can also reduce unpaid invoices by using late payment fees. But be sure to clearly highlight the late payment penalty in the contract and again when you invoice. Clearly explain the fee and when it applies to avoid souring a customer relationship.
Offer easy payment options via live links on the invoice and taking electronic payments etc.
Chase customers as soon as the payment date has been missed. Keep track using good accounting software to give you up to date information on overdue sales invoices.
3. Send invoices quickly and make them clear
Always ensure that you invoice regularly, this may be monthly, at the beginning of a job or as a job is finished. Put invoicing at the top of your to do list.
Ensure your invoices are clear and concise and not open to misinterpretation or queries to speed up payment. State the payment due date clearly in a few places. Be clear on payment options and any late payment fees or early payment discounts.
4. Check your supplier payment terms
Getting faster payment is one strategy but another strategy is to be clear on your supplier payment terms and pay your supplier invoices only when they are due. With electronic payments, you can pay your suppliers accurately on the date the final payment is due. Waiting to pay suppliers until their deadlines can hugely help your own cash flow.
Remember you can also negotiate with suppliers for longer payment terms in exchange for your business or for a discount for paying early.
5. Do customer credit checks
If your customers aren't paying cash, then it's important to do a credit check on them before you begin to trade with them. If they have a poor credit score or history, then you need to weigh up if it's worth taking the business and expect that they may not pay on time.
6. Cut unnecessary spend
Often expenditure can run away with itself. It may be something simple like licences for software you no longer use and auto renew, paying for an online training course you've never got around to taking, allowing inventory to build up or not negotiating energy, rental, or other costs regularly.
Each thing on its own may not seem like a big expense but combined they can be expensive and a drain on your cash flow.
Focus on cutting out unnecessary spending only, don't cut things that are critical to your business.
7. Control inventory
Take a stock check or inventory check. Stock ties up cash and can lead to later cash flow problems. Check anything that isn't selling at the same pace and look at how you can sell or get rid of that stock. Be objective, offering discounts to sell them is better to get some money in the bank than them sitting on a shelf gathering dust.
8. Raise prices
This often frightens many business owners as they think it will reduce sales or affect customer relationships. It may not be the first choice to improve cash flow but should be part of a wider cash flow strategy. Test this out and see if it does have the affects you were expecting, you may be surprised what your customers are willing to pay.
9. Understand your cash flow statement and produce a cash flow forecast
Often there is a pattern to cash flow issues, so it's worth spending time analysing your cash flow over a period of time to identify trends. These trends may be cyclical, weather dependent, geographical, based on products sold or customers sold too. If you understand these trends you can be more prepared for them.
A cash flow forecast is a document you should prepare to show your business's income and outgoings for the future. Often it's broken down by weeks, months or quarters. Use our cash flow forecast template.
It will help you easily see when you will have a surplus or a deficit of cash in your business and will help you to better plan when to pay supplier invoices or chase customers for payment or offer early payment discounts.
Use your historical data to identify patterns and help with cash flow forecasting.
10. Consider invoice factoring
Invoice factoring could help you to free up cash by selling outstanding invoices to a third party company. Typically, the third-party will buy an invoice for 70-90% of its total value. The factor then takes control of the credit control process and chases the customer for payment.
However, it's worth considering that you will only be paid once the factor has received the payment from the customer. They'll then pay you the final outstanding invoice value, minus their fee.
For businesses with high value invoices, where late payment can have a huge affect on cash flow, invoice financing can be a low risk way to release working capital.
Summary
Healthy cash flow is imperative to the survival of your business, even some of the most profitable businesses have failed because of bad cash flow management. Considering and implementing a cash flow strategy will be a good way of managing cash flow in your business. Good cash flow management can also lead to better business decisions and the ability to plan for growth and future investment.
If you need help with cash flow management or cash flow forecasts then dns accountants can help. Please contact us today, call us on 03300 886 686 or email us on enquiry@dnsaccountants.co.uk.
Speak with an expert
Any questions? Schedule a call with one of our experts.