Buying a preestablished business is an exciting prospect. For first timers, it can be a quicker and easier way to enter the business community compared to starting from the ground up. For established owners, it can be a smart investment to grow your business quickly.
Startups fail at alarming rates, so buying a preestablished business can often be a less risky way to expand and begin a new venture. You can buy a business to expand, diversify, enter a new market, attain new customers or attain a new product or service.
But such a considerable investment is not without its risks. There is a lot to think about before taking the plunge, and making the venture a successful business can take considerable effort. We've outlined some best practices and things to consider that everyone from small business owners to veteran investors will find helpful.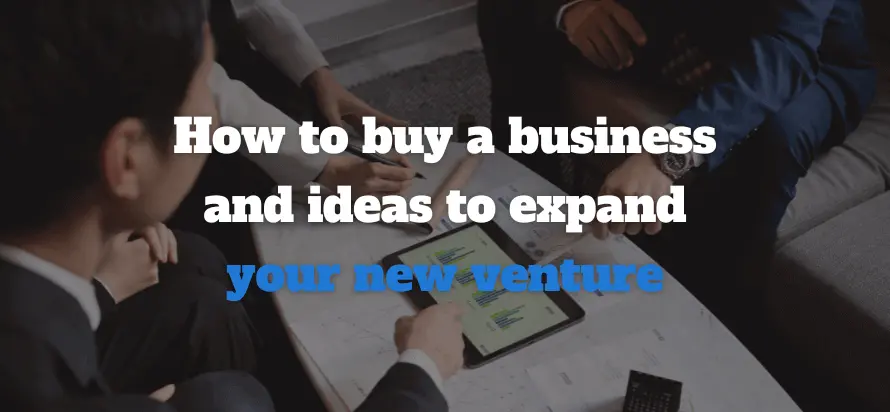 How to find a business to buy?
First things first, how do you find a business to buy? This can be a tricky question, even for experts in their respective fields. Most people don't just stumble upon the perfect investment opportunity, knowing where to look is important.
The best place to start is with market research; is your chosen industry in a downturn, or is it booming? Knowing this general information can guide your efforts in the right direction of buying a successful business to profit from, or a failing business to build up. It can also help you anticipate potential pain points, like direct competitors, for after the purchase.
There are various websites on which one can find business up for sale. However, be cautious of just buying a business via a generic website and jumping in without taking advice. Use a professional corporate advisor, such as dns accountants to find and recommend the right businesses to buy and undertake financial due diligence on the business before you purchase it, to minimise your risk.
Competition to buy the right business might be fierce, so consider other avenues of search. Networking events are a great place to learn about opportunities that others might not find. There will be locally organised events that are attended by other businesses. Find such events that fit your goals and attend as many as you can. Form connections with a variety of people, create strategic partnerships and spread the word that you're interested in investing. No matter how digitised and online things get, many business owners will still prefer to work person-to-person and get professional advice and support.
Which business to buy?
The desire to buy a company is one thing, choosing one to buy is another. The business landscape itself can be overwhelming, especially for first time buyers. Here are some factors to consider:
What are you looking to achieve?
Are you aiming to exert more control over your own sector? Support yourself while being your own boss? Practice corporate social responsibility by providing a particular service or diversify into a new area? Make sure you're clear on your goal and how the investment is going to pursue it.
What is the current state of the business you're looking to buy?
Are you looking for an opportunity to turn around a failing company? Or has a successful business come up for sale that you want to take advantage of? Does your new purchase have any direct competitors that might threaten your venture? Neither option is better or worse than the other, but being clear on your decision is key. Research customer testimonials, talk to other businesses and check their social media platform to gather information.
What are your capabilities?
How much time and energy are you going to be able to invest in this new venture? Does your purchase come with office space, existing products or services, or any current customers? If not, have you planned for how to attend to that sort of issue?
Do you have the capital for the investment?
Most people don't have the money to outright purchase a business alone or would be unwilling due to the risk to their livelihoods. If using a mix of external funding and your own funds, ensure that the balance is right, and you or your existing business won't be left short. If you raise money from investors or financial institutions, consider the parties expectations for returns or repayment. Consult an accountant such as dns accountants and weigh up your personal liability, as overextension threatens more than just your new venture.
Planning with the above tips in mind will leave you in a more secure position, avoiding pain points and ready to grow your business.
External parties to consult
Buying a business involves more parties than just you and your seller. There are entities that you should consult, and professional service providers such as accountants and solicitors that can be helpful with all elements of your business plan.
Financing & business advice
You've got to spend money to make money, so who can you use to help finance and advise you on your business purchase?
Banks
Seeking funding from banks is well trodden path. Business finance loans are offered by a wide variety of banks or other financial institutions. These loans can be for the initial purchase, as well as other business expenses like growth, and investment such as equipment financing.
Consider the interest you'll be expected to pay, as this will impact your break even point. Most business loans are fixed rate, which means those rates won't increase over time. Also ensure you know if your loan is secured or unsecured. The former ties your repayment to a particular asset, like property, which can be repossessed if you default. The latter holds you as the business director personally liable, and these tend to be for smaller amounts. For small business owners, it may be easier to tie your loan to existing business assets. For first time buyers, consider carefully what to tie your loan to, as if the startup costs become too much, your personal property may be under threat.
Investors
Outside of banks, other funding is available. Speak to an accountant, who will have access to a variety of funding options and investors. There are always investors looking to put money behind promising new ventures for a share of the profits. These sorts of strategic partnerships can be beneficial for a number of reasons. You not only get an injection of funds, but an opportunity to ask advice on making your business idea happen, something that takes considerable effort for those without experience. Investors tend to be experienced at encouraging business growth and can help ensure you think through every aspect of your business model. You'll need to have a sound business plan in order to secure investment. Are you purchasing a limited liability company, LLP, franchise business or sole trader? Have you tested your sales funnel plan? What are the best job boards to advertise unfilled positions?
That being said, some investors may wish to be involved in the management of the business. Venture capitalist funds or angel investors will expect equity in your company proportional to the level of their investment. Depending on your goals and your investors' desires, this may not be amenable.
Accountants
Accountants will have access to several channels of finance and will be able to advise you through every part of the process of buying a business. They will offer you a wide range of additional professional services such as tax planning, accounting advice, business valuation services, finance, insurance and mortgages. They will be able to support you to help your new business grow and to manage cash flow through your business expansion and future growth.
Government bodies
This may seem obvious, but interacting with government bodies can be one of the more complex and time consuming elements of buying a business. Make sure you've done you due diligence with checking everything from sales tax to attaining a business license. This can become even more involved if you're looking to expand to global platforms and markets. The last thing you need when starting your new business is to get a letter from HMRC or Companies House.
Solicitors
As such, make sure consult a solicitor who is knowledgeable in your target market. Consider their specialisms and how much support you might need from them. For businesses offering a product or service that is tied up in red tape, you may need a long-term partnership with a legal firm. Don't assume you'll be able to stick to fixed costs if your needs change as well. It would be nigh impossible to realise your business idea without this advisement, but it could drain significant funds from your business.
Other business advisors and services
This final category can cover a wide range of other advisors, as the exact nature of who to talk to depends on the nature of your business model. Consider a corporate advisor who specialises in business acquisitions and a project management consultant to organise the integration of the new business. Contact an expert to advise on your marketing efforts; what social media platforms to use, how to target potential customers and how to adapt if using global platforms.
How to make your new business successful
So, you've attended networking events, made your business plan, put in your offer and can now call your new venture your own business. In that early period of ownership, how can you work to encourage a customer base to spend money, grow your business and make your investment worthwhile?
The answer depends on specific nature of your product or service, and the business structure you're working with. If you're expanding a current business, consider introducing a customer loyalty program to encourage customer retention at your new business. To attract new customers, work hard to develop solid marketing strategies. This is especially important if you're changing any branding and wish to retain existing customers.
If expanding your portfolio of ownership into a new area of business, gather all the knowledge you can. Attending industry events even after the purchase, talking to other business owners and keeping up to date on industry news will all help you find your feet and drive business growth.
Be mindful of the effect of an acquisition on any employees you may have. This sort of change will inevitably make your employees feel insecure, no matter how much your business grows. Even small businesses, where employees are closely invested in business growth, could find a drop in productivity and morale. Reassure your team where needed, be honest with them if cuts or changes are necessary and ensure that your people are properly supported or compensated for extra workload they may take on during those challenging early days. Your business plan, customer retention, sales funnel and everything else may be perfect, but if your team is unmotivated or demoralised, you will not be able to grow your business.
Continue to work closely with an accountant like dns who can help you to manage cashflow, advise you on tax planning, business planning, help with bookkeeping, payroll, year end accounting and management reporting to help you to truly understand your new business finances.
How dns accountants can help
Purchasing a business is a decision that should not be taken lightly. There are a lot of factors to consider, as well as the need to maintain any current ventures or responsibilities. But it can be an incredibly rewarding experience, allowing you to boost your earnings, develop your experience, and prepare yourself for further business growth in the future. Don't rush into the decision, seek professional advice throughout the process, and ensure you're protected if something goes wrong.
Hera at dns accountants we have all the experts on hand to make your new business purchase expand and be a success. We can help you to manage cashflow, advise you on tax planning, business planning, help with bookkeeping,payroll, year end accounting and management reporting to help you to truly understand your new business finances. Our corporate advisory team can help with identifying the right business to buy, business valuations, financing your new venture, financial due diligence to check the financial health of the business you are buying.
Contact dns accountants on 03330 886 686, or you can also e-mail us at enquiry@dnsaccountants.co.uk. and let us help you buy a business and expand your new venture.
https://www.dnsassociates.co.uk/corporate-advisory-services
Speak with an expert
Any questions? Schedule a call with one of our experts.