After operating for more than a century in the British department store the House of Frasers entered into administration on 10th August. The store's last hope of securing funds went in vain when Chinese firm C Banner decided to pull out of the deal. Just after it went into administration Mike Ashley's Sports Direct bought the firm for £90 million. This decision might provide Frasers some financial stability so that they do not lose out on the stores and jobs.
House of Fraser was established by Hugh Fraser and James Arthur in 1849 in Glasgow, Scotland (then named as Arthur & Fraser). During the first half of the 20th century it had acquired some big names in the retail industry like Brakers of Kensington and Dickins & Jones.
Declining Profit for House of Fraser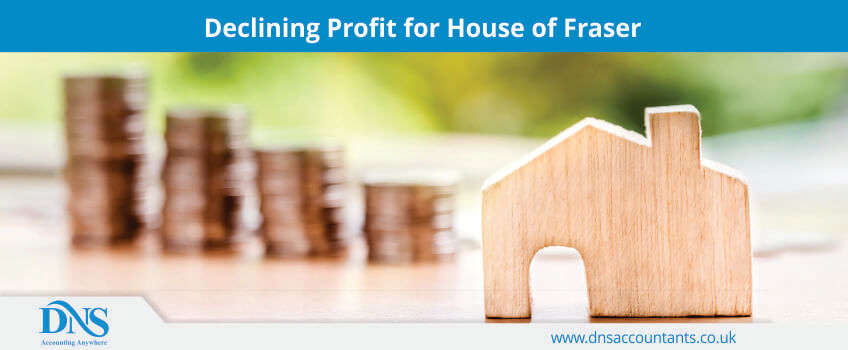 House of Fraser was never able to come up to speed with online marketing. It's traditional marketing was a hindrance to its growth in the internet marketing whereas its competitors like Canali, John Lewis were very aggressive in this sector. They spend a huge amount in revamping their digital strategies and getting more market share in this sector. However, Fraser was very slow to respond to the changes and only in 2016 it started to work on a better digital platform. By that time its competitor was way ahead of them.
Frasers also had to incur a lot of cost owing to its 59 outlets under its banner. It had spent huge amount to keep acquiring stores even when its sales were going down. Plus it did not re-invent itself at a time when its competitors were defining themselves according to their target audiences.
It's top management is also to be blamed as they were not able to steer the company in the right direction. There was no clear cut strategy on how to position the brand, how to spend on marketing activities and how to stop overspending on acquisitions. Also it was not able to receive funding when its profit touched historic low.
Moreover traditional business has to pay higher tax as compared to online business due to the current taxation system in UK. For the last financial year it had to pay £30 million in taxes only. This coupled with other factors lead to a debt in excess of £400 million.
Involvement of Sports Direct
Sports Direct already had an 11% stake in House of Fraser even before it agreed to buy it out. Mike Ashley's move might save some jobs but that is hard to predict given his earlier views of closing down more than 30 shops.
Sports Direct is a British retailing group which deals in sporting brands and has more than 600 stores worldwide. It was founded by Mike Ashley in 1982 and is headquartered at Shirebrook. It has many subsidiaries including SportsDirect, Slazenger, Lillywhites, USC, Everlast, Lonsdale, Game Digital and now House of Frasers.
By acquiring House of Frasers Sports Direct can move upwards in the retail segment even though most of its subsidiaries operate in the discount's market. For now it has been able to save some jobs and stores from disappearing completely from the UK but it is difficult to predict how the story would unfold down the line.
What it means for suppliers?
House of Frasers has two types of suppliers - wholesalers and concession holders. The former gets paid when they have sold their items to the House and the later only gets paid after the House has sold its stocks to the final customers. This means concession holders have to worry a lot more than wholesalers as they are more susceptible to not receiving payments due to closure of stores.
Since Frasers administration was part of 'pre pack' deal it means that Sports Direct has bought the business and its assets without taking responsibility of any of its liabilities. It means that most of the unsecured creditors and suppliers might not get their money back or receive a reduced compensation. Currently as per estimates the suppliers may be out of £70 million due to this deal as Sports Direct will only be responsible for paying for those goods after it completely acquired House of Frasers.
What it means for employees and pension holders?
Employees are at the highest risk as there is uncertainty over how Mike Ashley will handle the current loss which House of Frasers is facing. Employees who will not lose out on their job will be eligible for TUPE rights. Although there are high chances many employees might lose out on their jobs, it is can only be ascertained after Sports Direct rolls out its strategies. There are almost 17,000 employees whose future is at stake. Since it was a 'pre-pack' administration deal it means that Sports Direct will not be responsible for pension fund. In such a case this would fall into the Pension Protection Fund (PPF) where the pensioners will receive less amount. It will be even harder for employees who have not retired yet as they might receive 10 per cent less pension as compared to the original amount.
There are various pension schemes available for employees from which they can select. However, they must be careful about which particular scheme they select as there are advantages and disadvantages associated with these schemes. In such cases one should consult with an expert consultant before selecting a scheme.
Speak with an expert
Any questions? Schedule a call with one of our experts.