If you're a new landlord or considering renting out your property, then there are many things to consider before you let your property. Whether you are renting out a single property or multiple rental properties, you need to consider all of the points below.
Some will be legal responsibilities that you cannot afford to miss, some will be to do with maintenance and others around how you market the property to get in prospective tenants.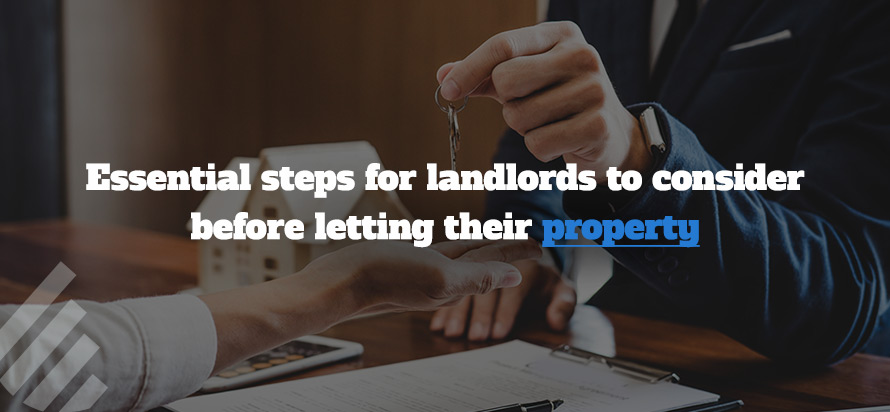 Below is our advice on the things you need to consider before you let out a property.
Rental property safety
The safety of the property you are about to let out is crucial. It's your duty as a landlord to ensure you keep tenants safe. Hefty fines and even prison can be the consequence of bad safety in your rental property.
Things like electrical safety and gas safety, installing smoke alarms on every floor and carbon monoxide alarms, and checking gas appliances need to all be considered. Read the government guidance here.
An electrical safety certificate and gas safety certificate are paramount to the safety of your tenants and regular checks of appliances to renew these certificates is also crucial. Use good tradespeople to do the checks like a gas safe registered engineer.
You must also be aware of fire safety regulations, which can also be found on the government website.
Multiple occupancy has even stricter rules, so check these out carefully.
Arrange an Energy Performance Certificate (EPC)
You must provide tenants with an Energy Performance Certificate (EPC). Any adverts you place must contain the property's EPC rating. It shows tenants how energy efficient the property is.
Get landlord insurance
You need to ensure you have adequate insurance in place for things that may happen whilst you , rent out the property.
Landlord insurance covers against risks related to your buy-to-let property and rental activity. Polices are available such as building insurance, content insurance and property owners' liability insurance. You can add additional cover, such as loss of rent, tenant default or accidental damage, depending on your needs. Think about the consequences of these things and what you need cover for and what you can afford.
How to rent guide
The 'How to Rent guide' is an essential document that you MUST give to your tenants prior to them renting the property. You can read more and download a copy of this from the government website here.
Your tenants are also legally entitled to know who you are and where you live, as their landlord. You must provide your tenants with this information within 21 days of starting the tenancy or you could be fined.
Marketing your property
How you market the rental property will depend on if you are renting privately or via an agent. Agent's will offer a tenant find service which may be good for you to use.
Most reputable agents will use major property portals such as Rightmove and Zoopla.
Getting tenants in place quickly once you're ready to let the property will help you to earn income sooner.
Ensure you have great high quality pictures and a good sales description of the property to maximise your chances of rental.
Carry out a right to rent check
The Right to Rent scheme requires landlords to check whether prospective tenants have the legal right to rent in the UK.
Immigration status can be identified by checking and taking copies of tenants' identity documents. You can check which documents are legitimate via the governments right to rent website.
If you're renting privately, you can do these checks yourself or your agent will do them on your behalf. If you don't carry out the necessary checks, you could be fined up to £3,000 per tenant.
Undertaking tenant referencing
You don't have to carry out tenant referencing as a legal requirement but it's good practice to do this to minimise risk.
A tenant reference contains information such as tenant's previous or current employment details, addresses, bank statements and references from their current landlord.
If you're taking out rent guarantee insurance, then you'll need to have referenced your tenants.
Provide a tenancy agreement
You must supply new tenants with a tenancy agreement – this is a legal contract that gives the tenant the right to live in your property, and you the right to receive rent from them.
A tenancy agreement should include the dates and duration of the tenancy, a payment breakdown and notice periods if the tenancy is terminated by either party.
You must get your tenants approval to make any changes to the terms of a tenancy agreement.
Tenant's deposit
You must put the deposit you receive from a tenant into a government-backed tenancy deposit scheme within 30 days. There are strict limits on what deposits you are legally allowed to charge your tenants.
Take meter readings
Take meter readings at the start and end of each tenancy, take photographs on your phone and store them safely for proof. Provide meter readings to energy companies but be aware that tenants can change energy providers.
Cleaning & property maintenance
Good landlords ensure the property is well maintained and clean before new tenants move in. Good property management and property maintenance is the sign of a good landlord. Doing property repairs before your tenancy agreement begins with your tenants can make sense as it's often easier to do these jobs when the property is unoccupied.
Make a property inventory
Carrying out an inventory before and after a tenancy ensures anything that comes with the property is accounted for. It minimises risk of your tenants' removing parts of the inventory when the tenancy agreement ends and avoids disputes around deposits at the end of the agreement also.
The private rented sector is a large market and becoming a landlord can be a good way to earn additional income. However, you must ensure you are fulfilling your legal requirement as a landlord. If you fail to fulfil your legal obligations to your tenants, there can be very serious consequences.
This is just a quick list of things you need to think about before letting your property. There are many other things to consider before renting your property to tenants. For more help and advice, download our dns property guide or speak to one of our landlord experts, a rental property expert or experienced letting agent. If you want up to date news on the rental property market read our blog on what landlords need to know.
For more information and expert landlord advice then call us today on 03300 886 686, or you can also e-mail us at enquiry@dnsaccountants.co.uk.
Speak with an expert
Any questions? Schedule a call with one of our experts.