Payroll is considered as one of the most important components for any business. It is the prime responsibility of the employer to pay their employees correctly and timely. Meeting obligations as an employer are often time consuming and even confusing. There are various aspects of payroll which you need to focus on before paying your employees. As an employer, you also need to fulfil your obligations towards HMRC, failing on which can push you to pay fines & penalties – but you don't have to panic as you are still having much time with you to get everything ready.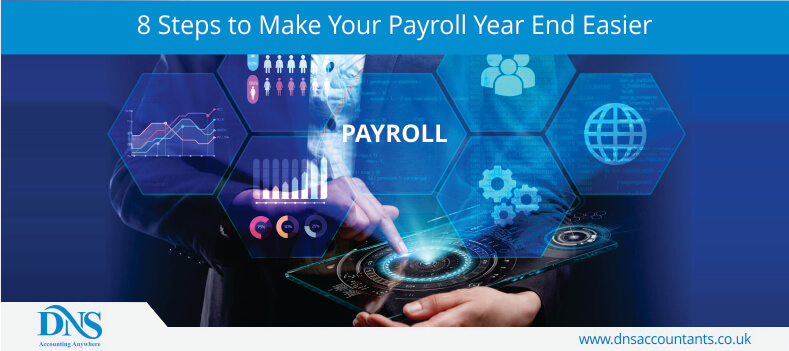 How to Process Payroll in 8 Easy Steps
In order to prepare yourself and to make your payroll year end easier, we are providing you a guide comprising of 8 steps which as an employer, not only helps you in fulfilling your obligations towards your staff and HMRC but also make your payroll year end easily without any hassle –
Employee details

- Make sure that the payroll software you are using should have all the correct details of your employees. Employee details must be updated from time to time so that you can get accurate data related to your employees every time when you login to your payroll software.

Pay

- Check the pay details that are submitted previously to ensure that you have paid your staff correctly as there are many changes which take place every month and sometimes go unnoticed such as bonuses that may left in your personal software for three months rather than one.

Last pay run

- You must process your last pay run that falls on or before the end of the year i.e. 5th April and ensure that all the year-to-data figures related to employees are correct and you are happy to take these figures forward.

Process leavers

- You need to check whether any employee left your business. If yes, you need to put those persons in the category of leavers. It is important to include this information before doing final submission which comprises of full payment submission and employment summary (if needed). The main objective of processing any leaver before final submission is to recordhim in the correct tax year.

Week 53

- You may need to complete extra pay run (week 53) incase you are running payroll weekly (including fortnightly or four weekly). If you have not paid your staff till the end date of the tax year i.e. 5th April, your payroll software shows you an extra pay field of week 53.

Send your final full payment submission (FPS)

- If you are happy that you have taken proper care of all the above mentioned points, you are prepared, go forward and submit your full payment submission (FPS) to HMRC. You also need to submit employer payment summary (EPS) in case you have not paid anyone in the last period before 5th April. When you submit your final full payment submission, HMRC lock down the figures for the relevant tax year for each employee.

P60

- P60 form is an important document that you need to give to your employees who are working with you till the final day of the tax year i.e. 5th April. Make sure that all P60 forms must be shared with employees before 31st may. P60 form includes pay & deductions of each employee in a tax year. Try to have enough P60 forms as you need to give one such form to each of your employee. If after checking, you found that you are having less P60 forms, purchase it now. You can also fill P60 form online which not only help you in saving your money but also make your business more efficient.

New Year

- After completing the payroll year end process, you must take one step forward and take a look at the coming future ahead. You must ensure that all your current working employees have been rolled into the new tax year i.e. 6th April to 5th April. Many of the employees get appraisals at the end of the year, so it will be good if you make a setup for this much before (If applicable).
The above mentioned 8 steps not only make your payroll year end easier but also influence you to work in the same way at the time of payroll processing and payroll submission in the coming future years.
In case you are having any questions regarding payroll, kindly call us on 03330886686 or you can also e-mail us at enquiry@dnsaccountants.co.uk
Also See: Limited Company Formation
Speak with an expert
Any questions? Schedule a call with one of our experts.