Corporation Tax changes came into effect from 1 April 2023, meaning the Government have placed another tax increase and tax burden on many small businesses.
Corporation Tax increased from 1 April 2023. For small companies with profits of less than £50,000, the rate remains at 19%. For businesses whose taxable profits exceed £250,000, the rate will increase to 25%. For companies in between there will be a sliding scale of rates.
Companies with taxable profits between £50,000 and £250,000 will pay tax at the 25% rate, but this will be reduced by a marginal relief meaning CT rates of between 19% and 25%.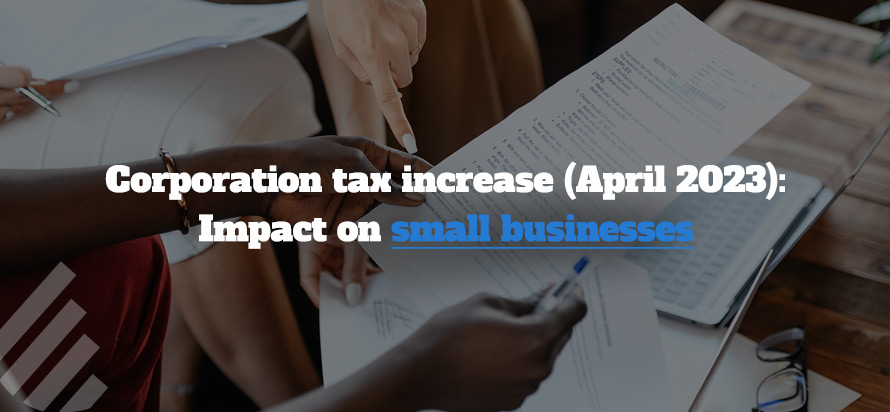 In this blog we explain the complexities of the new Corporation Tax regime and how to work out the rate you will pay.
What are the new Corporation Tax rates?
For small businesses, if your annual profits are at, or below £50,000 threshold, the current 19% rate will still apply. However, the main rate of Corporation Tax will rise from 19% to 25% in April 2023 for many companies.
For other companies, the rate they pay will depend on your profits for each fiscal tax year and many will not have to pay corporation tax at the full rate of 25%. The full 25% rate only applies to companies with annual profits of £250,000 or more.
There is no doubt that this will add to many companies Corporation tax liabilities and it will make the Corporation Tax rate system much more complicated than previously because of the introduction of marginal relief that will apply. This marginal relief provides a gradual increase in the effective Corporation Tax rate and you will need to try and forecast your annual profits for the coming year if you wish to understand your corporation tax bill in future.
How will the increase in April 2023 affect businesses?
It makes it much harder for small business owners with their corporation tax process and working out they may pay in 2023. The changes will affect businesses in different ways, depending on their size, for example:
For companies generating £50,000 or less of annual profits, the current 19% rate will still apply in 2023. So, no change from the current rate.
If a company generates £250,000 or more the full 25% rate will apply. This will make a huge difference to profits for those companies above the £250k threshold.
For those companies falling between the lower and upper corporation tax rate limits, more work will need to be done to calculate their marginal relief and tax liability to understand what they will pay from 2023 onwards.
What type of companies will the corporation tax rate rise affect the most?
If your annual profits are beneath £50,000 per year, these changes wont affect you. However, a significant number of companies with £50k and above annual profits will pay more tax under the new corporation tax rate regime, even if this amounts to a small increase per year.
According to the Government, 70% of companies will not pay more than 19% during the 2023/4 tax year. However, 30% of UK companies will pay more under the new rates with 10% of businesses paying the full 25%.
How can I minimise my Corporation Tax?
There will be tax planning opportunities throughout 2023 to minimise your corporation tax bill. Here at dns accountants, we have an experienced tax planning team, who can advise you specifically for your business.
Reduce your corporation tax liability by:
Increasing payments such as salary and pension which will reduce your profits in the year.
Purchasing assets such as plant and machinery.
Claiming all business expenses.
Claiming business mileage.
Using the work-from-home allowance.
Claiming R&D Tax Relief.
Claiming Patent Box Tax Relief.
Offering share schemes to employees.
Claiming all available loss reliefs.
Paying for subscriptions and training costs.
Paying for a staff party or event.
What is Marginal Relief?
Marginal Relief provides a gradual increase in the Corporation Tax rate between the small profits rate (19%) and the main rate (25%) — this allows some companies to reduce their rate from the 25% main rate.
Your company may be able to claim Marginal Relief if its taxable profits from 1 April 2023 are between:
£50,000 (the lower limit)
£250,000 (the upper limit)
If your accounting period is shorter than 12 months these limits are proportionately reduced. Companies whose accounting periods end soon after April 2023 will pay a pro-rated rate of Corporation Tax on a just and reasonable basis.
Who cannot claim Marginal Relief?
You cannot claim Marginal Relief if:
Working out your Corporation Tax rate and marginal relief
The easiest way to calculate your Corporation Tax rate, is to speak to your accountant or use the Governments Marginal Relief Calculator.
Associated companies
The upper and lower limits for taxable profits are reduced depending on the number of 'associated companies', the taxable profit limits being divided equally among all the associated companies.
For example, if your company has two associated companies, the limits are divided by 3. The lower limit becomes £12,500 and the upper limit becomes £62,500.
Associated companies can be located anywhere provided they meet the '51% group company' test. Dormant companies are exempt from this rule and holding companies may become exempt depending on the circumstances.
Corporation Tax on chargeable gains
When selling or disposing of a business asset, you may need to pay Corporation tax on any profits (or chargeable gains) that you make.
Summary
Now is the time to seek advice from our tax experts, who can advise you on ways in which you can minimise your Corporation Tax bill by considering things like timing of profits, making pension contributions, claiming all business expenses and making use of all other tax reliefs available to you.
For help and advice on the Corporation Tax rate rise in the UK or any other tax planning queries, contact our team on 03300 886 686, or email on enquiry@dnsaccountants.co.uk.
Speak with an expert
Any questions? Schedule a call with one of our experts.