Corporation Tax for Agents
For anyone who wants to register an agent for VAT, PAYE and Corporation Tax Corporation Tax like for example an accountant or professional tax adviser to deal for them with the HMRC on their behalf they would need to provide HMRC with an authorisation. This authorisation would need to state that the HMRC can deal with the agent on a client's behalf. It can be carried out either through the paper format or by taking the online route.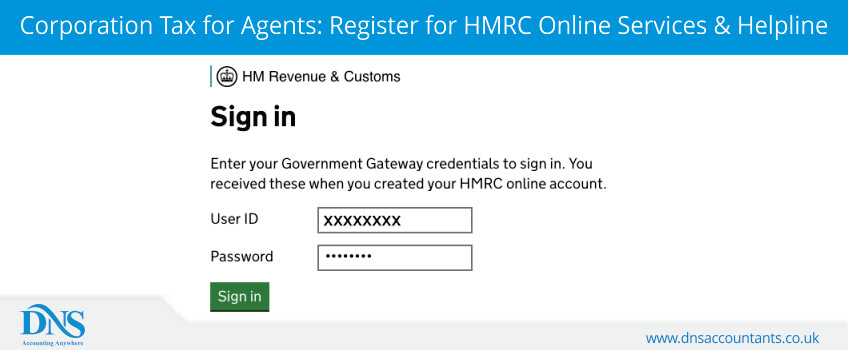 Getting an agent registered using Online Services
Authorities require clients to authorise an agent. In the first scenario, this can be done via their online services. The agent needs to be registered with HMRC online services for the services portfolio to be dealt on behalf of the client – The case here being of corporation tax for agents, PAYE for Agents or VAT for Agents as it would deem necessary. All such procedures would need to be carried out well before an online authorization is setup with HMRC.
On successful registration with the HMRC, HMRC would give an agent code or reference ID for each service they are authorised to provide. The agents on the other hand send the same information to their clients so they can authorise them to deal with HMRC on their behalf. But in case agents need help or face any issues, the corporation tax for agents' online service from HMRC allows them to manage most aspects of their Corporation Tax affairs online in an easy manner.
Procedure to register for Corporation Tax for Agents online:
To get up and running with the Corporation Tax for Agents online service, an agent would need to have:
Agent code
Registered or signed up for HMRC Online Services
Set authorisations for each of the clients
Getting the Agent Code
Anyone desirous of becoming an agent would need to register as an agent for corporation tax in writing. Once done, a corporation tax agent code would be sent. This is known as agent reference. But that is not all; those who are desirous of becoming agents would also need to furnish:
Name
Phone Number
Email ID
Trading Name
Address
Supervisor Details – For safeguarding against 'The Money Laundering Terrorist Financing and Transfer of Funds Regulation 2017' – along with membership details of professional body or HMRC Anti money laundering supervision registration ID
Self-assessment details or company Unique Taxpayer Reference number (UTR)
Declaration of taxes to be dealt with, for example in case of self-assessment a separate agent code for each tax may be required
The authorities have full rights and privileges to reject an application if the information provided is incomplete or if HMRC is not satisfied with the given information. HMRC will apprise those who have applied within 28 days of receiving their application if it is approved or not. For those who are not signed up will need to add themselves as a new user or add the service to their account.
Getting an agent registered using a Paper Form
To do it the old way, whether to cover Corporation Tax for agents, VAT or PAYE the Form 64-8 can be used. But in case if agents are being authorised to act through the PAYE for Agents online service, form FBI 2 needs to be completed.
Rationale behind corporation tax for agents
For anyone who has no knowledge of accounting dealing with corporation tax alone can be a very harrowing task. Further, the HMRC is very strict and inflexible when it comes to complying with procedures and deadlines. Authorities expect clients to fill out forms accurately, file and pay their tax on time and avoid making any accounting errors. Not an easy task for those who having limited analytical abilities. One needs a lot of patience and plenty of time for handling corporation tax affairs – or the scenario of paying expensive fees can't be avoided.
But the best case scenario would be to appoint an agent for handling all corporation tax obligations. As such professionals would do it in accordance with the recognised accounting standards. The HMRC refers to such accountants deal with Corporation Tax as 'Corporation Tax agents'. Those who act as Corporation Tax agents stand as middlemen and work on behalf of clients or organisations to communicate all tax matters to HMRC. Such agents are able to:
Let HMRC know whether a company or organisation is entitled for Corporation Tax.
They file Company Tax return and any supporting documents within the stipulated time frames.
Take care of any correspondence between HMRC and a company or a client on any Corporation Tax matters.
Please note even though an accountant can deal with these matters, a company or a client is still legally responsible for completion of all taxation related matters. So it becomes quintessential for clients or companies to take some time out while choosing an agent. For further information, one can refer to the FAQ pages for advice on choosing an agent to in accordance with one's needs..
Speak with an expert
Any questions? Schedule a call with one of our experts.