More than 5 million companies are registered across the UK with over half a million new companies incorporated each year in the UK, but what is the exact role of Companies House in the UK?
Companies House in the UK play a key role in keeping registration details of all UK limited companies. You cannot set up or dissolve a limited company or Limited Liability Partnership (LLP) in the UK without informing Companies House.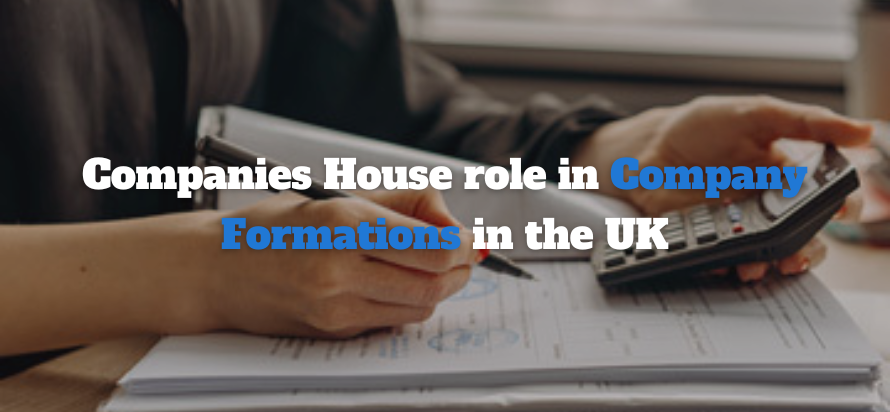 In this blog, well give you more information about the role Companies House plays in company formations in the UK.
Who are Companies House?
Companies House is the regulatory body for limited companies in the United Kingdom. It operates as an executive agency of the UK government under the remit of the Department for Business and Trade.
The role of Companies House
The main responsibilities of Companies House are to incorporate and dissolve limited companies, examine, approve and store a wide range of UK company information and make that information available to the public.
Types of businesses registered at Companies House?
Limited company
Limited partnership
Limited liability partnership (LLP)
Limited partnership
Public limited company (PLC)
Companies House key functions
The main functions of Companies House are to:
incorporate and dissolve limited companies; and
examine and store company information as per the Companies Act and other legislation; and
make this information available to the public.
Companies House Services
In addition to company incorporations, dissolving companies and all company registration matters, they offer a wide range of digital services to help you find a UK company online, examine company records, file a companys details making managing an online business easy, and the website also allows you to see details of other registered limited companies in the United Kingdom and those whose owners manage the business.
Do I have to form a limited company directly with Companies House?
No. Company formation agents and accountants such as dns accountants offer company formation services and will submit and register your company for you. Here at dns accountants we offer company formation as part of our accounting packages.
Do Companies House have to be made aware of changes to my company?
Quite simply, yes. You should notify Companies House of certain changes in your company such as registered office address, officers (directors, shareholders and people with significant control (PSC) and address changes of officers and shareholders etc.
These changes can be made directly with Companies House, via paper forms, or it is much simpler and quicker to use the WebFiling online system.
About the Web Incorporation Service
You can register your own company with Companies House via their web incorporation service. Simply go to the register your company page on their website. However, to ensure you register your new company correctly, we advise you use a company formation agent such as dns accountants to register your company on your behalf.
Companies House Web Filing
In the WebFiling service online, you can:
file your company's annual accounts
file your company's confirmation statement
file your company's director or secretary changes and other information
sign up to get email reminders- when your company's accounts and confirmation statement are due
digitally authorise people to file for your company online.
What information do I need to provide to Companies House to register a new company?
The following information will be needed when you register a new company.
Company name
Company registered office address
One director and one shareholder, at least
A memorandum of association or agreement of all initial shareholders
Statement of capital or details of company share and rights
Article of association or rules of running the company
Details of people with authority including directors, shareholders, Person with Significant Control (PSC), Company Secretary (not compulsory)
Business activity/SIC code or industry classification.
What information is stored at Companies House?
All of the above information will be stored at Companies House.
What information do Companies House make available to the general public?
This collection of public information is commonly known as the Companies House register or 'public register'. The Companies House register is available worldwide for the general public to search online free of charge to gain further information about you and your company.
If you are a director or officer of a company, you should be prepared for some of your details to be publicly available. You must carefully consider any personal or sensitive information you decide to register. Information that will be publicly available is:
Company director name, nationality, occupation, month and year of your date of birth.
Correspondence address (known as your service address) - your home or residential address will remain private from the general public.
Registered office address
Company status (i.e., active, dormant)
Company type (i.e., private limited company, LLP)
Incorporation date
Accounts dates
Confirmation statement dates
Standard Industrial Classification Code (SIC)
Filing history
Companies House WebCheck
Companies House WebCheck is a service that anyone can utilise to access information about limited companies registered in the UK. The majority of the documents can be easily downloaded for free, however, some reports and documents do attract a small administrative charge.
The company's information listed below can be accessed free of charge:
Company type
Incorporation date
Company name and registration number
Details of directors, shareholers and company secretary
Registered office address
Nature of business (SIC code)
Accounting reference date
Company status
Last accounts and yearly return's filing date
Next accounts and yearly return's due date
Account type e.g. Dormant, abbreviated or full
Previous company names
Company Obligations with Companies House
All limited companies are subject to filing requirements with Companies House and must submit their annual accounts to Companies House each year and complete an annual Confirmation Statement. You are also obliged to inform Companies House of any changes in company details (such as registered address changes, share structure changes, changes in directors, PSC or company secretary.
What happens if I dont follow Companies House rules?
Remember, if you are a named company officer of a limited company, you are legally responsible for completing all the companies obligations.
If a company is operating but fails to provide company information accurately and on time, you could face prosecution. There are also automatic financial penalties for late submission of things like your company year-end accounts.
Summary
The major role of Companies House is inspecting and maintaining all information on limited companies. The information displayed on the register of companies can be accessed online by the general public at all times. If you are an officer of a limited company, then you are responsible for fulfilling all the requirements of Companies House.
Setting up and running a limited company can be complex and time consuming. Hiring a qualified accountant such as dns accountants, means that the stress and worry is taken out of running a limited company. We can assist in company formation, registered office address, year-end accounts, accounting software and many other services.
Speak with an expert
Any questions? Schedule a call with one of our experts.