Many questions arise in the mind of freelancers and one of them is about claiming of travel expenses. Every individual who is a freelancer or planning to start freelancing in the near future wants to know whether they are entitled for claiming travel expenses or not. Most of the freelancers didn't get much into this and leave everything on the employer whereas many freelancers not even having the required knowledge that which expenses they have to claim for and how?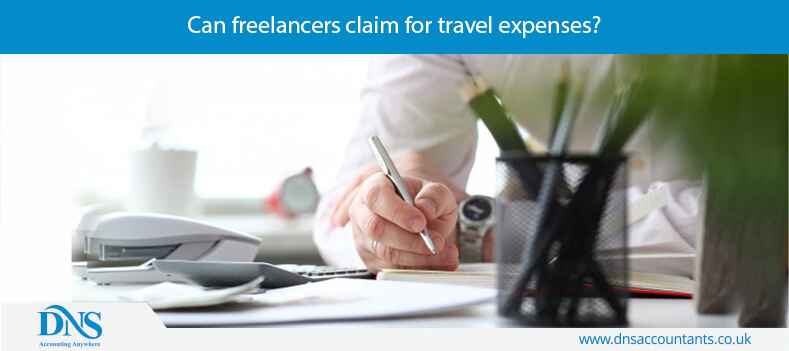 In this article we cover:
Whether freelancers entitled to claim for travel expenses?
As a business owner, you should come forward and claim for your travel business expenses. As you know, HMRC imposes tax not on freelancer's income but on the profits earned by them. It's your duty to deduct your travel expenses from the total amount you will calculate at the end of the year in order to claim your travel cost.
Not all types of travel costs are considered as business expenses. As a freelancer, you can only claim for the travel costs that are "wholly, exclusively & necessary" for your business.
Also See: List Of Limited Company Expenses You Can Claim
Difference between Commuting costs and Business travel expenses?
It's important that as a freelancer you must understand the difference between commuting costs and the business travel expenses. Suppose you are travelling to your office or Job site to perform daily work related tasks, then it will not be considered as a business expense and lies under the category of "commute" (you cannot claim for such expense) whereas if you are going for a business meet with a client or for any training course, it will be considered as a business expense (you can easily claim for such travelling cost).
Also See: How to claim VAT on mileage expenses?
What travel expenses freelancers can claim?
Freelancers can only claim deduction on the business related travel expenses which includes the following –
Car Mileage

– There are two ways to work out how much amount you can deduct, when you use car as a vehicle for your business journeys –

You are entitled to claim a fixed mileage rate for each mile you travelled.
Work out actual expenses you have incurred with the use of detailed records of business and private mileage so that you can easily divide the recorded expenditure.

As per the current mileage rates, you can claim 45p per mile for the first 10000 business miles you travelled in your car in a relevant tax year and 25P above 10000 miles. It includes your travelling to/from temporary locations or between different sites etc. You must keep track of your each and every journey in order to claim accurate amount of car mileage.

In case you are using mileage rates, you cannot claim the cost of running and servicing of vehicle as a deduction separately such as oil, fuel, repairing, servicing, insurance, MOT & vehicle excise duty. Capital allowances can also not be claimed as deduction. Let us take an example – Mr.Sudhir travelled 800 miles in total and incurred £100 as petrol expenditure of which 500 miles were covered for business meeting.

Calculation by Fix mileage rate

As a freelancer, you can claim fixed mileage rate as per 45p as the travelled miles are below 10000 i.e. £225 (45p * 500 miles)

Or

Calculation by Actual expenditure

Alternatively, you can also work out the actual expenditure by claiming the business proportion i.e. £62.50 (100 * 500/800 miles)

Also See: Relocation Expenses and benefits - Relocation Allowance

Car hire

– When you hire a car for any business journey, you are entitled to claim deduction depending upon the following factors –

Whether the car has been hired for a short period (<45 consecutive days)
Date hire contract entered into for long term contracts
CO2 car emission

If you have hired the car for less than 45 days, you are entitled to claim full deduction whereas if you have entered into long term contract of car hiring after 1st March 2009 & CO2 emission is more than 160g/km, you are entitled to claim deduction on 85% of hire charges.

Car parking charges

– If you want to claim car parking charges as deduction, you must have all the original receipts with proper mention to date & cost.

Bus, Taxi, Rail & Air travel

– In case you travelled in any of the modes of transport for a business purpose, you are entitled to claim deduction only when the original receipts are provided. Fares between your home and temporary workplace can easily be claimed upon submitting receipts. In case of low cost flights, original tickets or online receipts (Anyone can serve the purpose)

Tolls & congestion charges

– Road, bridge/tunnel tolls, congestion charges in between a business trip can easily be claimed by freelancers after showing original receipts. Original receipts are mandatory requirement in all cases or for all items except toll fees.
Also See: Limited Company Expenses You Can Claim When Working From Home
How do freelancers claim for travel expenses?
There is always confusion in the minds of freelancers to claim travel expenses. In order to claim travel expenses, freelancers must add all their travel expenses and include the same in their self-assessment tax return for deduction. There is no need to provide evidence of your expenses while filing your self-assessment tax return but in case HMRC starts investigating your business, you must have those in your kitty in order to back up your claims.
Keeping original receipts manually will not be a good idea. Best idea is to upload original receipts right away into your accounting software. Keep your original receipts in the cloud accounting software and avoid the use of old and the confusing system of keeping the original receipts manually.
In case you want more information or advice on claiming travel expenses, kindly call us on 03330886686 or you can also e-mail us at enquiry@dnsaccountants.co.uk
Also See: Expenses To Claim For When Working From Home during Coronavirus
Speak with an expert
Any questions? Schedule a call with one of our experts.