Guide on Automatic enrolment for employers
National Workplace Pensions Are Coming Soon, Ready or Not
So far, in the first quarter of 2015, 192 'fixed penalty' notices of £400 apiece have been issued by the Pensions Regulator to employers that have not complied with their duties on workplace pensions. Not surprisingly, because of the rollout of "Staging dates" to smaller businesses, this is a rise of 120% from the previous quarter.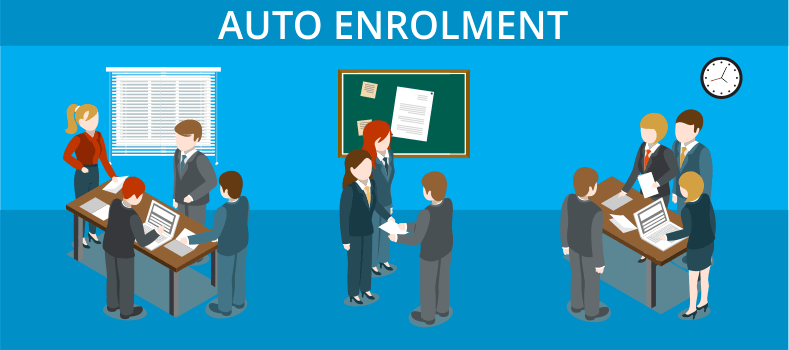 Who is affected?
While employers with 250 or more people on their payroll have already received their staging dates (the date on which you must begin enrolling employees into a workplace pension scheme) thousands more employers with 50 to 249 people on their payroll received their staging dates between 1 April 2014 and April 2015. As workplace pensions are rolled out across thousands of medium-sized employers, it is not surprising that a percentage of less well-organised and possibly less financially stable businesses are finding it difficult to comply with the legislation; in fact, it is thought that only 24% of medium-sized businesses will have the resources to implement auto-enrolment successfully.
What do employers need to do now?
New employers whose businesses were set up from 1 April 2012 and up to and including 30 September 2017 will have staging dates between 1 May 2017 and 1 February 2018. The number of people on an employer's PAYE scheme does not count in this case, because staging is based on when the employer first pays PAYE in respect of any worker
May 2017 may feel like a long way off now, but it will arrive very quickly, so if you are an employer start acting now! The regulator has published a guide to setting up payroll for automatic enrolment. The DNS auto-enrolment blog is a useful quick-read guide as well.
Please contact your account manager with any concerns or queries: while we are not pension advisors, DNS is always ready to help and your account manager can point you in the right direction and support your efforts to comply.
Speak with an expert
Any questions? Schedule a call with one of our experts.