Starting a business involves a lot of thinking, planning, and getting all the right things in place. The failure rate of new businesses is high and many of these failures could be avoided by thinking and planning up front and using a few techniques to kickstart your business.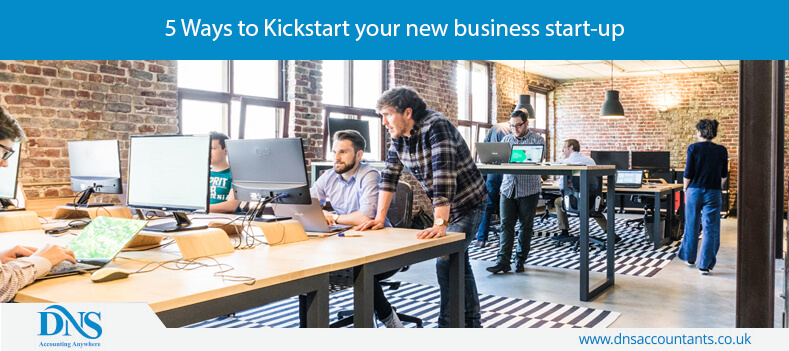 The key to successfully getting your business off the ground is to plan meticulously, organise effectively, prioritise properly, and track your progress and performance.
So here's our top 5 ways to kickstart your new business start-up.
1) Business planning
A sound, well thought out business plan, could be the difference between success and failure. If you need funding or are looking to apply for government or local authority grants then you generally need a business plan to do this as well. Business planning makes you really sit down and put your business dreams into a clear, well thought out plan. It'll help you to visualise your business in more realistic terms and answer some difficult questions. It helps you to lay out your goals and track your progress as your business begins to grow.
A well thought out start-up business plan should detail the following:
background of you as the business owner
your products or services
your target markets
findings of marketing research you've conducted (size of market, competitors etc)
marketing strategy
competitors
SWOT analysis
operational and logistical details
costs & pricing strategy
financial forecasts
summary
You can download the dns business plan template here.
2) Find the right support
There is no better time to start talking to past colleagues, other business owners, potential customers, professional advisors and building great business relationships with the right people.
For example taking on an accountant early in your journey will help you to understand your finances, control them and be able to make the right decisions on structuring your business from the start.
Start networking with other business owners, either locally or in your sector. It's amazing how much you can learn from others and avoid making the same mistakes. It's also amazing how much referred work you may get from these contacts, once they know you've set up in business.
3) Get your funding and finances right
While it may be possible to start a business with no money or little money for some businesses nowadays, it's worth thinking about your financial situation early on. Think about any debts you have, monthly commitments and the amount of collateral you can use.
Not having enough money to really kickstart your business or running out of money could mean you have problems getting it off the ground or continuing to trade. Ensure through your planning process that you are clear and realistic about the money you need to start-up and to continue to trade and grow.
Look for opportunities for things like local authority or start-up grants and consider alternative sources of financing, other than just from banks.
4) Inspiration, Motivation, Action
Many people dream of owning their own business but turning your dream into a reality will only happen if you follow through and execute the idea. The key is to turn your inspiration into motivation and motivation into action. Having a clear vision, lots of enthusiasm, planning carefully and then taking the right steps to realise your dreams is what turns dreams into real businesses.
5) Have a clear marketing strategy
Many people set up businesses without a clear marketing strategy. Knowing who your target customers are and how you can effectively communicate and promote your business to them is vital. Business won't just 'walk through the door' you need to actively market your business to the right people, with the right messages and at the right time.
Online channels such as web and social media can be an easy, quick, and cheap route to market, but only use them if they are relevant to your business and will reach your target audience.
Without planning your marketing carefully, you could end up doing ad hoc marketing activity that costs money but with little results. If you're a start-up or individual running your own business, it's crucial that your marketing strategy focuses on achieving short-term wins to help to get you into profitability.
Read our blog on 10 free, low cost or no cost marketing ideas for any business.
Starting a business for the first time can be a huge leap of faith, but by following some simple tips, planning, getting the right support, looking after your finances, and marketing your business correctly, you could get off to a flying start.
Here at dns we're experts in helping business start-ups and new entrepreneurs start their business journey. From company formation, opening a business bank account to providing you with bookkeeping services and free accounting software. Our experts will be with you every step of the way to help you and advise you.
Find out more about dns accountants business start-up services
Speak with an expert
Any questions? Schedule a call with one of our experts.