Limited Liability Company (LLC)
Congratulations, you've incorporated your very own Limited Liability Company (LLC). Running your LLC, unlike a traditional business, has various benefits that give you limited liability for business debts. However, unlike a traditional corporation, the LLC gives you additional benefits to skip a number of the legal hurdles and tax rules. For small and medium business, this is one of the most versatile and economical ways to structure their business and focus on what is really important, running the day-to-day business.
Getting Started Set Up A Private Limited Company
To get your LLC up or Setting Up a Limited Liability Company (LLC), and running, you have to complete some essential start-up tasks like registering with the Companies House (CH). Companies House is the regulatory body that registers all limited liability companies in the UK and maintains the registry of companies. It is legally mandated to register your company with Companies House before you start any business as a limited liability company. Set up a private limited company or Registering a new company is a fairly simple process. This can either be done on your own, through an accountant, or through a company formations agent.
Memorandum of Association
Articles of Association
We will discuss each of these documents in more details later in the article.
Furthermore, to be on the safe side of the law there are a few other technicalities that need to be kept in mind. In addition, there are a few new formalities and paperwork requirements that are required to be maintained to keep proper records of important LLC decision, transactions and meetings. This will protect you LLC status and keep members, directors and others appraised of the LLC's activities.
Specific Laws Governing LLC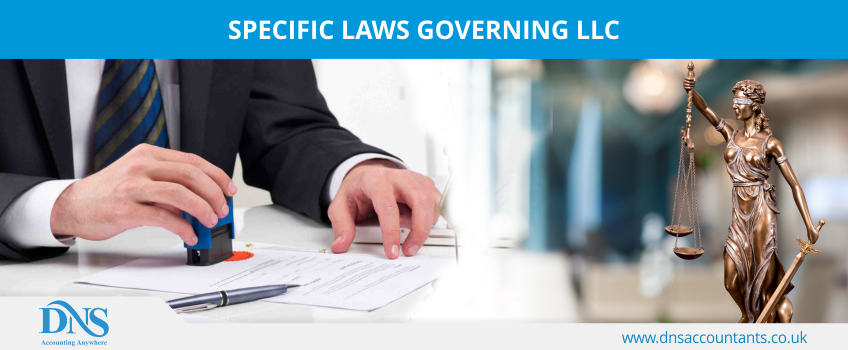 There are specific laws governing the operation of LLCs. These state laws regulate special areas of LLC activity.
LLC Securities Laws
These laws establish each state's rules and procedures for offering, issuing, or selling securities. In many states, LLC membership interest are considered securities, just like stock interests in a corporation or ownership interests in limited partnerships. Therefore, they must be registered with the state, or, must qualify for a state exemption from registration, before being issued to members. Many states offer streamlined procedures for smaller businesses issuing shares to a limited number of people.
LLC Tax Laws
Tax laws regulate the taxation of business profits. In most cases, LLC profits pass through to the members and are reported on their individual income tax return. In some cases, LLCs must pay a separate entity-level income of franchise tax like a corporation.
LLC Commercial Laws
Commercial laws include drafting various LLC agreements and contain rules for entering into and enforcing employment contracts, promissory notes and other standard commercial documents.
LLC other Laws as Prescribed
Various laws may affect the daily activities and operations of an LCC or otherwise operated as a traditional business. For example, you will have to follow building codes, professional licensing laws, or other local laws as you go about your daily business.
Advantages of an LLC
Limited Liability
The biggest benefit of a limited liability company is the limited economic liability that business owner and shareholders must bear. If the company ever goes through monetary troubles, apart from actual value of their shareholding, the assets and personal finances of shareholders remain intact. Which means that if a company ever faces bankruptcy; the business owners are liable to owe a minimal value of their overall stake in the company. In some cases, this could be as little as £1.
Tax Cuts
There are more opportunities and great flexibility for taxes on profits and on personal income in the case of limited liability companies. Before 1 April 2015, LLCs had two Corporation tax rates;
If their profits were £300,000 or above, then the corporation tax applicable was 20%.
If the profits were £1,500,000 then the corporation tax applicable was 21%.
However, after revisions to this tax code on 1 April 2015, the tax rates have been brought down to 20%, regardless of the size of profit.
In addition, according to corporate tax laws, directors can keep their income level below the higher taxable level by taking remuneration in combination of dividends and salary. As a result, more money is available for reinvestment or distribution among the shareholders and directors.
Professional Status
A professional and corporate image is created by a limited company, thus boosting the value of business. The LLC generally follow a standard structure that the international business community is familiar with. This organisational structure is one that the international business community trusts. For instance, the structure includes the board of directors, secretaries and shareholders who manage the day-to-day operations of the company.
Final Words
Operating an LLC without a doubt has certain disadvantages; considering the higher administration costs and accounting requirements, in addition to more attention and time that needs to be put in. Nevertheless, the professional and financial gains that outcome in the long run, outweigh these negatives.