What is Inheritance Tax?
Inherited taxes are the type of taxes that someone needs to pay on money or property they have takeover after the death of the previous holder. HMRC Inheritance tax is the tax charged on the property, possessions, and money when a person dies. The Government evaluates the worth of the estate, and then reduces the debits from the estate value to arrive at the final inherited wealth. If the estate's value is above the threshold limit people need to pay HMRC Inheritance Tax.
Your assets could include:
Cash in the bank
Investments
Any property, land or businesses you own
Vehicles
Furniture
Shares
Trusts
Pay-outs from life insurance policies
Pensions
Personal items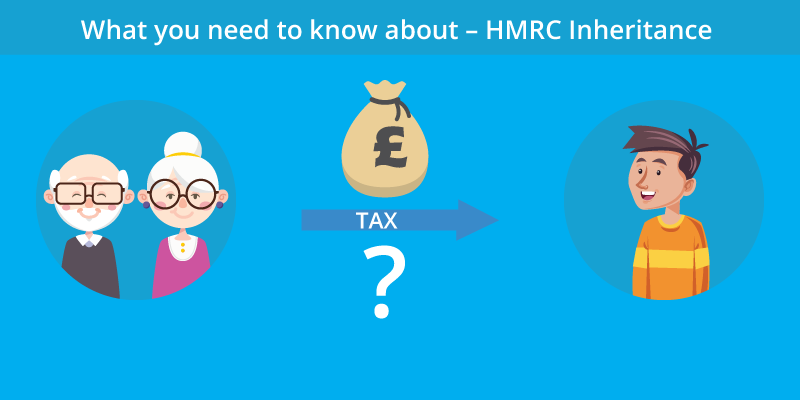 In some special cases you'll have the provision to avoid paying Inheritance Tax, like:
In case the price of your estate is less than the £325,000 threshold
If in any case you leave all above the £325,000 threshold to your husband/wife, civil partner. The same rule is also applicable while you made a donation to a charity or a public nonprofessional sports club.
If a person is in a civil partnership or is married, and the estate worth is less than £325,000, an individual can transfer any idle threshold to the partner. This can increase their threshold to £650,000. However, the estate will be obliged to pay 40% on everything above the £325,000 inheritance tax threshold when a person dies (or 36% if the person has left at least 10% to a charity)
When the value of the estate is less than the threshold you still require to file a report to HMRC.
Cases when your threshold can be increased:
Your threshold can rise up to £475,000 if you give away your home to your children or grandchildren. Same law is applicable for adopted, foster or stepchildren.
Whether you're in a civil partner relation or married and your estate is worth less than your threshold, any unutilized threshold can be added to your partner's threshold once you die. In such case the threshold can be higher and up to £950,000.
Who Pays Inheritance Tax to HMRC?
Funds from an individual's estate are used to pay inheritance tax to HMRC. This is done by the executor or person responsible for the estate
The beneficiaries (the people who inherit the estate) don't usually pay tax on everything they inherit. There are some exceptions.
People who receive gifts from the individual who dies, might have to pay Inheritance Tax, but only if they receive more than £325,000 and the individual dies within 7 years
How Does The New "Main Residence" Nil Rate Band Work?
The residence nil rate band is pertinent to the individuals with direct offspring having an estate along with a main residence, that surpasses inheritance tax threshold of £325,000 for 2019/20.
This allowance is part way through being gradually increased and is what you'll get on top of your present allowance. The differences still to come are:
For the tax year 2019/20, the allowances can goes up to £150,000(that means the entire individual allowance of £475,000), and it will increase again by £25,000 in the year 2020/21 once it touches £175,000 (that means a sum allowance of £500,000).
For the tax year 2019/20 for married persons or someone in a civil partner relationship the maximum amount that can be passed on tax free is £950,000. For others the amount is £475,000. For singles the amount is made up of present £325,000, along with the additional £150,000. In case of couples once the first one dies the allowance passed to the survivor one. In that case the amount £475,000 gets doubled to £950,000.
The tax free amount will increase to £1 million for couples (made up of £325,000 x 2 plus £175,000 x 2) by the tax year 2020/21. In case of singles the amount is £500,000 (made up of £325,000 plus £175,000), as the allowance of main residence increases.
In case the estates value the amount between £1-£2 million, the inheritance tax will be paid as normal on the amount above the tax-free amount.
No additional allowances will be given to couples having properties worth £2,350,000 or more.
HMRC Inheritance Tax Transferable NIL Rate Band
For the tax year 2019-20, each one is permitted to leave behind an estate valued upto £325,000 without their beneficiaries having to pay tax on it. This amount has been decided by the government and is known as the nil-rate band, because no inheritance tax is paid on this amount. Legitimately, the £325,000 limit has been ceased until at least 2020-21, although the extra main residence allowance will be brought in from 2017 onwards. Let's assume that a person leaves behind a net asset worth of £500,000.
| Particulars | Amount |
| --- | --- |
| Net asset worth | £500,000.00 |
| Threshold limit | £325,000.00 |
| Taxable Amount | £175,000.00 |
| Tax @40% | £70,000.00 |
According to the above example, the net payable tax amount will be £70,000.00. The computation might change if at least 10% of the assets are left for charity.
| Particulars | Amount |
| --- | --- |
| Net asset worth | £500,000.00 |
| Threshold limit | £325,000.00 |
| Taxable Amount | £175,000.00 |
| Tax @36% | £63,000.00 |
When an individual dies, any assets left behind for the spouse or registered civil partner, provided the spouse is a UK-domicile, are exempt from inheritance tax. In addition to this, as mentioned earlier the partner's inheritance tax allowance rises by the threshold amount, meaning a couple can together leave £650,000 tax-free. Let's assume that Mr. and Mrs. Vaughan have total assets worth £800,000. If Mr. Vaughan dies first, and leaves £200,000 for the children, the outstanding £125,000 which is a part of the nil-rate allowance will pass on to Mrs. Vaughan, giving her a total allowance of £450,000.
Scenario 2: Mrs. Vaughan passes away and her total assets are worth £600,000. If the children did not use the full nil-rate allowance, they will owe 40% on everything above £450,000.
Inheritance Tax Exemptions
Individuals who are involved in dealing uncertain activities like armed forces, firefighters, police etc. are exempt from paying inheritance tax in case they die in active service. Such tax exemptions are also valid for a person who got injured during work and died later because of the injury, even they're no longer on active service.
HMRC Inheritance Tax Forms
Individuals can send the Inheritance Tax forms when they apply for a grant of representation. This is officially permitted and it is the right to deal with the estate. The form used by an individual depends on whether inheritance tax is liable or not. An individual may be able to use the forms to:
Boost the threshold by transferring a spouse or civil partner's threshold
Reduce the value of the estate by deducting anything on which Inheritance Tax is not paid
If there's no Inheritance Tax payable; individuals can fill form IHT205. An individual can also fill this form if the entire Inheritance Tax threshold passes to:
The civil partner or spouse of the person who has died
A charity, with a charity reference number from (HMRC)
In Scotland, an individual can fill form C1 in its place and send it with either form C5 (SE) or form C5
If the person living abroad dies; fill form IHT207 instead of form IHT205, if the person who died:
permanently lived abroad, and
in cash or bank accounts had less than £150,000 in UK assets
In Scotland, fill in form C5 and form C1 instead
Deduct things on which tax is not paid
Use form IHT400 to deduct anything on which Inheritance Tax is not paid. This includes details of anything that's exempt from Inheritance Tax because:
it is passed to a civil partner or spouse
is a gift on which inheritance tax is not paid
it qualifies as a heritage asset - form IHT420
it qualifies for business relief
it qualifies for agricultural relief - form IHT414
HMRC Inheritance Tax Address
Online forms
Firstly apply for a reference number for Inheritance Tax
Application must be filed in 3 weeks prior to making the payment
Online application is not accepted if reference number is for a trust
Post
Follow the instructions on paying the Inheritance Tax bill by cheque.
It takes a minimum of three (3) working days for the payment to reach HMRC
Send the cheque to:
HM Revenue and Customs
St Mungo's Road, Cumbernauld
Glasgow G70 5WY
United Kingdom
HMRC Inheritance Tax Advisors – dns accountants
dns accountants is a trusted brand and has years of knowledge in the accounting and taxation domain. The firm has been helping individuals with HMRC inheritance tax and other taxation related queries. The team at dns comprises of learned taxation professionals and ACA's or Chartered Accountants (CA). The firm focuses a lot of customer service & believes in delivering unmatched client service. dns accountants offers:
services at a nominal rate
best-in-class accounting and tax planning services
HMRC inheritance tax planning and taxation advice
As per the inheritance tax limit passed in the budget, inheritance tax allows citizens to pass on more to the family without being taxed. dns accountants help with:
Advice on Inheritance Tax (IHT) and family wealth succession
Calculations and predictions of Inheritance Tax (IHT)
Guidance on Capital gains tax liabilities
Guidance on transfer of gifts with pre-owned assets
Other services
dns accountants offers accounting, financial records management, taxes & self assessment services to owner-managed-businesses or self employed individuals. For business owners and freelancers / contractors, it is difficult to keep pace with the ever changing government regulations and rules and dns takes responsibility of all the taxation and accounting needs of the business.