State of Bankruptcy
Bankruptcy or insolvency is an official status that, as a rule, lasts for a year. This means bankruptcy isn't everlasting, and a business may opt to clear the business debts and make a fresh start. When an individual turns bankrupt, his / her dispensable assets (possessions and property) and surplus income are used to pay off the creditors. At the end of a bankruptcy period, the amount outstanding is 'discharged' (cancelled). Before filing for a bankruptcy, individuals can look for other options to deal with their debts.
A person can find out what alternatives are available if they can't pay back the debt. Once an individual clicks on the above mentioned link, he / she will be asked questions with regards to how much amount is payable; assets (possessions and property); and an individual's income. The application will regards to bankruptcy will be reviewed by someone who works for the bankruptcy service called an 'adjudicator'. An adjudicator will decide if he / she should be made bankrupt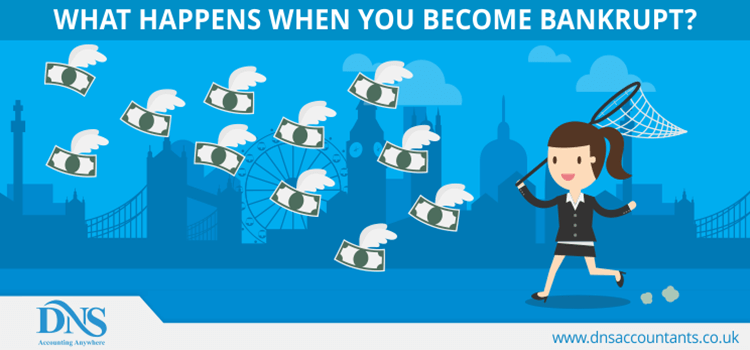 Declaring Bankruptcy: Apply for bankruptcy
The High Court can affirm an individual as bankrupt by issuing a 'bankruptcy order' subsequent to it being presented with a 'bankruptcy petition'. A petition or formal request may be filed in by: one or more creditors; a debtor; or a person bound by an individual voluntary agreement. An individual can apply for bankruptcy online by paying a cost of £680. An individual will be required to provide information regarding their income, and debts, including:
bills, such as credit card; electricity; and council tax
wage slips
letters from a bailiff or enforcement agent
If an individual thinks that bankruptcy is a suitable option available to them, there are numerous forms that need to be completed. An individual can obtain a form from the Bankruptcy and Chancery Division or from the Insolvency Service with paying any charges for this form
The petition (Insolvency Rules (NI) 1991 form 6.30) - used to appeal to the Court to make a person bankrupt and contains the explanation for the request
The statement of affairs (Insolvency Rules (NI) 1991 form 6.31) –it comprises of detailed list of all the assets (everything that is owned by an individual that can be used to pay the debt)
When an individual completes these forms, on oath statement is made in-front of a court officer or a legal representative - it is, as a result, imperative that an individual makes a complete disclosure of their assets and debts
Three types of fee options are available to an individual in order to pay for bankruptcy. This fee is applicable when an officially appeal and statement of affairs needs to be submitted to the Court:
An amount o £525 is paid towards administering the insolvency to the Department of Economy – this amount is payable in all conditions and compensation may be paid via postal order or in cash or through a cheque issued by a bank, building society, or legal representative(cheques ought to be payable to the Official Receiver; individual cheques will not be considered)
Court charges a fee equivalent to £115 and it can be paid via postal order or cash payment or by cheque to be paid to 'Northern Ireland Courts and Tribunals Service' –However, in certain situation the court might not claim this fee (if an individual needs Income Support). If an individual is are not convinced whether he / she qualify for a decrease in the fee or whether an individual is exempt from paying the fee, staff with the court or DNS Accountants will be able to advise on this matter
The fee to be paid to a legal representative before whom an individual pledges the contents of his / her statement of affairs should be £7
How bankruptcy affects an individual
Bankruptcy is a severe subject and an individual may end up giving away all their possessions of interest and value including their home. Let's understand how bankruptcy can impact an individual in various ways:
Assets
Once an individual is declared bankrupt, an Official representation or receiver, or selected trustee, can sell an individual's assets to pay-back the creditors. However, some goods aren't considered as assets for this reason, for example:
equipment such as tools and vehicles that an individual will need for work
household items such as bedding, clothing and furniture needed by an individual and his / her family
If an individual possesses a home, he / she may have to sell the property to pay-back the debt. Sale of home will depend on the value of the asset; who owns it; and whether the property is significance as compared to an individual's mortgage. This is referred to as 'equity'. It may be probable for the joint owner or a family member to make a proposal to the authorised receiver to buy out the share of the equity. This approach is advisable if there is little or no equity
Earnings
The authorised receiver can examine an individual's income (considering the account expenses such as an individual's rent, mortgage, and household bills) and can take a call on whether the payments should be made to the creditors. An individual, who has become bankrupt, may be asked to sign an 'income payments contract to pay fixed monthly instalments from their income for a period of three years. However, if an individual doesn't pay or not signs the agreement voluntarily, the authorised receiver can submit for an income payments order from the court. This will run for a minimum of three years from the date of the order. If an individual's conditions change, he / she will have to notify the Official Receiver, so they can again review these settlements
An authorised officer or a trustee in bankruptcy can additionally make applications to the Court subsequent to a Bankruptcy Order. They include:
applications to suspend automatic discharge
public examinations
applications for permission to act a director
private examinations
An individual's obligations when bankrupt
An individual must abide by the following:
Provide the Official receiver with details about assets; finances; and creditors
Examine the assets and hand them over to the authorised officer with the pertinent paperwork, such as insurance policies and bank documents
inform the authorised officer or insolvency practitioner, who is acting as a trustee about any new assets or income during your bankruptcy
Discontinue the use of bank accounts / credit cards / building society accounts
Not attain credit over £500 without informing the creditor that bankruptcy has been filed for
Not make payments direct to a creditor
Information of an individual's insolvency is kept as a record by the Bankruptcy and Chancery Office at the High Court. Bankruptcy usually lasts for one year. After this time, an individual will be 'discharged' from bankruptcy despite of how much an individual still owes. The discharge could happen earlier if an individual co-operates fully with the authorised officer. Please contact DNS Accountants in case of any assistance
Report a bankrupt person who's acting as a company director
It's not legit to work as a company director without permission from a court in case a person is bankrupt or subject to bankruptcy-related orders or undertakings.
To report a bankrupt person who's acting as company director you can use the online form or get in touch Intelligence Hub. Below are the details to contact Intelligence Hub.
Intelligence Hub
Telephone: 0300 678 0017
You can also write to the Intelligence Hub.
Intelligence Hub
Investigations and Enforcement Services
The Insolvency Service
4th Floor Cannon House
18 Priory Queensway
Birmingham
B4 6FD
Speak with an expert
Any questions? Schedule a call with one of our experts.