To eliminate tax evasion, HMRC has increased its focus on the "tax gap" and increased transparency among global tax authorities. Under the organisation for economic cooperation and developments Common Reporting Standard (CRS), over 100 countries have committed to exchanging information on a multilateral basis. HMRC has therefore been receiving a vast amount of data on UK residents and taxpayers with foreign income and assets.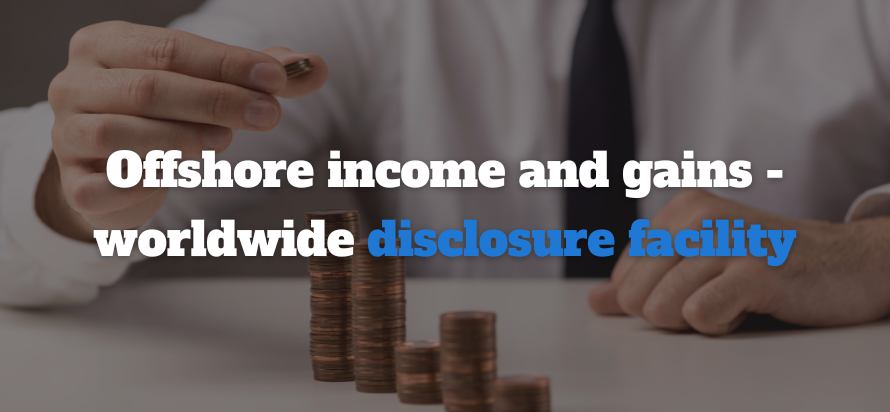 As a result, you must ensure you remain fully compliant with your tax obligations, or you may face severe penalties from HMRC.
What is a requirement to correct?
The Requirement to Correct (RTC) legislation required those with undisclosed overseas earnings to declare their tax liabilities to HMRC on or by 30th September 2018. It includes Capital Gains Tax, Income Tax, and Inheritance Tax for the relevant period. Taxpayers who did not disclose offshore tax liability before the deadline are now subject to a stricter penalty regime called 'Failure to correct' (FTC).
What is the Worldwide Disclosure Facility (WDF)?
Anyone who wishes to disclose a UK tax liability that is wholly or partially related to offshore money, gains, investments, or assets could do so with the Worldwide Disclosure Facility. This includes -
Income derived from a source other than the UK
Assets located or held outside the UK
Activities carried out completely or mainly outside the UK
Where funds related to unpaid taxes are transferred outside the UK
Find out who will be eligible to use these offshore disclosure facilities?
Any individual who wants to make voluntary disclosure relating to offshore interests is eligible to use this facility under the following terms –
Making a full disclosure of all previous undisclosed UK liabilities within 90 days of notifying your intention to disclose.
Determine the amount of interest and penalties owed based on existing legislation.
Allowing complete reductions for disclosure may not be appropriate in certain circumstances. For example, if a person has taken a long time to correct their non-compliance. If they were previously able to make their disclosure through one of HMRC's offshore facilities, they should no longer expect HMRC to agree to a total reduction for disclosure.
Process for using Worldwide disclosure facility (WDF)
To use the WDF, you will need to follow the below steps:
You will first need to notify HMRC about your intention to disclose the offshore income. The notification can be completed using HMRC's Digital Disclosure Service.
Once notified, HMRC will send you a letter confirming your registration and the unique disclosure reference number (DRN) and payment reference number (PRN) to complete the disclosure.
You will have 90 days from the date of this letter to complete the disclosure.
Identify the number of years you should disclose the foreign income and gains. It will depend on the behaviour which led to the non-disclosure, whether careless or deliberate.
Calculate the tax liabilities on a year-on-year basis. It is recommended you seek professional advice when calculating the tax. There are many factors like personal allowance, tax bands, foreign tax credit relief etc., which need to be considered when computing the worldwide disclosure facility tax liability.
After calculating the tax liability, you will need to apply the correct penalty rates based on the behaviour. The details of applicable penalties can be foundhere.
You will further need to calculate the late payment interest due on the liabilities.
Submit the disclosure (letter of offer) to HMRC and pay the liabilities.
If HMRC agrees with the disclosure, they will send you a letter of acceptance, and the disclosure will be closed.
We recommend professional advice is sought when making the disclosure as the rules are highly complex and you may end up paying too much in tax and penalties.
Double taxation agreement (DTA)
The UK has 'double taxation agreements' with many countries to prevent people from paying tax twice on the same income. Double tax treaties and conventions are other names for double taxation agreements. If there is a double taxation agreement, it may specify which country has the authority to collect tax on various types of income. For example - If you are a non-resident of the United Kingdom and earn UK bank interest, your income will be taxable in the United Kingdom as UK-sourced income under domestic law. However, if you are a France resident, the UK-France double tax treaty stipulates that interest can only be taxable in France.
If you have paid tax in another country on the same income or gain, you will be able to claim foreign tax credit relief (FTCR) when reporting the income under WDF. The FTCR is usually given by deducting the amount of foreign tax paid from the UK tax liability (the treatment may differ based on the income type and DTA). The UK has special rules and treaties with some countries, and therefore specialist advice is recommended to review that the correct amount of foreign tax has been claimed.
Domicile and Remittance Basis
Your domicile status is crucial when disclosing foreign income and gains. If you are resident but not domiciled in the UK, you could choose the remittance basis of taxation, which means you only pay UK tax on the foreign income and gains if/when they are remitted to the UK. If you are resident and domiciled in the UK for tax purposes, the tax is payable on an arising basis, meaning the tax is due when the income is earned.
Please note if you claim a remittance basis, you will lose your personal allowance and annual exempt allowance for capital gains tax. Further, if you have been resident in the UK for at least 7 years out of the last 9 years, you will be required to pay a charge called 'remittance basis charge'.
When does the remittance basis apply automatically?
If you are non-domiciled and have unremitted foreign income or gains of less than £2,000 in a tax year, the remittance basis automatically applies. In such a case, the following applies –
Without making a claim, the remittance basis applies, which means you pay UK tax only on your foreign income and gains that have been remitted (brought) to the UK.
There is no need for you to pay the remittance basis charge.
You will continue to be eligible for UK tax allowances, such as the personal allowance for income tax and the amount exempt for capital gains tax annually.
HMRC nudge letters
HMRC has sent thousands of nudge letters to individuals to make them aware that they are at risk,and HMRC contains all their undisclosed offshore information. More letters are expected in the coming future. Thus, it would be better if an individual voluntarily discloses their UK tax liability related to offshore issues. The main purpose of the letter is to –
Inform the recipients that HMRC has information on an offshore asset/s held by them.
Seeks clarification on whether their tax affairs are up to date.
Request a signed declaration that they are aware of no inaccuracies in their returns.
Request confirmation that a tax disclosure will be made in the near future.
What to do if you receive such a letter from HMRC?
Firstly, do not ignore the letter as it has been sent by HMRC because they have found some issue in your tax affairs related to offshore income and/or gains. If you don't reply, they may escalate this into an enquiry.
Secondly, contact HMRC as early as possible. They may provide you with additional information about the asset in question, which will help focus on your tax affairs review. There is no guarantee, however, that they will share this information with you.
Thirdly, work with a tax professional to review your offshore assets and income to ensure everything has been disclosed and there are no issues that require disclosing.
Remember that making a false declaration is a criminal offence. Before responding to a nudge letter or making a disclosure, careful consideration needs to be given, and advice from a professional tax expert is highly recommended.
What if you havent received the HMRC letter? Should you wait for it?
No, you should disclose your tax liability as soon as possible. If you act voluntarily, you may avoid harsh penalties, which will significantly reduce the overall liability. Your future affairs will be streamlined, and you will no longer be accruing penalties and interest or facing criminal charges.
Conclusion
As the CRS (and other information-sharing agreements) develop over the coming years, it is possible that HMRC will continue to issue the nudge letters and will challenge the taxpayers upon the accuracy of their tax returns.
Thus, it is recommended that every taxpayer should analyse their tax position and take advice from a tax expert so that mistakes and omissions can be identified well before you answer the nudge letter issued by HMRC. Please contact dns accountants if you have any questions or concerns about this matter.
In case you are having any query or want specialist advice on "Worldwide disclosure facility", kindly call us on 03330886686, or you can also e-mail us at enquiry@dnsaccountants.co.uk
Speak with an expert
Any questions? Schedule a call with one of our experts.