You are starting a business but instead of going it alone you partner up.
A business partnership is a great idea. You share the journey and its ups and downs including responsibility, liabilities and profit. As with any partnership, the big question is how to make it work? Or at the very least, how to avoid the worst pitfalls?
In this article, I'll review the principal forms of business partnerships, their advantages and disadvantages and which financial obligations they entail.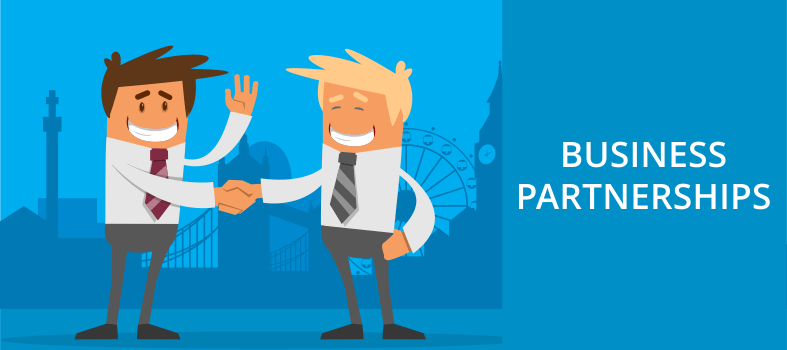 Business Partnerships
In a business partnership, two or more people go into business together. As they will share all responsibilities, liabilities and profits generated by their business, this simple definition alone shows us that there is enormous scope for conflict: Who is responsible for what? Who has to pay for what and when? What share of profits will each of the partners receive? What happens when one of the partners wants out or dies – will the business be dissolved or carry on?
To ensure as smooth a journey as possible you need to draw up a written partnership agreement that sets out all partners' rights, responsibilities and liabilities, that minimises misunderstandings and provides guidance in the event of a disagreement among the partners. Should the business look for outside funding, such an agreement will also provide the stability and clarity potential investors require.
The safest way to avoid this journey becoming a trip through a minefield is to seek professional advice before drawing up your partnership agreement. After all, the purpose of such an agreement is to settle these and other issues that may arise in your specific line of business as much as possible in advance rather than create even more scope for litigation. A clause stipulating conditions how to modify the agreement should also be included.
If you do not sign a partnership agreement, the Partnership Act 1890 defines the terms of the partnership.
Types of Business Partnerships
For most purposes, the following 3 types of business partnership will satisfy any requirements:
Ordinary

(General) Partnership

Limited

Partnership

Limited Liability

Partnership (LLP)
Ordinary Partnership

In an Ordinary or General Partnership, two or more individuals are the co-owners of a business. All partners share the profits of the business and, in analogy to a Sole Trader, there is no limitation of liability. All partners are jointly and severally liable with their personal assets for all debts and liabilities.

An Ordinary Partnership has no separate existence in law. The partners have to designate a Nominated Partner who must register the partnership with HMRC for Self Assessment and who will be responsible for managing the partnership's annual tax returns and keeping business records. The Partnership must be registered before the 5th of October of its second year of trading.

Regulations on VAT apply to partnerships as to any other business.

Partners are individually responsible for tax on their income and National Insurance contributions. They have to register for Self Assessment.

Limited Partnership

A Limited Partnership has at least one General Partner and one Limited Partner. It sits half way between an Ordinary Partnership and a Limited Liability Partnership. The major difference is the way the two types of partner are liable. While the General Partner has the same responsibilities and liabilities as a partner in an Ordinary Partnership, the Limited Partner's liability is limited to the amount invested. For tax purposes, there is no difference between a Limited Partnership and an Ordinary Partnership.

All partners are individually responsible for registering for Self Assessment, tax on their income and National Insurance contributions.

You can download the forms required when setting up a business partnership are here.

Limited Liability Partnership (LLP)
Just like a Limited Company, partners in a business that has been established as a Limited Liability Partnership (LLP) enjoy protection of their personal assets from business debt and liabilities. Partners' liability is limited to funds they personally invested and personal guarantees they provided to secure finance.
LLPs must have a Partnership Agreement defining each member's rights and responsibilities. As liability is limited, partners are not held responsible for liabilities incurred by other members.
Administrative requirements are similar to those faced by Limited Companies. Each LLP must designate at least two partners who are legally responsible for registering the partnership at Companies House and for timely filing of the annual accounts and the annual report with Companies House. As a LLP is incorporated, it has a continuing legal existence independent of its members.
For tax purposes, there is no difference between a LLP and an Ordinary Partnership. Each partner has to pay income tax on their share of any profits independently of whether or not the profits are actually distributed. All partners are self-employed and have to register for Self Assessment within three months of starting up.
In the United Kingdom LLPs are governed by the Limited Liability Partnerships Act 2000 (in Great Britain) and the Limited Liability Partnerships Act (Northern Ireland) 2002 in Northern Ireland.
Ordinary Partnership or LLP?
The major differences between an Ordinary Partnership and a LLP are administration and liability of partners.
The upside of a LLP is the limitation of liability as partners are liable for debts and losses only up to the limit they invested in the business but not with their personal assets.
The downside is its much greater administrative burden as it has to be incorporated and annual reports and accounts must be filed with Companies House. In addition, accounts and annual reports will be open to inspection by the public. This will only pose a problem if the owners do not wish to reveal this information.
Ending a Business Partnership
A partnership agreement should also include a dissolution strategy to prevent nasty surprises. If these are not in place, the Partnership Act 1890 regulates what will happen to the business.
For instance, unless stated otherwise in the Partnership Agreement a partnership ends on the death of a partner. Would this be in the best interest of the business?
What should happen if a partner was forced to withdraw due to injury or illness?
What should happen if a partner demanded that the partnership should be dissolved?
Should a non-compete clause be added to prevent a partner who wishes to terminate his stake in the business from to taking unfair advantage of the business?
As I stated at the outset, to ensure that the Business Partnership operates as smooth as possible independently of the legal form of the partnership, drawing up an agreement is indispensible.
Speak with an expert
Any questions? Schedule a call with one of our experts.