A reminder to everyone who files digital tax returns that the Self Assessment deadline is looming. You have until 31st January to get your tax return information together and submitted to HMRC to avoid incurring fines or penalties.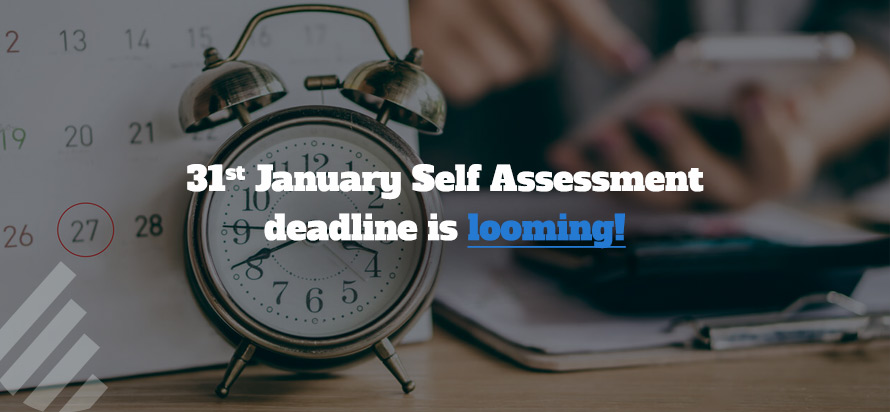 What is the deadline for 2020/21 tax return?
The tax return deadline is 31st January 2022 for anyone that files online tax returns. However, remember if you use an accountant, you will need to give them time to prepare your tax return on your behalf. So, if you haven't already, you should begin to pull all the relevant information together now to give to your accountant as soon as possible.
HMRC urges self-employed not to leave tax return until the last minute
With HMRC reporting more than 2,800 tax returns being filed on Christmas day alone, it's clear that many people are thinking about their return even during the festive season. More than 31,000 people submitted their tax return between Christmas Eve and Boxing Day. HMRC urges everyone to not leave their tax return until the last minute, to assure that the information is correct and filed in good time online.
Important tax dates if you're self-employed
Often people refer to 'during the tax year' and this refers to the UK tax year running from 6th April to 5th April the following year. So the tax year of 2020/21 ran until the 5th April 2021 and your tax return for that year needs to be submitted by 31st January 2022.
What do I do if I'm newly self-employed?
If you're newly self-employed then you need to register with HMRC for tax and national insurance.
Self Assessment – what happens if I miss the deadline?
If you don't file your tax return online by midnight on 31st January 2022, then you will face fines and potentially additional penalties.
How much is the fine for missing the Self Assessment filing deadline?
If you miss the 31st January Self Assessment deadline then and automatic £100 fine from HMRC will be charged. This will be added to your online account if you have one. This fine is given whether you owe tax or not. HMRC will impose an additional £10 daily fine if you fail to file within three months of the deadline (i.e. by the end of April). This £10 per day fine will be charged for the next 90 days.
You'll also pay interest on any unpaid tax, so the money you owe HMRC can mount up very easily if you miss the deadline and continue not to file your tax return.
If you haven't paid the tax you already owe from the previous years by 31st January, then HMRC will impose more fines on you. So don't forget to not only submit your tax return for 2020/21 tax return but pay any tax due to HMRC.
What do I do if I miss the Self Assessment deadline?
If you miss the deadline, then get your information together and get your Self Assessment tax returned filed as soon after the deadline as possible, otherwise you'll begin to incur and build up fines and penalties from HMRC.
Can I appeal a Self Assessment fine?
Yes, you can if you have a 'reasonable excuse' for not filing on time - but HMRC use their discretion as to what constitutes a reasonable excuse. HMRC often publish a list of the outlandish excuses that people try to use. We wouldn't recommend you go down this route where possible as HMRC will not accept most excuses.
If for example, you are seriously ill or have lost a family member close to the deadline then this may be accepted. There is no doubt that COVID could affect peoples ability to file on time and last year HMRC took a fair approach. We can only hope they do so again this year but there is no guarantee of this.
You'll need to complete a form online to appeal.
Can I file my own tax return?
Some people do file their own Self Assessment tax return themselves. How complicated it is depends on your circumstances and sources of income. Getting an accountant to file your Self Assessment will give you the peace of mind that a professional is completing it correctly on your behalf.
This year some people face additional complexity of reporting due to Covid related support payments and claiming deductions for extra costs of working from home. So it's even more reason to get a professional to do your tax return for you.
Do I include Covid support payments on my tax return?
If you claimed any Covid support payments during 2020/21, then the money received is taxable as trading income and will need to be included on your tax return. This includes payments from Coronavirus Job Retention Scheme/ Furlough payments for employees if you're a sole trader, Self-employed Income Support Scheme (SEISS) or the Eat-Out-To-Help-Out scheme.
Summary
If you haven't already, begin to get your information together for your 2020/21 tax return now. Whether you submit the tax return yourself or get an accountant to do it on your behalf, you need to prepare now. Leaving it too late could mean you incur penalties.
Here at dns accountants we file thousands of tax returns on behalf of our clients and our tax team are specialists in advising people on their personal tax. Find out more about our Self Assessment tax return service here or call dns accountants on 03330 886 686, or you can also e-mail us at enquiry@dnsaccountants.co.uk.
Speak with an expert
Any questions? Schedule a call with one of our experts.