Defining Retail Price Index (RPI) with Example
Retail price index is a measure of inflation that indicates the variation of the prices of goods and services. Retail Price Index (RPI) is produced by the UK's Office for National Statistics and is one of the key measures allowing consumers to calculate inflation. The National Statistics Office (NSO) has laid down a set of procedures to calculate the Retail Price Index (RPI). It is primarily aimed at those who wish to have knowledge of the consumer price indices for undertaking a reasonable analysis. It allows them to know how Inflation can have a bearing on several of sources of income. Be it then the salaries, wages, allowances, benefits, savings and pensions .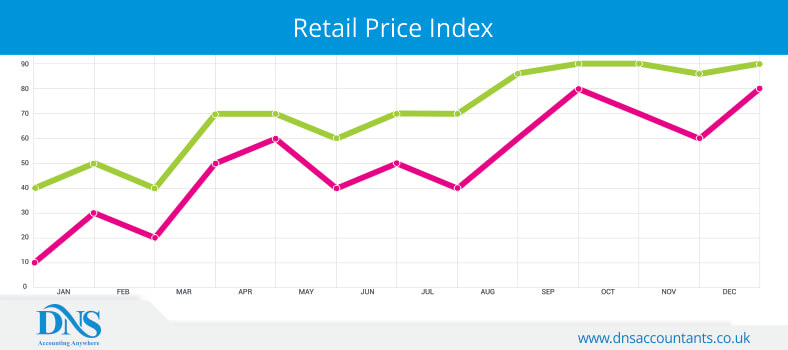 Retail price index (RPI)
All consumers know they have to pay a price for all goods and services bought. But then it is not the payment part but the inflation caused by the change in prices which worries them. Since, their economic and social life also revolves around the variations in the prices they pay for goods and services. As a method the Retails Price Index (RPI) was introduced in the U.K. in 1947, and was made official in 1956
Understanding Retail Price Index (RPI) in UK
What is the Shopping basket concept? Let's understand RPI with an example.
Ok, we know no two households would ever spend their money in the same manner. Now having said this, many experts of the RPI concept find it extremely handy to explain it in terms of a shopping basket. The basket contains all such goods and services which form part of a family's and an individual's typical spending mannerism. Now here the RPI is not strictly speaking a measure of inflation. Rather, it is a measure of the fluctuation in prices and is therefore a valid indicator of the impact of inflation on the budget. Now the variation in prices of individual items of expenditure gets reflected in changing cost of this 'fixed' basket. In this regards Retail Price Index (RPI) is a widely-used tool by both economic and social analysts as well as by policymakers.
Compared to the more recognised consumer prices index (CPI), Retail Price Index measures changes in the cost of a fixed basket of goods over time. It is produced by combining variations in price quotes for random representative items. The Retail Price Index measures the change in average prices over a certain time period. Once the measurements are made by recording the essential goods and services, people are expected to buy are put in an imaginary shopping basket called the "Basket of Goods".
Now the price index is considered as a single figure to indicate the price change in a number of different goods. Calculation is derived by comparing the price of goods to the base year. However, while calculating the Retail Price Index one needs to take into account 2 principles:
Firstly, Consistency moving from one year to the other in the representative basket of goods and services for which retail outlets share their prices every month.
Secondly, a uniform method by which importance of different items of expenditure is adequately reflected in the Index.
Is Cost of Living Index also Retail Price Index?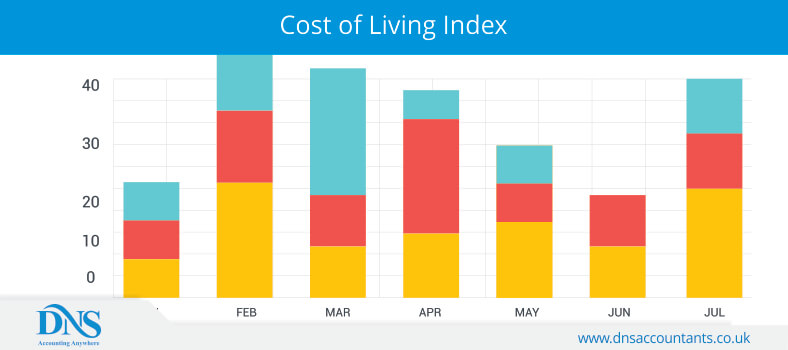 RPI is certainly not an index used for measuring the cost of living, although it is often showcased as one and widely used for this objective. It is only meant to keep a track of how prices fluctuate with time through a series of observations. It provides outcomes for groups and sub-groups of items in a tabular format. Adding to that, the cost of living as a concept is merely subjective and is influenced by a reality of varied factors characterising different households. In simple terms,Retail Price Index (RPI) provides a basic measure of what any 'average' household needs to spend for purchasing the same goods and services it might have purchased at base period of the Index. Here the strength lies in comparing different time frames, on a like-with-like scenario. Anyhow, it is considered as a good indicator of the impact of inflation on cost of living.
History perspective of Retail Prices Index
The first time when Retail Prices Index (RPI) was calculated was in June 1947. It was a replacement for the previous interim Index of Retail Prices. It was once a principal official way of measuring inflation. Now the CPI has come to serve the purpose instead.
But RPI is still used for some purposes by the UK government. The primary case is to figure out the amounts to be paid on index-associated securities. This includes index-associated gilts and increases in social housing rent. The employers in Britain tend to use it as an initiator in negotiation of wages. But from 2003, it is no longer in favor to set an inflation target for Bank of England's Monetary Policy Committee. Moreover, from April 2011 it is no longer used as a basis for indexation of pensions belonging to former employees in the public sector.
The watershed moment came in 2013 following a consultation on measures required for improving the Retail Prices Index (RPI), the UK national statistician mentioned, 'Formula used to calculate the RPI was in contravention of the international standards and recommended a new index called as RPIJ to be published'. The ONS took note and decided to no longer denote RPI as a "national statistic." But then ONS also decided to still continue calculating RPI among several versions of inflation index to provide a more full proof historic inflation time series. The index factors though still continue to be used for adjusting inflation in capital gains meant for inclusion in the tax computation for entities but subject to corporation tax in followed in the UK.
Also Read : Capital Gains Tax for 2018/19
Also Read : Corporation Tax Calculator: Updated for 2018-2019
HMRC Offices