QuickFile is a quick bookkeeping and accounting package that includes unique features, making bookkeeping seem less discouraging. QuickFile is free for the basic package, enabling small-businesses and freelancers / contractors in the UK save money. We at DNS Accountants our qualified accountants (ACAs and CAs) and our team is always ready to take care of the accounting and taxation needs for our clients in the UK. If businesses currently use, or are planning to use QuickFile to process their day-to-day accounting we are always ready to help. At the year-end, when small-businesses in the UK prepare themselves for year-end accounts and tax returns preparation, DNS Accountants will just log-in to their QuickFile portal and extract the relevant information we require to help businesses meet their filing deadlines.
Clients Review
Ease of use
Speed
Features
Support
Reporting
Price
---
QuickFile was designed from the beginning as accounting software for non-accountants. Users don't have to spend hours learning how to bring into play QuickFile'. They just need to login and view all the key figures of the business. For a business looking to expand, QuickFile can provide business with features that can be modified as per the requirements of the growing business. The company is based in Kensington, London, UK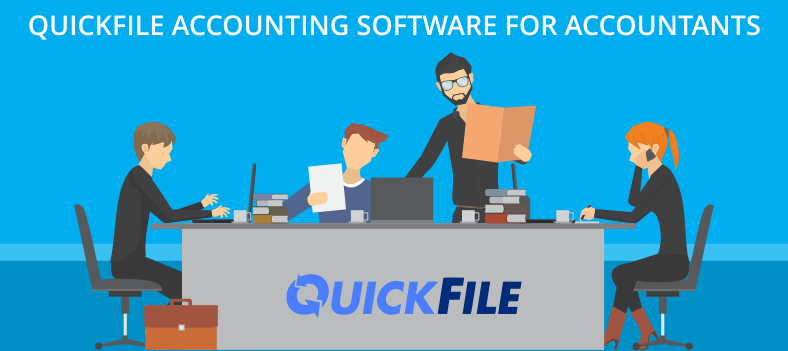 QuickFile pricing
XS

S

M

L

XL

Extra Small

Small

Medium

Large

Extra Large

Number of ledger entries

Up to 200

201 - 500

501 - 1000

1001 - 4000

4001 or more

Features

FREE

£45 + VAT (per year)

Professional Invoicing

√

√

√

√

√

Fully Branded Client Area

√

√

√

√

√

Purchase/Receipt Management

√

√

√

√

√

Banking Automation

√

√

√

√

√

Estimates/Quotations

√

√

√

√

√

Full Multi-Currency Support

√

√

√

√

√

Reporting

√

√

√

√

√

Over 400 Integrations

NA

NA

NA

√

√

No Adverts

NA

NA

NA

√

√

Advanced Customisation

NA

NA

NA

√

√

Segmented Profit & Loss

NA

NA

NA

√

√

Custom Trading Styles

NA

NA

NA

√

√

Invoice Revision History

NA

NA

NA

√

√

Sent Email Log

NA

NA

NA

√

√

Enhanced bulk invoice entry

NA

NA

NA

√

√

Keyboard Shortcuts

NA

NA

NA

√

√
All plans include 2-Factor authentication; automated backups; API access; free unlimited users; free 1 GB file storage; no setup fees or contracts; no software to install; regular free updates and year-end tools
Key Features
QuickFile software is very different from the usual online accounting applications. It is highly insightful software with no jargons and provides simple bookkeeping options for the non-accountant. The software is continuously updated giving users the best tools to manage their accounts
QuickFile security
2 factor authentication with Google Authenticator
24 hour offsite backups of data – 15 minute full backup, minimising risk of data loss
Configure multiple users with restricted access levels
Highest level 256bit SSL Security similar to that used in the banking industry
Optional weekly backups by email
QuickFile invoicing
Attach files to invoices
Automated overdue reminders by email
Design the style, layout, colours and images that will appear on invoices
Create and email account statements to clients; attach statements to a recurring schedule
Create estimates and allow the client to accept/decline
Create one-off invoices
CSS Designer for advanced invoice editing
Custom branded administration and client area
Full multi-currency support – invoice in over 100 currencies
Full reporting enables businesses to view their financial position at any given time
Fully integrated with GoCardless for one-off and repeat Direct Debit collection
Inline invoice comments
Invoice for time related services
Invoice revision history, track changes to invoices and estimates
Link the client area into the payment portal for faster online payments
Manage 1000s of inventory items
Multilingual support – invoices in different languages
Process full and partial refunds
Send invoices by email with full customisation over the wording
Send invoices by post
Setup a recurring invoice profile to auto-send invoices according to the business schedule
Tag invoices as paid directly from the bank
QuickFile for Value added tax (VAT)
Cash and Accrual based VAT accounting
Full support for VAT exemption
Full support for Flat Rate VAT accounting
Online integration with HM Revenue and Customs (HMRC) permitting VAT returns to be prepared and sent electronically
QuickFile for purchasing
Add new supplier records on the move
Create, convert, and track purchase orders
Expense in foreign currencies
Log purchases with multiple items and categorisation
Obtain instant categorisation help on 1000s of items
Process full and partial credit notes
Record payments in-line with your purchase
Setup recurring purchase profiles to be created, weekly, monthly or yearly
Tag purchases as paid directly from the bank
Upload digitised receipts to your purchase records from the website or with QuickFile's iPhone App
QuickFile for banking
Automated bank feeds with Barclays and PayPal
Bank statement matching tools to easily reconcile with paper statement
Bank feeds from Barclays Bank, HSBC, NatWest, Santander, Lloyds, PayPal, and RBS
Chrome browser extension to stream bank data directly into QuickFile
Drill down on bank transactions to retrieve invoice and purchase documents
Full multi-currency support with live exchange rates
Individual and bulk tagging system for rapid categorisation and sales and purchase generation
Upload bank data from your online banking application in CSV format
Intelligent search allows you to pull up similar transactions
Dashboard view of your most frequently used accounts
Support for up to 50 bank accounts
QuickFile for reporting
Advanced segmented profit and loss reports by monthly, quarterly or yearly periods
Basic Balance Sheet report
Basic Profit and Loss report
Create customer reports and display data in graph and tabular format
Debtor and Creditor ageing reports
Export data view to CSV throughout many areas of QuickFile
Full access to chart of accounts and nominal ledgers
Full project level reporting
Historical debtor and creditor reports
Additionally, the company introduce support for importing foreign currency purchases and sales invoices from a CSV spreadsheet. Two columns are added:
Currency – A 3 character ISO code (e.g. USD, EUR, CHF etc.) for the currency the businesses in the UK will prefer to use for computation
Exchange Rate – In order to compute the values in different currencies, clients can either input an exchange rate or the application will automatically source the rate from xe.com based on the date of the invoice
QuickFile review and rating
According to a recent review conducted, QuickFile received an overall rating of 2.9 out of 4. According to a user, "QuickFile for basic bookkeeping is excellent. It is pretty quick and simple. VAT returns are a doddle and the interface is easy"
DNS Accountants – QuickFile accountants
DNS Accountants are QuickFile accountants in and around the UK. To assist accountants, work more economically with their clients online, we provide them with training on QuickFile and help them understand all the tools and benefits that can be realised using QuickFile accounting software.
For any QuickFile related query, clients can contact us at www.dnsassociates.co.uk or get in touch with us on our social media network –Twitter,Facebook, and LinkedIn
HMRC Offices