Pay Dartford Crossing Charge
What is the Dartford Crossing?
People driving on the M25's east side must be very much aware of how dreadful it is to go by the Dartford Crossing. The Dartford Crossing is a chief road crossing on the M25 motorway (the ring road around Greater London) in the UK. This busy passage features a two two-lane tunnel travelling northbound and another four-lane overpass travelling southbound. There is a cap on the speed limit and it's just 50mph in both directions. The Dartford crossing is the only passage over the River Thames which connects Dartford in Kent and Thurrock in Essex. This passage is also a decisive section for travel locations such as the Dover and Channel Tunnel. The Dartford crossing is situated 20 miles from central London and, most people in London are aware of the fact that M25 can get extremely congested – predominantly during the morning and evening rush hours. The crossing uses automatic number plate recognition (ANPR) cameras to record the entry; hence there are no ticket booths or barriers to go through. In case the Dartford crossing is closed, the only choice to travel will be through London itself or the other way around the M25.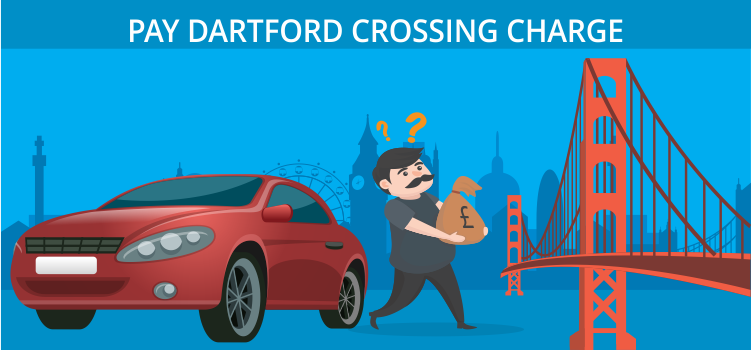 Dartford Crossing Charges for Vehicles and Their Corresponding
The Dartford Crossing Charges was formerly a toll road but with the coming of an electric charging system in Nov-2014, commonly referred to as Dart Charge; the traffic management has become streamlined. The Dartford Crossing charges differ depending on the type of vehicle, unless a person is travelling between 10pm to 6am, when there are no charges. There are not charges if an individual rides a motorcycle, moped, or a motor tricycle. However, for other vehicles charges apply each day, including bank holidays and weekends, each time an individual takes the passage. It is imperative to pay Dart Charge by midnight, the day after person crosses, as there is a fine for late payment. Individuals can also pay the Dartford Crossing Charges online through the Dart Charge service upto 12 months in advance and will no longer be required to pay at the barriers.
Dartford Crossing Charge List
As stated earlier, the Dartford Crossing charge depends on the vehicle and whether an individual has an account. An individual can set up an account online and get discounts the next time they cross.
Cars & Motor
Dart Charges
| Vehicle class | Type of vehicle | One-off payment | If an individual has an account |
| --- | --- | --- | --- |
| A | Motorcycles, mopeds and quad bikes | Free | Free |
| B | Cars (including trailers), minibuses and motor-homes (vehicles with less than 9 seats including the driver's) | £2.50 | £2.00 |
Buses, Coaches, Vans & Other Goods Vehicles Dartford Crossing Charge
| Vehicle class | Type of vehicle | One-off payment | If an individual has an account |
| --- | --- | --- | --- |
| C | Two (2) axle vehicles | £3.00 | £2.63 |
| D | Vehicles with more than 2 axles | £6.00 | £5.19 |
The heavy goods vehicle (HGV) levy doesn't include the Dartford Crossing charge
If you're disabled
You're free to pay dart charge while driving a vehicle that's released from vehicle tax because of your disability.
Once you cross your car will be checked automatically – you're not required to do anything.
Local resident discount
You have a provision to apply for a concession if you pay Council Tax to Dartford borough council or Thurrock council. You could find out which one is your local council.
You can either:
pay £20 yearly for Dartford Crossing charge to use the crossing as many times as you want
You could pay £10 for 50 crossings, along with 20p for every extra crossing.
Dartford Crossing Late Payment Charge & Fines
Individuals will be fined if they don't pay Dart Charge by midnight on the day after they passed the Dartford crossing. This is referred to as a Penalty Charge Notice and an individual can either pay or challenge the fine imposed. The fine amount is £70.0 and must be paid within 28 days. However, the amount is reduced to £35.0 if an individual pays within 14 days else it is increased to £105.0 if not paid. Apart from the fine, an individual will also have to pay the crossing .
How to Pay Dartford Crossing Charge (Dart Charge)
Individual can sign into their Dart Charge account and use this service to:
set up an account and pre-pay the Dart charge to avail discount on every crossing; individuals can also apply for a local resident discount account
pay for a one-off crossing
check for the number of crossings the amount is paid for
pay or challenge a Penalty Charge Notice (PCN)
Other Way to Pay Dart Charge
Individuals can either:
pay with cash at a payzone outlet
set up an account and apply for a local resident discount account by post
pay or set up an account by phone
top-up a Dart Charge account by post or pay in advance
Contact Dart Charge
Individuals can contact Dart Charge online , either by phone or post
Contact by Phone – Dart Charge
Telephone number: 0300-300-0120
Textphone number: 18001-0300-300-0120
Calls can be made every-day, from 5am to midnight
Contact by post – Dart Charge
Dart Charge customer services
PO Box 842 Leeds LS1 9QF
DNS Accountants
DNS Accountants is a renowned accounting and taxation firm in the UK and have presence around Dartford. Our team of CAs and ACAs works with clients to manage their books of accounts and taxation queries. Our other services include:
Inheritance tax guidance, and individual and business taxation
Accounting and bookkeeping services
Auto enrolment
Self assessment
HR and payroll services
Value added tax (VAT) planning, along with others
For any business related queries, please contact us at www.dnsassociates.co.uk or follow us on Facebook, LinkedIn, and Twitter.

---
---
Other Locations
HMRC Offices