Londynek – Polish Community in UK
Polish community is the second biggest migrant population in Britain and their population has rose from 95,000 in 2004 to approx 550,000 in 2010. This steep increase in the population occurred after Poland became part of European Union, which allows Polish people the right to settle anywhere within the European Union without any restriction.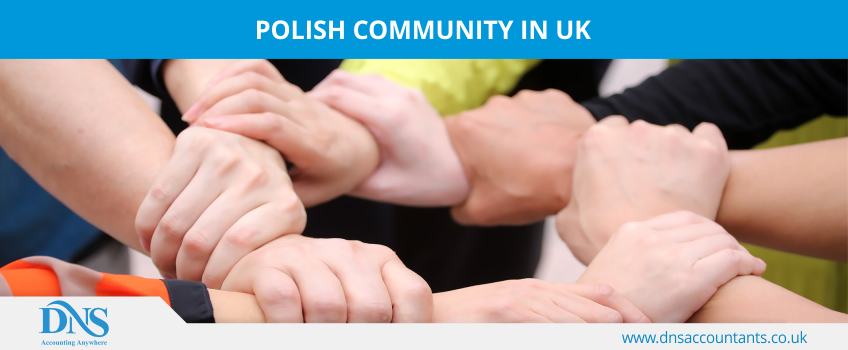 As per the polish mythology, United Kingdom is a land of filled promises and they believe that large amounts of money can be made smoothly into Polish pockets and like numerous British ancestors moved to USA in search of a better life; most of the Polish people leave their homes in the possibility of finding a decent job and life. As per a research and case study, most of the polish people are not having that job for which they came to UK, however, they continued to stay in UK. In 2010, polish immigrants living in the UK sent around £600 million to their country, with total £3 billion being sent to Poland from all around the world.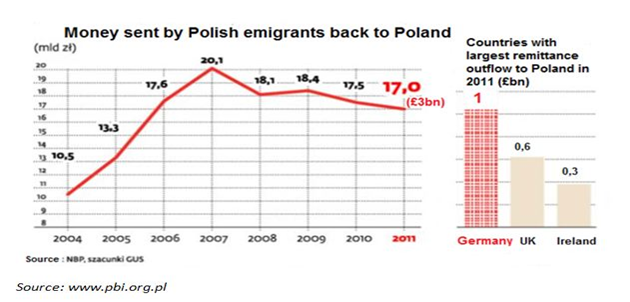 Polish community have made their own small world in UK by establishing various small businesses like Polish Grocery Shops, Polish dentists, Polish media, Polish beauty salons, Polish restaurants and bars with Polish vodka, polish construction industry and there are certain parts of the United Kingdom such as Hammersmith in London, where you don't feel that you are in UK rather you feel being in Poland. Such an extensive their presence is in UK. The Polish language is the second most spoken language in the United Kingdom after English and Welsh and approximately one percent of Britain's population speaks Polish and in London itself there were approx 147, 816 Polish speakers. Main hub of Polish community in London is Ealing in West London. Apart from this, the biggest Polish communities are in London Boroughs of: Haringey, Brent, Hounslow, Waltham Forest, Barnet. Apart from London, major Polish communities are in Birmingham, Southampton, Slough, Luton, Leeds, Peterborough, Nottingham, Manchester, Leicester, Coventry.
Majority of polish population which migrated from Poland to the United Kingdom did so in search of work and the time of migration, they were relatively quite young to their British counterparts, however, they were relatively more educated and had higher rates of participation in the labour market.
Those who migrated from Poland to the United Kingdom, in search of work, were able to save as much as they would have earned in one year had they been in their country. Apart from this, they find the living conditions, family life and medical facilities much better in UK as compared to what they have in their own country. Considering the unemployment situation in Poland, even highly educated lot end up doing menial jobs like of bartender etc in UK. There are many Polish people to whom National Insurance has been issued which gives them many benefits. People who are resident of UK enjoy many benefits like Child Tax Credit, Housing Benefits and much more.
Impact of Polish Migration to the UK
When a migration happens from one country i.e. the home to another country i.e. the host, it has economic, social and political effects on both the countries involved. Some of these effects are symmetric in nature i.e. while it has positive effect on one country, it has mirrored negative effects on the other country and at times chances are there that the migration has positive effect on both the countries.
As far as Polish Migration is concerned, it was majorly because of the economic reasons. Salary of an average blue collar worker in Poland is around 200 pounds per month, which is hardly anything as compared to what they get in UK. Low salary wages combined with high unemployment rate was the major compelling reason for the Polish community to leave their home and to take shelter in United Kingdom.
During the time of migration, nearly sixty percent of the immigrants were in the age bracket of 24-35 and approx forty percent of them had high professional degree. However, most of them were single and only very few of them had dependants. Polish immigrants are treated with respect in the United Kingdom because of their hard work.
So, this nature of the Polish community has a positive effect on the Polish economy and society. One of the major and quantifiable effect is related to salary remittances i.e. as per a study, it has been estimated that at least 60 percent of Polish community send money back to their home i.e. Poland and it allows their people to find alternative for themselves when there are few opportunities at home. Apart from sending money back to their homeland, in case they go back to their country, they carry the acquired skills and experience from having worked in a more developed country and this particular effect has social as well as cultural impact as well because the immigrant returning home is more cultured, educated, and open-minded. The Polish people also have their own website in their native language where they can engage themselves in various activities.
In the long term, immigration has a positive effect on the home country whereas it has a negative effect on the host country considering its impact on the population and other factors but as far as Polish immigration is concerned, it has been beneficial so far for both UK and Poland.
Financial Incentives of Migration to the UK for Workers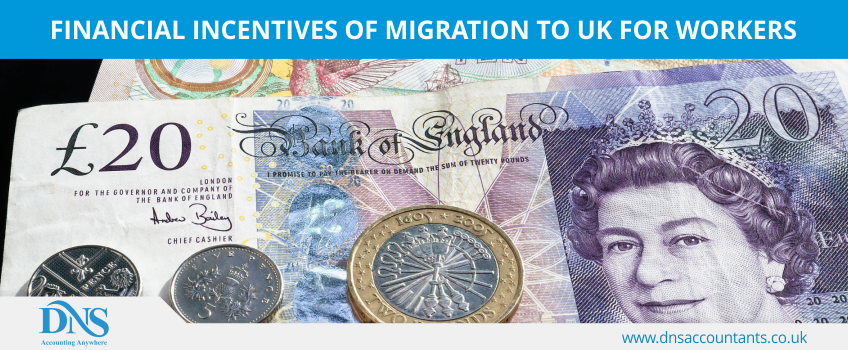 Unemployment in Poland at the time of accession was close to 20 percent which further dropped to 10 percent in 2006. Considering reduction in job opportunities and low salary wages in Poland, most of its population migrated to UK where they found job with better living and medical conditions.
In case of a worker who is single, the minimum wage which he takes home is £254 per week after tax which equals to annual income of just over £13,200 and even if he saves at least 20 percent of his income, he would end up saving about £50 per week, which is approximately 250 Polish Zloty (at current exchange rate) and it is roughly what a worker would earn in a week in Poland on the minimum wage.
In case of a worker who has a dependant spouse and two children, who is earning a minimum wage would receive a weekly income, which also includes benefits of £543, which equals to annual income of just over £28,200 and even if the family make a 20% weekly saving, they would end up saving £110 which is equal to 540 Polish Zloty. Same person, had he been in Poland, under same circumstances, would have a weekly income of 375 Zloty, which is after tax and benefits. Thus, if they could save 20% of their earnings in the UK, they would be saving almost one and a half times of what they would have earned back in their own country Poland.
So, the savings that they made in the UK, translates in to significant sums of money in their native Poland and thus help their family, who is in their home country to afford a comfortable life which otherwise would not have been possible.
Apart from having more saving than what they would have done in Poland, migration to UK provides them with a higher standard of living in the UK than at their home. When Poland joined the European Union in 2004, a large influx of immigration arrived to UK and now after 13 years, in cities like Southampton, they are a major factor in the European elections. It was on 1st May 2004 when Poland joined European Union along with seven other Eastern European Countries and United Kingdom was one of three member states which allowed the new European Union citizens immediately to work without imposing any restrictions within its borders, result of which approx 13,000 Poles moved to UK.
For polish immigrants, UK has to offer much more than a job. For them UK offers them a better standard of living and more opportunities which is otherwise rare in their homeland. Shirley High Street, is an area which has a relatively large Polish community and by a look of it, one could easily understand the presence of Polish community. Polish immigrants are acknowledged for their entrepreneurial instincts and self-reliance of the incomers. You name it and they have marked their presence in almost all the areas. Polish accountants, travel agents, beauty therapists, dressmakers, computer technicians, car mechanics are amongst few who are promoting their own business. You enter any of their local shops and you will find their shelves stacked with Polish groceries imports, Polish sausages and cheese while Polish radio plays on their radio. So, while they live in the United Kingdom, they are well connected with their roots and have no apprehension in flaunting the same.
Best part of Polish community is that they know why they are needed amongst British community and they accept the reason with open arms. To quote Marcin Piotrowski, who is 38 years, and is shopping with his family before heading to work as a housekeeper at a hospital, he says that his boss ask him if he has any Polish friends who are looking for job. As per him, Polish people are in demand because they are hard working and they are ready to work days and nights and on weekends. He came to UK 8 years ago with his family and has no intention to return to his country for the simple reason that he has settled down comfortably in UK and has bought a house, has two children and living quite comfortably which was no lesser than a far-fetched dream in his own homeland.
This is the case with most of the Polish immigrants. They come to UK with the intention to stay for few years, may be three years or so, but because of various reasons such as better or permanent jobs, contractor mortgages, marriage, children, etc happens and they end up staying more than expected or thought of. On an average, the feedback of Polish immigrants from their native counterparts has been positive one.
Conclusion:
When Polish community migrated to the United Kingdom, they entered not with a mindset to stay, but rather they thought to stay for few years and then go back to their homeland after saving a decent amount to have a comfortable life in their own country. However, with time, life happened to them and they realized the difference of lifestyle and other facilities between both the countries. UK did offer them with lot of opportunities and chances which was quite rare in their own country and since they had seen what dearth of opportunities is, they were able to appreciate the difference.
Thanks to their hard work and entrepreneurship skills, they can apply for Tier 1 Visa and that very soon they were counted amongst most reliable workforce, majorly because they do not have any qualms in accepting low paying and menial jobs and working for extra hours. Moreover, it helped them in saving almost three times of what they would have done in Poland. Today, most of the cities in the United Kingdom have an extensive presence of Polish community and the number of Polish salons, Polish restaurants, Polish supermarkets, Polish accountants etc one can find in UK is commendable.
For most of the UK natives, having Polish immigrants is a plus point to their economy because they accept all kind of jobs, even if it pays them lesser than their educational qualification.
Most of the UK natives feel positive about the Polish community and appreciates their go getter attitude and while Polish community receives a positive feedback from their native counterparts, they are busy in making a life for themselves by working hard and saving more than enough for them to send some of their saving back to their people and have a comfortable life for themselves in UK.
HMRC Offices