KashFlow is cloud-based accounting software that aims to make business management easier and quicker. The software boasts of a wide-range of comprehensible features, which makes it the most preferred cloud-based accounting software for small-and-medium-enterprise (SMEs) businesses in and around the UK. Founded in 2005 by founder Duane Jackson; he developed his own software package because of the difficulties that existed in the usual accounting packages. Till date, the system has helped thousands of SMEs in the UK to meet their short-and-long-term goals.Below mentioned are a few of the advantages that KashFlow offers:
Clients Review
Ease of use
Speed
Features
Support
Reporting
Price
---
User-friendly
Though being a powerful package, the system is easy-to-use and jargon-free. Users can manage the books and be up-to-date with all the business accounting and taxation information. Small-businesses and freelancers / contractors can easily view information regarding their payments without requiring any prior knowledge of accounting software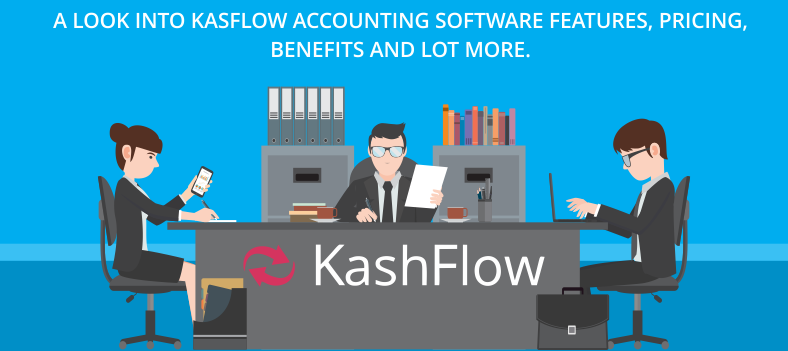 Working in the clouds
One of the most impressive features of KashFlow is that users can create invoices and view information regarding debtors and creditors from their tablet or smartphone. Since it is a cloud-based package, features of KashFlow can be accessed from anywhere as long as the user has access to the internet. It enables business-owners and their accountants such as DNS Accountants to monitor all the business activities on the go, even if they do not have access to a desk computer
Instant solutions
KashFlow enables small-business-owners and contractors / freelancers to raise quotes for their clients and submit business proposals so that no business opportunity is ever missed. The software also gives an option to convert an accepted quote into a sales invoice by just clicking a button – KashFlow gives small-business owner full control of their sales and invoice can be raised from anywhere
Enhance customer satisfaction
KashFlow has a learned customer-support team, and enjoys a rating of 95.55% with regards to customer satisfaction. The software is very easy to set-up and use. To enable small-businesses and freelancers / contractors make the most of KashFlow, the team of cloud accounting experts is always prepared to help. Our team understands that it can be difficult for new users to get a grasp of new software, and because of this reason we help businesses set-up KashFlow and offer in-progress support at each step
KashFlow accounting and invoicing
Accounting and invoicing are very simple with KashFlow accounting software. The software is easy to use, and supports automation. Through its cloud-feature, businesses can easily handle their invoicing – access data from anywhere and send invoices from any location (in the office or travelling). Below mentioned are a few salient features:
Save time
KashFlow helps business save time and money – the software enables users to save upto 75 employee hours per month. As mentioned earlier, users can send invoices straight from the software at the click of a button. Also, automatic recurring invoices are even available. It also assists businesses in the UK by providing them with automatic reminders about payments, filing deadlines, and even sends reminders to customers
Customise invoices
Users can create custom invoices that are compliant with the branding requirements of a business – matches brand and includes a logo too
Repeat and recurring invoices
The software provides an option to save an invoice as a template and it can be reused – just update the prior invoice with current billing details. Steps include:
Choose 'repeat invoices' under the 'invoice' head
Select the relevant invoice
Click on 'copy' and alter the details, as required
KashFlow can even create and send invoices for you automatically. Here's how:
Choose 'repeat invoices' under the invoice menu and then select 'Create'
Enter the duration – until further notice or until a specific date
Choose the frequency – annually, monthly or weekly
KashFlow invoicing template
In order to create a new invoice, user can follow these steps:
Click on 'Add New Invoice' under the 'Sales' tab (invoice number is generated automatically)
Users can fill in the fields with appropriate details; add the product lines to be invoiced
Once the user has finished adding the details, they can click on 'e-mail invoice' or 'print invoice', and a PDF version will be created that can be shared with clients
KashFlow Security
With KashFlow security, each angle is covered to ensure that user data is protected. All the information stored on the KashFlow servers is protected by firewalls, making it virtually not possible to gain access. Additionally, the firewall and servers are under close observation, and any doubtful activity is flagged instantly. Our team makes sure that the systems have a high-quality anti-virus installed to ensure that all data is protected
KashFlow login and help
KashFlow is designed for small-business-owners who do not have formal accounting training. KashFlow provides multiple resources, so that users can easily find the suitable solution to their business needs. Following steps can be used to log-into KashFlow:
Go to the home screen
Press the 'log-in' button present on the top right corner
Enter the username and password
Press the 'log in' button
Additionally, KashFlow provides seminars and training sessions, both online and face-to-face. The support section provides all the details required about forthcoming training so that small-business-owners and freelancers / contractors can manage their schedule accordingly
KashFlow Mobile Accounting
Below mentioned are a few of the mobile apps available to KashFlow users:
KashFlow iPhone App – Users can access all the features through their iPhone – check balances; view reports; add new invoices etc.
KashDroid App for Android – Android phone users can also now access KashFlow through their phone
Quicksnap – Record all expenses instantaneously by taking a photo of the receipts and loading them into KashFlow
KashFlow Pricing
The company revised its prices post 1 October 2016, first time since 2012. There has been marginal increase in the prices from their previous rate primarily due to the addition of new features aimed at providing enhanced customer experience. These latest features enable our clients to invest in the KashFlow application for their advanced features which include Auto Enrolment, Bank Feeds, Intelligent Bank Reconciliation, KashFlow Payments, value added tax (VAT) MOSS compliance, and lately, the company has integrated KashFlow with ConnectMyApps to provide businesses with extended commerce integration options. These new features aim to ensure that businesses remain compliant, and drive greater efficiency
Packages

Starter

£7 per month + VAT

Business

£13 per month + VAT

Business + Payroll bundle

£18 per month + VAT

Ideal for sole traders, small businesses and contractors

Suitable for growing businesses and limited companies

Additional payroll package

SERVICES

Access to over 50 reports

Access to over 50 reports

Access to over 50 reports

Bank Feeds

Bank Feeds

Bank Feeds

Customisable dashboard

Customisable dashboard

Customisable dashboard

Free Mobile App

Free Mobile App

Free Mobile App

Get paid faster with KashFlow Payments

Get paid faster with KashFlow Payments

Get paid faster with KashFlow Payments

Manage and submit VAT online

Manage and submit VAT online

Manage and submit VAT online

Multi-users

Multi currency

Multi currency

Reconcile bank transactions –

Limited to 25

Multi-users

Multi-users

Send unlimited quotes and 10 invoices

Reconcile unlimited bank transactions

Payroll up to 5 employees

Send unlimited quotes and invoices

Reconcile unlimited bank transactions

Send unlimited quotes and invoices

Automatic Enrolment module available as an add on
DNS Accountants – KashFlow accountants
DNS Accountants are KashFlow accountants in and around the UK. Our team provide comprehensive guidance to new and existing customers including small-business-owners and contractors / freelancers. For any KashFlow related query, users can contact us at www.dnsassociates.co.uk or get in touch with us on our social media network –Twitter,Facebook, and LinkedIn
HMRC Offices
---
Sign up to our newsletter
Tax news for contractors freelancers and small businesses.