How to Legally Take Money out of Your Limited Company?
You have recently established a Limited Company or maybe you own it since quite some time. Now that it has started making profits you decided to withdraw your share of the profit or your income from the setup. You know the company's income or money is linked with the bank account hence whatever amount the company earns or invest is managed through that account. So, is it possible that it being your own company, you can withdraw your share directly from the bank account without any hassle? No, not really. You cannot withdraw even your own share from the company bank account without following the necessary norms.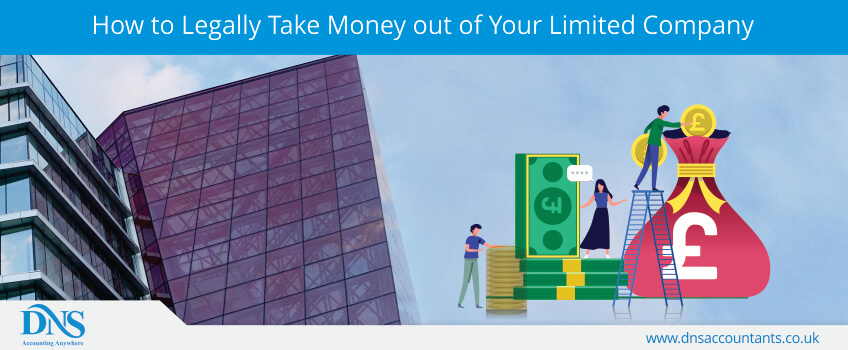 Mostly owners of small business or those who have just entered the business world think that have every right to withdraw their money as and when they wish since it is their own company and they are not answerable to anyone. Nonetheless, you should know this kind of thinking can land you in a tough situation.
Even if you are the investor and every single asset in your limited company is yours, what you should be aware of is, your limited company is a legal entity and it has its own rights and duties. Once your company is registered as a limited company with Companies House, everything single asset and responsibility and all of its profits is not just yours. Everything that the company owns belong to the company hence you will not have the liberty to use its income and other assets at your free will.
What options are available to withdraw money from my limited company?
Here we will discuss the four legal ways you can opt for to withdraw your money from our business bank account of your limited company. Please take further information from the bank where you have your business bank account registered to understand the withdrawal process better.
There are four ways which you can withdraw money from your company's account into your own:
Salary
Director's loan
Dividend payments
Reimbursement of expenses
Consider Paying yourself a Monthly Salary
Whatever position you hold in the company being its owner, you will also be seen as the employee of the company. While you are the sole investor or one of the shareholders in the business, you can consider a monthly salary for yourself. Although, you will be entitled for self-assessment. Additionally, the company will require to register you as an employee with HMRC. The incomes tax and National Insurance Contributions should be excluded from the amount you take as salary from the company and this has to be revoked in HMRC from time to time.
Though you can choose to ignore the liabilities of personal tax, yet you can qualify for the pension and other benefits by simply paying yourself a salary that is below taxable limits but within the basic limits of NIC. However, if you are the owner or shareholder in the company you can withdraw additional money as dividends.
Can Borrow in the Form of Loans
There are times when you might require money even before your salary is released or dividends are paid and many a times you might need some extra money due to some urgency, then the only way out to get that is withdraw it from company's bank account in the form of loan. Although make sure the process does not have any gaps and it is managed carefully and correctly. The money that you withdraw must be recorded in the company ledger book and considered in your account. It is the most ideal option when your account as a director or some other authoritative position is in credit. Preferably, possessing a director's account is the most ideal way to run a limited company. In addition to being a tax efficient option to borrow money from the business, taking loan from the company also allows you to lend your business whenever such circumstance emerges.
Withdraw in the form of Dividends
It is a well-known fact that shareholders are paid dividends out of net profit that the company earns. Dividends are paid to the stakeholders and owners of the company after taxes, several other costs that company has to bear and other company expenses are deducted from the gross income that the company makes. However, if the company is not making any profit and still dividends are paid to its shareholders then it is considered illegal. You will be legally accountable to pay income tax, if you think of borrowing money in the form of dividends from the company. If the money trail is not recorded carefully then dividends can lead to huge tax burden on your business.
Business Expenses that you have to make for your Company
As a shareholder or a sole owner, you will have several business-related expenses that you might be spending from your own savings or if you do not consider reimbursement for the same from the company the you might have to shell out from your pocket. In such cases you can always withdraw money from your company to recover your business expenses. These expenses might include business trips, company cars/mileages, training fees, office equipment and office rentals and travel accommodations. You will have to submit your bills and receipts to submit your claims for reimbursements for the expenses you make. Company should maintain proper records of the same in their business expense accounts and your bills and receipts should be kept safe for a minimum 6 years.
How can we help?
If you are still in doubt and need immediate help then contact a well-trained and highly qualified professionals who can guide you in the right direction in these money matters. However, it is always advisable that you understand the basics of these functions and maintain proper records of every financial move you make. It might be your own limited company but you are liable for every single move the company makes, hence you must maintain the rules set by the government to manage it efficiently, else you might land up in grave legal trouble. When you are in doubt, it is always the best idea to hire a professional who can understand your needs well and assist you accordingly.
HMRC Offices