Companies House Late Filing Penalties
Who are called Company House?
As the name suggests, it is under Company House where a company is created, renamed, restructured or closed. You can think of it as the birth, marriage and death for companies. More than 3.5 million limited companies are registered in the UK and approx 5,00,000 new companies are incorporated every year. The companies register are working as a sole trader, freelancer, contractor or small business owner and follow HMRC rules and regulations that need to meet with regards to filing taxes and payment deadlines. United Kingdom was the first country to create and maintain such an open and transparent corporate information register and this system allows the general public to monitor and inspect the ownership, actions and reliability of each and every company ( As per Company Act 2006 ) transacting business in UK.
Company house falls under the remit of the Department for Business, Energy and Industrial Strategy (BEIS) and is member of the Public Data Group. Companies which are permitted by the United Kingdom Companies Act 2006 should be incorporated and registered with Companies House. The Companies Act 2006 (C 46) is an act of the Parliament of the United Kingdom and forms the primary source of the UK Company Law.

As the official registrar of companies in the UK, Companies house function in three separate countries, each of them having its own registrar. Company registrations for England and Wales are done in Cardiff. Chief Executive of Company House is Ann Lewis. Registrations for companies for Scotland are carried out in Edinburgh and its registrar is Aoife Martin. For companies in Northern Ireland, registration is done at their Belfast Office and its registrar of companies is Helen Shilliday.
Companies House allocates a unique sequential company number to each new company registered. Cardiff office allocates 8 digit numbers, Edinburgh companies start with "SC" and Belfast companies start with "NI'. Numbers allocated to them are permanent i.e. they can never change the allocated number even if they change the name of the company.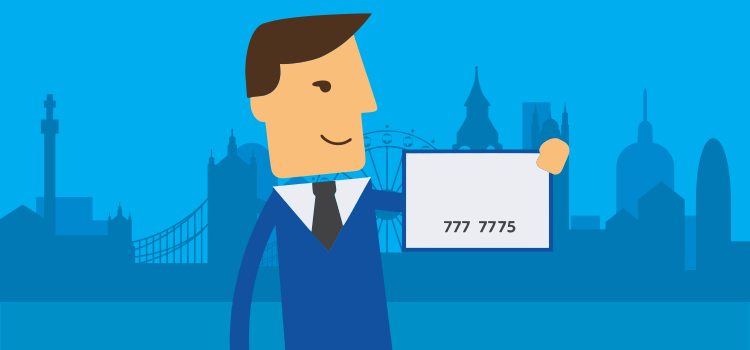 What type of businesses is registered at Companies House?
Companies House can register all type of Limited and Limited Liability Partnerships and is in charge of approving their incorporations. Below are the types of businesses that can be incorporated at Companies House:-
Public Limited Company (PLC)

Private Limited Company by Share

Private Unlimited Company

Private Limited Company by Share

European Economic Interest Groupings (GP04)

Limited Liability Partnership

Limited Partnership

European Public Businesses

International Companies
There are two ways to do the registration at Companies House:
Online Registration via a

company formation representative (agent )
Company formation agents can provide their expert advice and assistance in incorporating your company with Companies House and help you in:
Name of your company, including those that require permission.

Setting a business bank account.

Selecting type of company which suits your need.

Any kind of secretarial support.
List of authorized company formation agent is readily available on Companies house website. However, Companies House neither warrants nor accepts any liability for the same.
Web Incorporation Services:

This is a secure system for customers and can be used by anyone who wants to incorporate a private limited company (As per Companies Act 2006) and to submit their applications to incorporate a company online.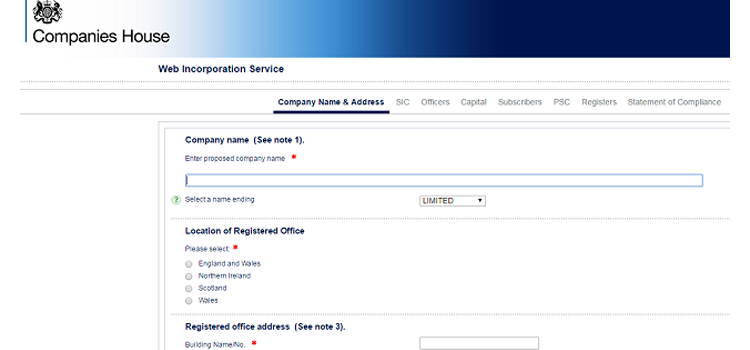 However, this service is not for bulk use. Under this service, one can incorporate a private company limited by shares, adopting model articles wherein shares of private company are not for sale to the public service.
The fees for submitting your company incorporation is £15 and there will be additional fees charged for your broadband or telephone charges.
All company incorporation documents are subject to checks and once all documents satisfy all the required and appropriate examination and company name checks, your company gets incorporated at the Companies House and a Certificate of Incorporation is issued.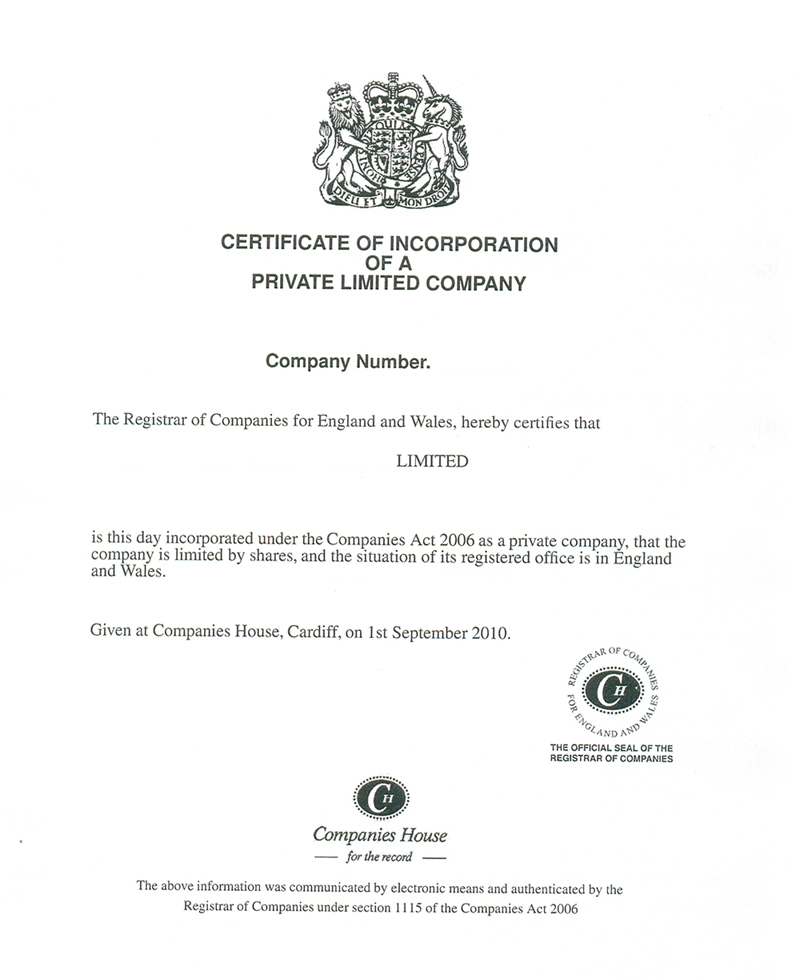 Certificate of Incorporation has following details:
Name and registered number of the company

Date of its incorporation

Company type i.e. Private Limited by Shares

Whether the company's registered office is in England and Wales, Wales, Scotland or in Northern Ireland.
Services offered by the Companies Houses:
With over 3 million companies registered with Companies House and over 7 million documents filed each year, services offered by Companies House can be broadly segregated under three categories:
Company Search Services – Under this , one can avail one or all the mentioned services :-

Companies House Services ( CHS ) – All data which is available under CHS is free of charge for the public and one can access it both through a web service and application program interface ( API ),which enables both consumers and technology providers to access real time update on the companies. One can access to the following information on Companies House Service : -

Company Information, which includes nature of company, its registered address, date of its incorporation etc.

Nature of business

Company's status like Dissolved, Live etc.

Confirmation Statement Filed/Date of last accounts

Confirmation Statement Due/Date of next accounts

Full transaction filing

Images of Documents

Previous and dissolved names search

Mortgage charge data

Insolvency information

If you want to follow any company or companies, all you need to do is to sign in with your registered email address and password and search for the name of the company you are interested and click on follow this company.

Web CHeck –

It allows you to access to company information, where basic information about the company is free however, documents and reports are charged at £1 per document.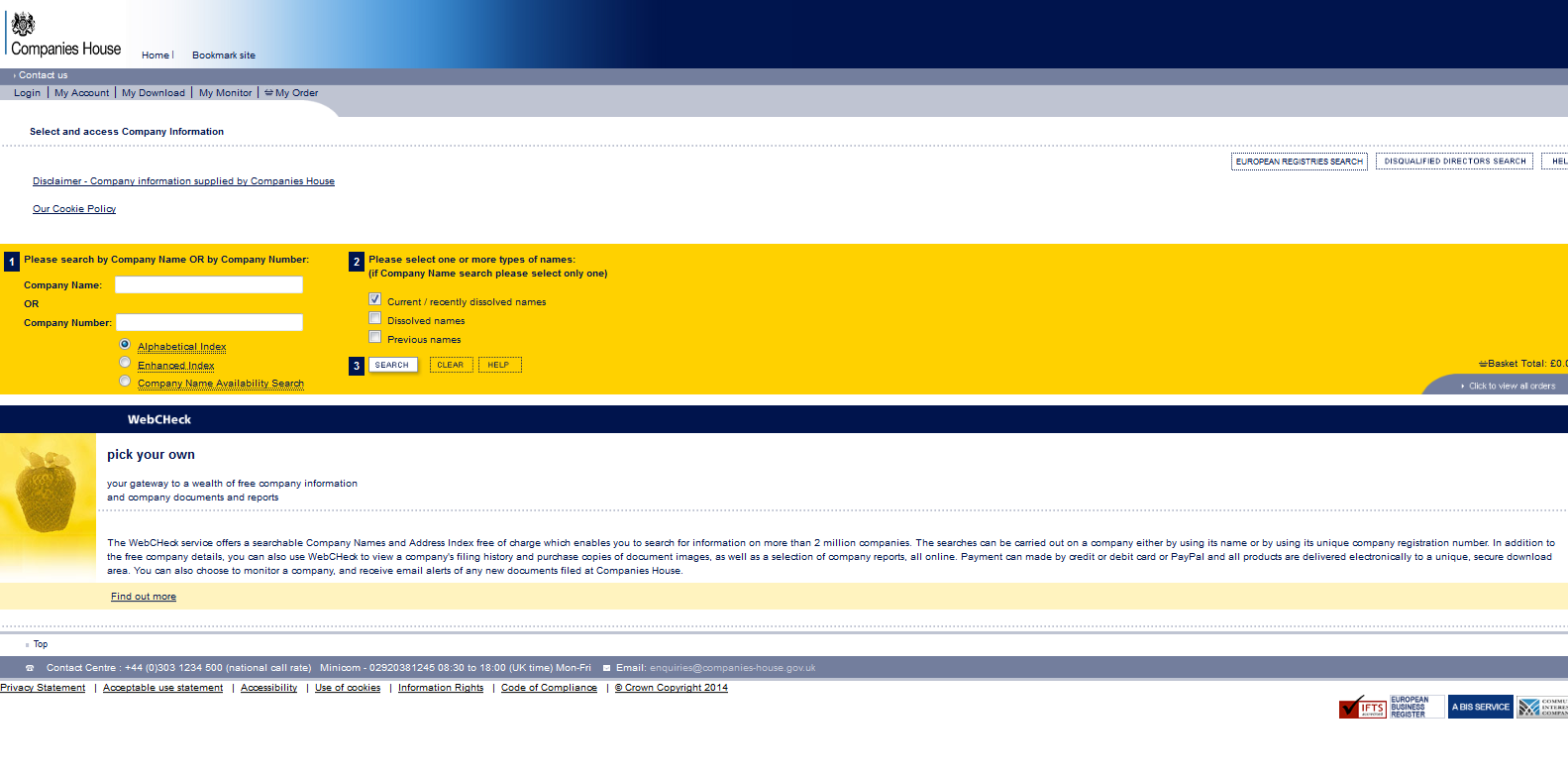 You don't need to set up an account to access the information and most of the documents are available as images. However, before you make a purchase through its secured check out page, you will need to register an email address with a password. At a time you can add documents to your shopping basket up to an order limit of £50 which will be in your download area for viewing/saving for 10 days if not opened and for 4 days if opened.
Web Check also allows you to access information about disqualified directors. You can search by name and select from the list of matches to view:
Name and Address
Date of Birth
Nationality
Number of current disqualifications
Period and reason for disqualification.
Companies House Direct (CHD):- It gives access to over 130 million documents, nearly 20 years old. CHD has subscription fees of £4 on monthly basis. Most of the information on CHD is available in the form of images and download of which is charged at the rate of £1 each for PDF format or TIFF Format.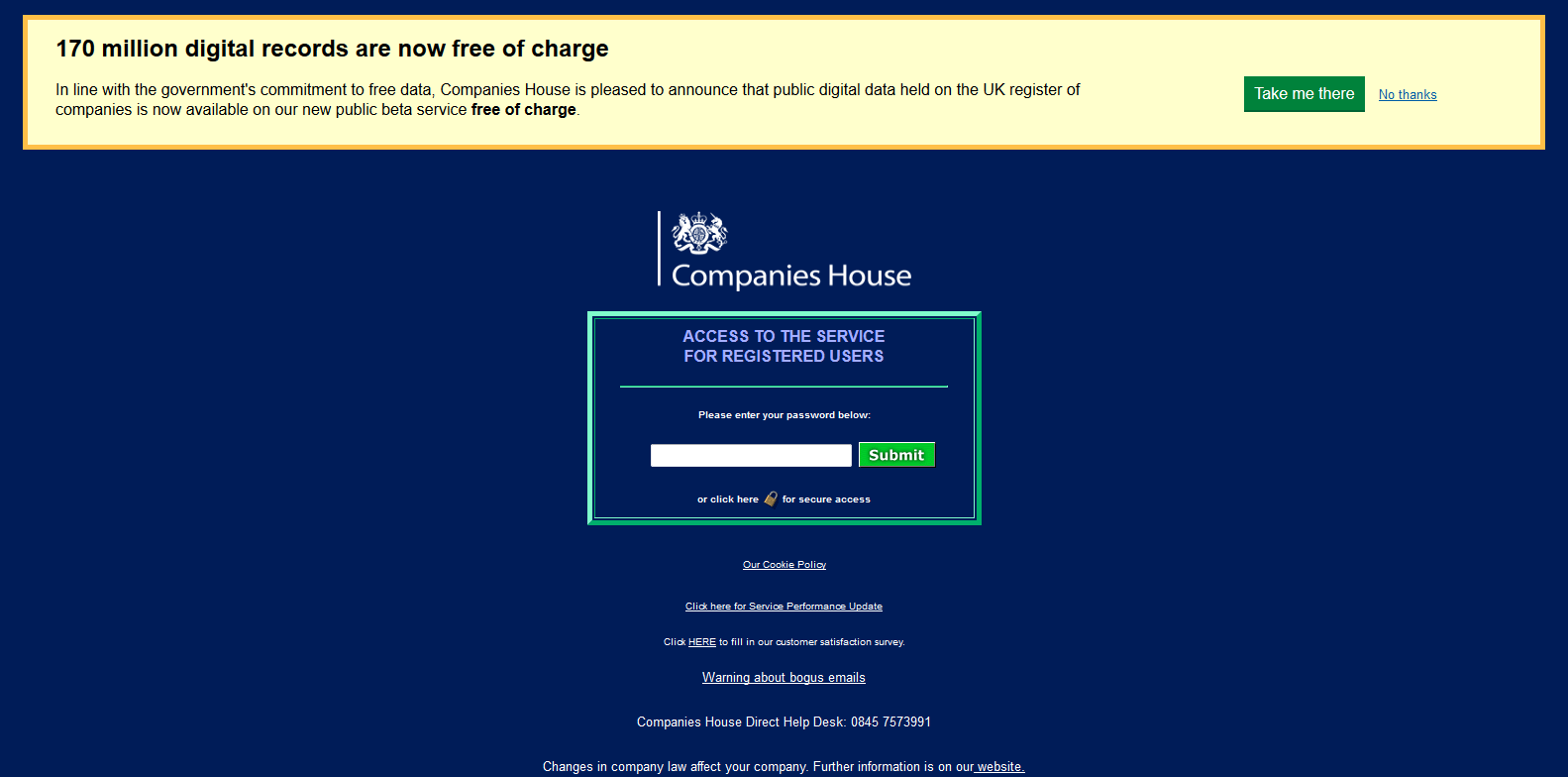 Filing Services
You can use this service to file your company's annual return and also to know when your accounts are due. Companies House offers WebFiling Service, which basically allows certain forms to be filled online rather than by post.
WebFiling services can be used by company having numbers with various combinations of letters as prefixes, which depends on nature of your company i.e. if it is a Limited or Limited Liability Partnerships company. NI, RO and SC for Limited Companies and OC, SO and NC for Limited Liability Partnerships. Limited Companies or Limited Liability Partnerships that are dissolved, converted or closed cannot use WebFiling Services.
Forms on WebFiling Service include:
Change to the registered office.

Confirmation Statement of previous annual return.

Changes to directors/secretaries.

Allotment of Shares.

Change of Company Name.

Account forms like Audit Exempt, Micro-Entitites etc.
WebFiling Services have lot of advantages over manual/paperwork, which includes:
It is secure and simple to use for the general public and thus saves time.

Authentication code replaces hand-written signatures.

You receive acknowledgement from Companies House with 3 hours confirming receipt of your confirming receipt of your data. In addition to this, you will receive an email from the Companies House within 2 working days on the status of your data whether accepted or rejected with appropriate reasons in the later case.

It pocket friendly i.e. save postage and courier costs.
However, you would still have to fill up the form on paper at Companies House unless you have opted for Protected Online Filing (PROOF) Scheme. PROOF Scheme is a free service at the Company House which protects your company from corporate identity theft. To register for WebFiling, you have to provide an email address and password and your company number and an Authentication Code will be sent to the company's registered office address.
Under WebFiling Services, you can also search for any filed report of the company/s you are interested. You can use the extractive service for:
Filing your report.

Searching company's report.

Viewing company's filing history.

Downloading company reports.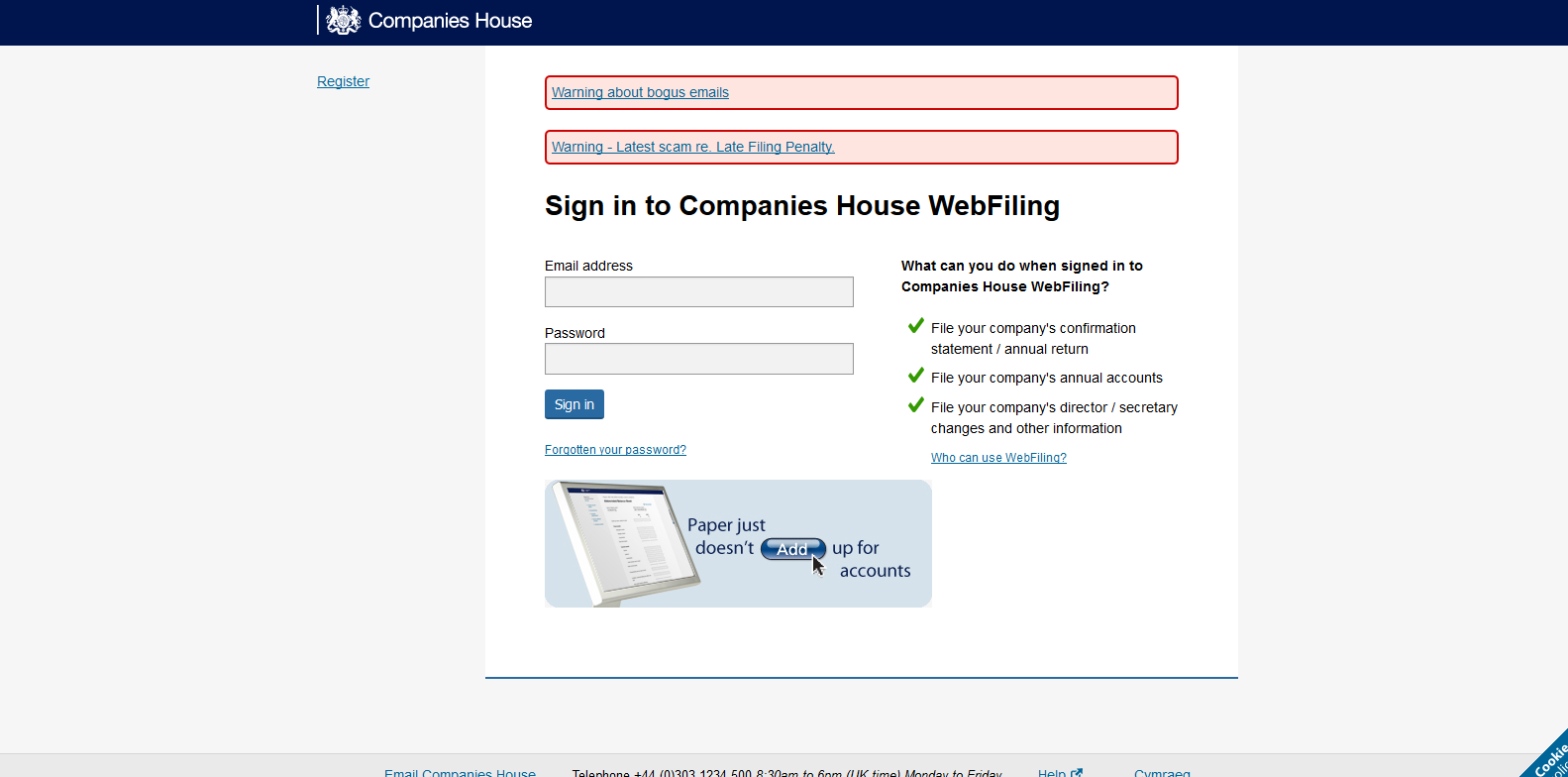 This service is available 24/7 for the submission and searching of information and fees for filing an extractive report is £250.
Data Services Data service of Companies House can be used to download bulk files of company data in CSV Format and to download bilk files of accounts data in iXBRL and HTML formats.
How To Register Your Company With Companies House?
Step by Step Register Your Company With Companies House?
If you have a new business in mind and want to join hands with over 500,000 people a year turning their ideas and enthusiasm into a new UK company, the very first step in doing so is to decide its nature ie sole trader or limited. In case you opt for the later one, you have to register your company with Companies House by:
Decide if it's really a limited company that you need: A little thought at the beginning to whether a limited company or sole trader would be best option for your business would not only help you to start in a proper manner but will also save you from spending endless hours on the phone to HMRC, completing and resubmitting forms and all in all it will save you tearing your hair out.
Choose a good company name: A good name can be a real asset to your business however; you need to follow certain rules before you zero down on one. There are a number of rules governing what can be chosen as a company name when you register a new company, the most important being that it's different from any company that already exists.
Assemble all details needed to register the company: You can refer to the checklist for registration of new company for the full list, but the information mostly needed is :

Name of the company
A UK registered office address.
Anticipated activities of the business need to be listed down.
Details of share capital
Company director and if required, company secretary details.
Initial shareholder details

Prepare Memorandum and Articles of Association: Articles of association form the rule book of the company which defines how the company is to be run by the directors. Memorandum is a short document which includes no of standard clauses and subscribers to the initial shares. Memorandum and articles of association collectively make up the constitution of the company.
Register/File the incorporation with Companies House: Once you have collected all the relevant information and documents, you need to send it to the Companies House for their approval and for issue of Certificate of Incorporation. For the same, there are 3 different options, for which different fees are charged by the Companies House :

Apply online through their dedicated software – the standard fee is £10.
Web Incorporation through Companies House's online portal – the standard fees is £12.
Paper filing the IN01 form – the standard fees is £40

Wait for the approval: Once you are done with the registration process as listed above, you have to wait to operate the business until you receive the approval from Companies House. If you have registered your company using paper forms, the process of approval will take longer as compared to online option.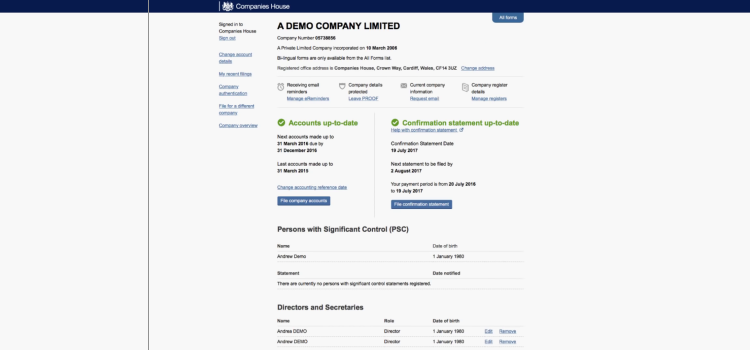 Conduct Company's first board meeting: It is always best to hold a meeting of the directors to cover some of the necessary formalities within a few weeks of registering the company.
Set up company registers: Once your company is registered, you would be required to set up and maintain company books, which include:

Register of Directors and their residential addresses.
Register of Secretaries.
Register of Members/Shareholders.
Register of People with significant control.
Register of Allotments of Shares
Register of Share Transfers
Register of Mortgages and Charges

Other tasks: There are number of important tasks you will need to consider, which might include :

Setting up a bank account.
Registering with HMRC, which might include registering for VAT.
Setting up a website, if you want your customers to find you online.
Registering a trademark, if you think it's important for your business.
What If You Fail To Register Your Company With Companies House?
Forming a limited company is just the initial step in a line of fixed legal processes to follow throughout the lifetime of the company because when you incorporated your company with Companies House and HMRC, it has converted your business into a corporate body. The financial year for a new company starts on the day of its incorporation and since that day, it becomes your legal responsibility to immediately contact HMRC and Companies House, even if not trading.
So, when you incorporate your business with the concerned government authorities so that it is available for public inspection, what do you get in return?
You, as a listed corporate entity on Companies House, get benefits of trading with limited liability. Along with that, if your data is up-to-date, people can then make informed decisions if they may wish to do business with or invest in your company.
Once your company is registered with Companies House, by Law you are bounded to file Company Accounts or Statutory Accounts*, later termed as Confirmation Statement with Companies House, and Company Tax Return for Corporation Tax with HMRC. If you miss filing or payment deadlines imposed by HMRC or Companies House, you will have to go through various penalties or fines, depending on how late you are.
*Statutory accounts must include a balance sheet with its director's name (with details of everything that the company owns on the last day of financial year, a profit and loss account, notes about the accounts and a director's report.
Late Filing Penalties (LFP):-
Late filing penalties were introduced in 1992 to ensure that the directors of the companies file their accounts and reports on time. A primary reason behind setting a timeline for the submission is that the information is required for the public record. All companies, whether private or public, big or small, trading or non-trading are legally bounded to send their accounts and reports to HMRC and Companies House every year. However, the time period granted for filing your company's account depends on whether you are filing your first accounts since its incorporation or subsequent accounts. You may have different deadlines for sending your accounts to Companies House and your tax return to HMRC
Referring to the highlights from the judgment by Geraint Jones, QC in Tax Tribunal against HMRC in September 2012:
It is no function of the state to use the penalty system as cash generating scheme and any right-thinking member of the society would consider it to be unfair dealing of an important organ of the state.
Over past few years, number of freelancers, contractors and small business owners has increased multifold and so is the volume of individuals to file their returns, mostly Self Assessment and late returns as well. And HMRC is under pressure to reduce the tax gap which has been created because of the wide gap in between the amount of tax that should have been collected and amount of tax that is actually collected. However, HMRC denies any such practice and if to quote HMRC, penalty rules are designed to create a level playing field for the majority who make the effort to get the things right while penalizing the minority who try to get round the rules or make careless mistakes.
So, those facing fines should do their best to launch an appeal with valid reasons and suitable documents for HMRC to consider it.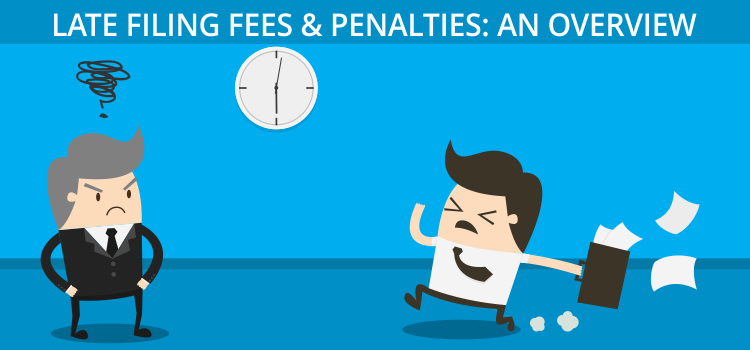 Separately from late filing penalties, HMRC may also charge a penalty if a taxpayer submits an inaccurate return to HMRC which results in them understating their liability to tax or claiming too big a repayment. However amount of penalty charged depends on the reason for the inaccuracy, which may be one of four categories of behaviour. Of least concern is "mistake" despite taking reasonable care; next is the failure to take reasonable care ("careless"); moving up to "deliberate" and finally to the most serious — an inaccuracy which is "deliberate with concealment"
If You Are Submitting Your Accounts For The First Time - In case it is your first account submission, you must deliver them to HMRC within 21 months of its incorporation for private companies and within 18 months for public companies, or 3 months from the accounting reference date, whichever is longer.
For Subsequent Accounts- In subsequent years, its 9 months for private companies and 6 months for public.
| | | |
| --- | --- | --- |
| Length of Period ( Measured from the date the accounts are due ) | Penalty for Private Company | Penalty for Public Company |
| Not more than 1 month | £150 | £750 |
| More than 1 month but not more than 3 months | £375 | £1,500 |
| More than 3 months but not more than 6 months | £750 | £3,000 |
| More than 6 months | £1,500 | £7,500 |
Who Is Responsible To Take Care Of Timely Submission Of Accounts With HMRC and Companies House?
The officers of the company are the people who have been formally appointed to run the company's affair – The Company Directors & The Company Secretary, if appointed. For private companies, they must have at least 1 director and if that is the case, he cannot be the company's secretary as well. Director responsibilities include sending accounts (for limited companies), annual returns and notice of change of directors or secretaries. Notice of change of registered office is also required by law. Failure to file accounts or annual returns is a criminal offence and a director can end up with a criminal record and fine up to £5,000 for each violation. Alternatively, if the Registrar believes the company is no longer in business it can be struck off the register and dissolved. If this happens, company assets, including bank accounts and property are taken by the Crown.
Apart from sending the accounts and tax returns to HMRC and Companies House, company directors, employed by their own company have to send Self-Assessment Tax Returns to HMRC by a pre-defined time period. Self-Assessment Tax system is a system introduced by HMRC to collect income tax. One can use the online service to fill in and send your tax return to HMRC or one can opt for paper mode as well.
If you don't meet the self assessment tax return deadline then penalties will be charged. Bear in mind that daily interest is then accumulated on top of this. There are two kinds of penalties, those for late filing of self-assessment tax returns and those for late payment of tax due as a result of self assessment.
By missing deadlines you are putting yourself on HMRC's radar and you're more likely to undergo a tax enquiry. Be sure to get your returns in on time and pay before the due date, to reduce the risk and stress of dealing with a potential tax investigation.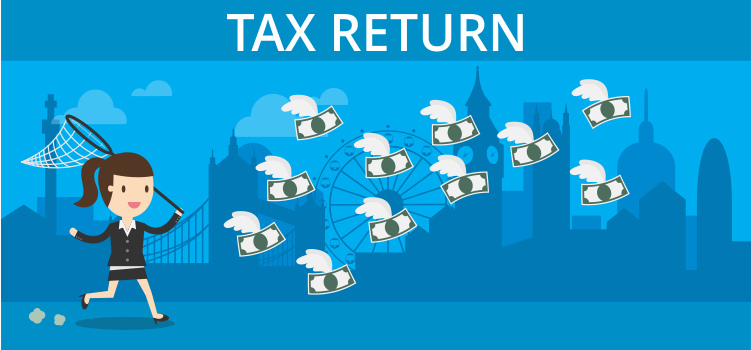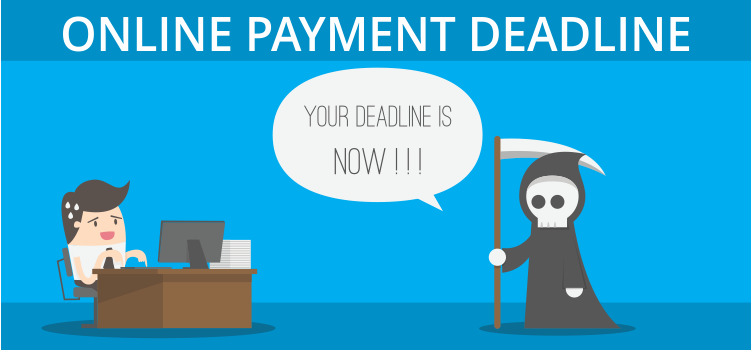 HMRC Tax Returns, Payment Deadlines and Penalties
HMRC need to close the tax gap to assist the government in reducing the budget deficit. Consequently there are stringent penalties for those who don't file on time and these are as follows:
Late filing

Penalty

Missing deadline

Automatic£100

3 months late

Daily penalty £10 per day for up to 90 days (max £900)

6 months late

5% of tax due or £300 if greater

12 months late

5% or £300 if greater unless the tax payer is held to be deliberately withholding information that would enable HMRC to assess the tax due.

12 months and taxpayer deliberately withholds information

Based on behaviour:

deliberate and concealed withholding - 100% of tax due, or £300 if greater
deliberate but not concealed - 70% of tax due, or £300 if greater

Reductions apply for prompted and unprompted disclosuresand telling, giving and helping.
Penalties for Late Filing and Late Payment for Self-Assessment Tax by HMRC :
For Late Filing:
| | |
| --- | --- |
| Missed Deadline | £100 Penalty |
| 3 Months Late | £10 penalty on daily basis for up to 90 days |
| 6 Months Late | 5% of tax due or £300 (whichever is greater) |
| 12 Months Late | 5% of tax due or £300 ( whichever is greater) |
For Late Payment:
| | |
| --- | --- |
| 30 Days Late | 5% of tax due |
| 6 Months Late | 5% of tax due at that date |
| 12 Months Late | 5% of tax due at that date |
Penalties for Late Filing and Late Payment for Companies who are registered for VAT: Penalties for VAT registered businesses are quite strict if you miss filing multiple returns.
| | | |
| --- | --- | --- |
| Missed payments within 12 months | Penalty if annual turnover is less than £150,000 | Penalty if annual turnover is £150,000 or more |
| 1 | None | None |
| 2 | None | 2% (None if less than £400) |
| 3 | 2% (None if less than £400) | 5% (None if less than £400) |
| 4 | 5% (None if less than £400) | 10% or £30 (whichever is greater) |
| 5 | 10% or £30 (whichever is greater) | 15% or £30 (whichever is greater) |
| 6 or more | 15% or £30 (whichever is greater) | 15% or £30 (whichever is greater) |
Penalties for Late Filing and Late Payment for Corporation Tax by HMRC :
For Late Filing:
| | |
| --- | --- |
| 1 day late | £100 penalty |
| 3 months late | £100 penalty |
| 6 months | 10% penalty added to estimated tax bill |
| 12 months | 10% penalty added to estimated tax bill |
For Late Payment:
| | |
| --- | --- |
| Any Overdue Payment | 3% Penalty |
Penalties for Late Filing of your Construction Industry Scheme (CIS) Scheme: If you are a contractor working under the CIS Scheme, then you have to face additional penalties in case you file your CIS return late.
| | |
| --- | --- |
| 1 day late | £100 penalty |
| 2 months late | £200 penalty |
| 6 months late | £300 penalty or 5% of CIS deductions (whichever is greater) |
| 12 months late | £300 penalty or 5% of CIS deductions (whichever is greater) |
Companies House Late Filing Penalties for Private and Public Limited Company:
| | | |
| --- | --- | --- |
| | Private Limited Company | Public Limited Company |
| Up to 1 month | £150 | £750 |
| Up to 3 month | £375 | £1,500 |
| Up to 6 month | £750 | £3,000 |
| More than 6 months | £1,500 | £7,500 |
How to avoid the Late Filing Penalties: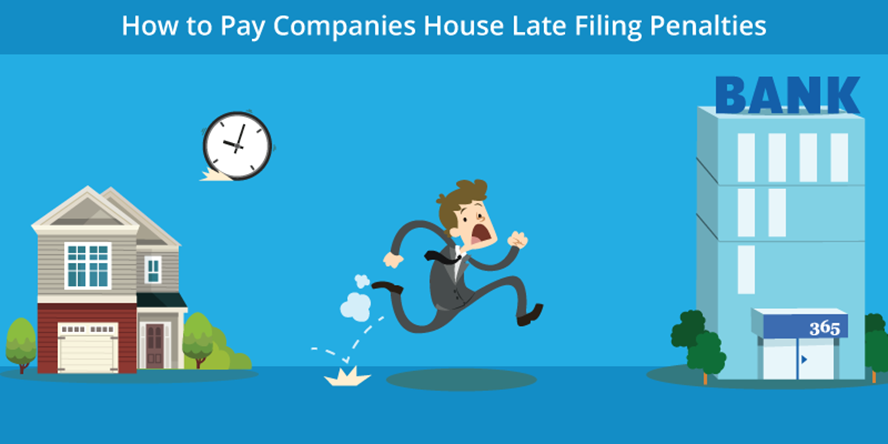 As with most of the tax filings, HMRC is ready and waiting with the penalty Registered as a limited company, there are a number of legal obligations and accounting requirements which you are expected to comply with. Failure to meet your obligations could lead to financial penalties and in a more serious situation a company may even be struck from the register.
However, there are certain ways that you can choose to avoid the late filing penalties which include:
Keep track of the accounts filed with the Companies House and mark the calendar to remind you of the deadline.
Companies House sends out reminders to the directors, so check them for the deadlines.
Instruct your accountants to prepare and submit the accounts on time to avoid any penalties.
Appealing against a late filing penalty:
You may feel aggrieved that you were unable to file your return on time for a perfectly valid reason. If you want to appeal against any penalties charged there is a formal appeals procedure you should follow. In order to convince HMRC & Companies House to withdraw their penalty notice you will have to convince them that you had a reasonable excuse.
If you think that you have been wrongly charged, then you have to make your appeal to HMRC. However, your appeal will be considered only if you have a reasonable/exceptional excuse for not filing your accounts on time.The grounds for making an appeal will depend entirely on the nature of the penalty and circumstances:
Both the penalty and the size of penalty may be appealed.
In the case of penalties for error or mistake you may additionally lodge an appeal if HMRC fails to suspend a penalty.
The following examples, of what constitutes a reasonable excuse:
Online Services would not accept the tax return – you'll need to provide the error message you received and the date you tried to send it.
You did not receive the tax return or letter telling you to complete a tax return – HMRC and Companies House usually know if you did not because it is sent back undelivered.
Bereavement – the death of a close relative or domestic partner shortly before the deadline.
Serious or life-threatening illness, for example, a major heart attack or a serious mental illness that prevents you dealing with your tax affairs.
You did not receive your online Activation Code, User ID or password in time to send your tax return by the deadline – as long as you tried to get them before the deadline and once you received them you sent your tax return as soon as you could.
Your tax return or cheque was lost or delayed in the post. You must have posted it in good time to meet the deadline.
Lossof tax records, through theft, fire or flood that cannot be replaced in time to meet the deadline.
Your cheque was dishonored because of an error by your bank.
If you register for on-line filing before the 31 January filing date, but do not get your access code in time to file before the deadline, HMRC may accept this as a reasonable excuse.
HMRC takes a narrow view of what is a reasonable excuse and reasons which will not be accepted as a reasonable excuse includes:
The tax return was too difficult to complete.
Pressure of work.
It was your agent's or tax adviser's fault that you missed the deadline.
Lack of information available.
You don't know how and when to file your accounts.
They did not remind you about the tax return and payment deadlines.
You want to replace the paper tax return you have already sent with an online tax return to reduce your penalties.
Your company is dormant.
You cannot afford to pay.
Unable to send a certain tax return or supplementary pages online as there was no free HMRC software.
The directors live or were travelling overseas.
Your cheque was dishonored due to a shortage of funds or made out incorrectly.
How to Appeal Against Late Filing Penalty with HMRC and Companies House:
If you think that you have a reasonable reason for not filing your accounts on time, you must appeal to HMRC within 30 days of the date of penalty notice. If you apply later than that, then it is up to HMRC and they will decide if to consider your appeal or not. HMRC sends penalty notice by post so you will receive appeal form along with it. However for Self Assessment, Paye,Vat and Corporation Tax, you would require more documents to support your case.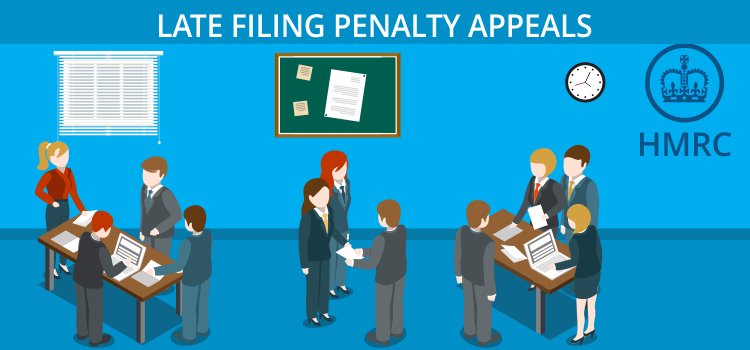 In case you do not have an appeal form, you can send a signed letter by post to HMRC with your name, your reference number (VAT registration number or Unique Taxpayer Reference) and your list of reasons for late filing of your accounts. In case, it was the computer problem because of which you were not able to stick to the deadline, include the date on which you tried to do the online payment with the error message displayed on the screen.
Appeal Against Late Filing of Self Assessment Tax Returns/Payment:
Initially you make your appeal to HMRC. The appeal should normally be made within 30 days of the penalty notice being issued, but HMRC may consider late appeals. If HMRC does not allow your late appeal, you can apply to the Tax Tribunal to have your appeal allowed. You have to make your appeal in writing using Form SA 370 and in case you are appealing against partnership late filing penalty, you have to use Form SA 371
To appeal against Late Filing of Self-Assessment Tax Return, you will need the following information/details:-
The date when penalty was issued, because you need to appeal within 30 days of this date.
The date when you have filed your Self Assessment Tax Return, in case you have filed one.
Reasons/reasonable excuse for late filing.
If HMRC rejects your appeal you can ask HMRC to review the decision. The review will be carried out by a different HMRC official. You should consider asking for a review if you missed out significant information on your initial appeal letter. Failing this you may appeal to the First Tier Tribunal (Tax).In case you get lucky and your reasons fall under reasonable excuse you're your appeal is accepted by HMRC or The Tribunal, your entire penalty is cancelled. Having said this, nothing is life comes to us without a catch and penalty waive off is no exception. Few points to be considered here are:
The 'reasonable excuse' must continue throughout the period from the missed filing date until shortly before you actually file the return. This means that if it is accepted that you had a 'reasonable excuse' for some, but not all, of this period, the penalties will not be cancelled.
Tribunal may, in some cases, take a wider view of what is reasonable. For example, the tribunal may accept that you had a reasonable excuse if you relied on your accountant, and it was reasonable to expect that your accountant would file on time, and you did all you could to ensure this. But this will not apply if your accountant has previously been unreliable – for example if returns for previous years were filed late by your accountant
Appeal Against PAYE Penalty:
If you haven't paid your PAYE amount in full and on time, HMRC will be ready to strike its penalty hammer on you and you will be given 30 days from the issue of penalty to pay or to appeal it. In the former case, you can choose various payment options i.e Credit or Debit Card, Online or telephone banking, cheque by post etc and in the later case, you can login through your government gateway credentials and select "Appeal a Penalty". You will get an immediate acknowledgment to submit your appeal.
How To Appeal The Penalty For Late Filing With The Companies House:
Companies House Late Filing Penalties are notoriously difficult to get overturned and like it was the case with HMRC, you need to submit your appeal to the Companies House with your list of reasons/reasonable excuse for late filing of your accounts. Irrespective of what you think could be a reasonable reason, Companies House has their set of rules to classify it under "reasonable or unreasonable excuse" and you have to prove with suitable documents that the circumstances mentioned by you were way beyond your control which made it impossible for you to adhere to the deadline. In case, they find your reasons fit under to classify as reasonable, your appeal will be accepted.
To appeal the penalty, you can either write to them to the address mentioned on the front page of penalty invoice or send them an email on enquiries@companies-house-gov.uk with penalty reference number. No penalty will be collected till the time you get a reply from the Companies House, which is normal case is 10 working days.
Once you appeal to the Companies House, be prepared for both the scenario i.e. your appeal is accepted or your appeal is rejected. In the later case where your appeal has got rejected, you can write to the Senior Casework Unit in the Late Filing Penalties Department at the Companies House Office (Based on location of your company). You can further approach to Independent Adjudicators in case your appeal is rejected by SCU.
Conclusion:
As quoted by Ruth Owen, HMRC's Director General of Personal Tax:
"There is not much time left, so make a start on your tax return today. Leave it too late, and you will be hit with a penalty."
So, you have started your venture and are working endless hours to make it a brand. There is lot to take care of at your end and you are out there in the world to create a mark in the business world. You have planned and started well with set of right documentation, Memorandum of Association, Registers, Directors and Secretaries etc and have allocated their responsibilities. However at times you get busy keeping track of your business and it becomes difficult for you to keep a thorough track of the fast changing accounting and taxation rules, guidelines and deadlines.
So it is always good to give yourself a cushion as you schedule your individual tasks by marking the due date a few days ahead of the actual deadline so that you have ample time at your end to deal with the changes or last minute emergencies. You can either do it all by yourself but this way you will end up burning midnight oil and taking your focus, time and energy off the other important tasks.
So if not you, you can outsource services of well established accountants like DNS Accountants to keep a track of the accounting guidelines and taxation deadlines and you save yourself from the last minute heavy penalties. Started in year 2002, DNS Accountants are not only a trusted brand but also have years of domain knowledge. Their clients vouch for their professionalism and their guidance in making right decisions about the business and keeping a thorough track of all major as well as minor deadlines so that you file your accounts, tax payments and returns well ahead of declared deadlines.
DNS Accountants takes responsibility of entire taxation and accounting need of the business and their services comes at a very nominal price. Apart from the taxation, you can utilize them for accounting, financial records management as well.
Click here for Review
---
(Overall Score 3.3 /5 Based on 1000 rating)
Trending pages

---
---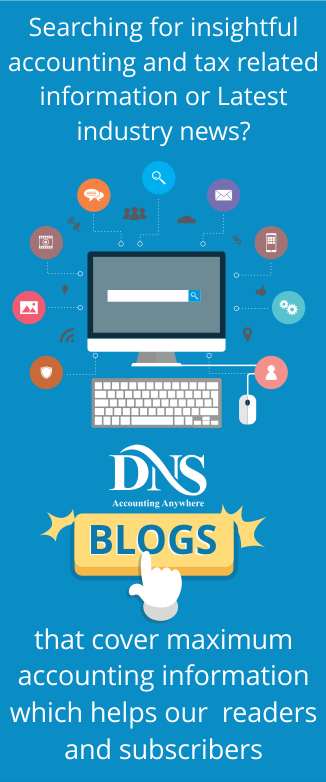 HMRC Offices