Clear Books plc works towards developing easy-to-use cloud accounting and payroll softwares for small businesses in the UK. It is an award winning provider of cloud accounting software to numerous small businesses in the UK. Its software – ClearBooks is certified by both the Institute of Certified Bookkeepers (ICB). With its one of kind time-saving characteristic, reasonable pricing and unlimited free users, it is an ideal tool for successful bookkeeping. Modern accounting firm prefer to work with clients online (taking the optimum advantage of cloud computing); work together with the data from any location and take benefit of the numerous automated, paperless characteristics that cloud accounting offers.
Clients Review
Ease of use
Speed
Features
Support
Reporting
Price
---
As competition increases, running a business can be time consuming. To be able to stay competitive in today's world, ClearBooks enables small businesses in the UK to collaborate with learned accountants like DNS Accountants and monitor the business finances irrespective of the location. An individual doesn't have to be an accountant to start working on ClearBooks. This cloud-based accounting application is designed keeping business owners in mind. According to an independent review website, Feefo, ClearBooks has an 89% approval rating (analysed from the responses of over 160 customers). It has won numerous awards which includes the most recent Client Software Product of the Year at the British Accountancy Awards.
Salient features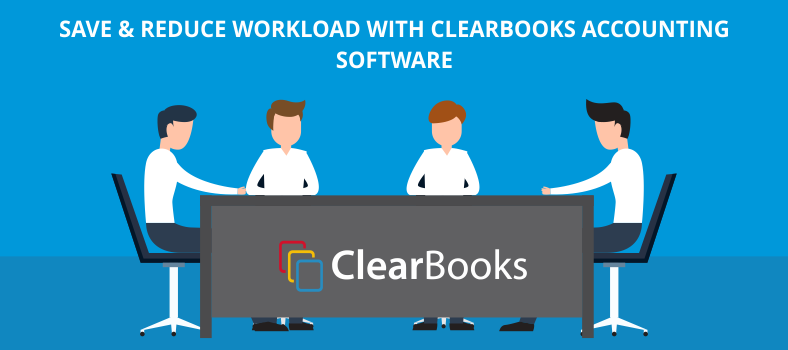 Easy to operate

ClearBooks website and software is very easy and simple to navigate and operate. The software has a good layout; especially its dashboard is very informative. All-together it has 163 menu items which makes it very informative and provides minute deals regarding a business. Also, it has a wide range of features such as automatic bank feeds, direct debit integration, project handling, payroll and HR management, multi-currency handling, re-occurring invoices, and PO handling.

Speed

For some businesses, where there are a lot of transactions involved, ClearBooks can be a little time consuming. However, it does offer live bank feeds which can speed up the process.

Dashboard

Small businesses in the UK can customise a snapshot view of their key financial data and tasks

Invoicing

ClearBooks offers small businesses in the UK to tailor their invoices with the company logo

Banking

Through the bank import tool, small businesses in the UK can quickly process their bank transactions

Web Based

As started earlier, the application enables businesses to access accounts anywhere anytime

Contacts Management

All business contacts – customers and suppliers can even be managed from a remote location

Value added tax (VAT)

Online VAT returns can be filed directly with HM Revenue and Customs (HMRC)

Payroll

It provides integrated payroll module for small businesses in the UK

Reporting

Data can be viewed as per the requirement of a user. It enable both tabular and pictorial (chart) view; data can also be exported .csv and .pdf formats

Expenses

All business expenses can be tracked online; it also provides an option to claim expenses

Security

ClearBooks is a very secured application, all financial data is kept secure

Pricing

All plans, irrespective of the subscription, come with a 30 day free trial. It also offers an entirely free plan for small businesses in the UK
Features
Monthly
Year (10% off)
Two year (20% off)
Small
Large
Small
Large
Small
Large
£5.00/month
For the first 3 months*
£10.50/month
For the first 3 months*
£4.50/month
For the first 3 months*
£9.45/month
For the first 3 months*
£4.00/month
For the first 3 months*
£8.40/month
For the first 3 months*
Free UK phone and email support
Unlimited users
Banking
Instant online bank feeds
Invoicing and quotes
Sole Traders
Limited Companies
Dividends tool
Project management tool
Fixed assets
VAT
NA**
NA**
NA**
Construction industry scheme (CIS)
NA**
NA**
NA**
Multi currency
NA**
NA**
NA**

prices exclude VAT

Note: *If the business pays for subscription within 21 days from the start of trial; **NA is equivalent to Not applicable
Key points to remember
ClearBooks Accountant
DNS Accountants are a leading Clearbooks Accountant in the UK and are a fully certified trainer in the fast growing Cloud-based accounting software market in the UK. ClearBooks is web-based accounting and payroll software for sole traders and small businesses. Through expert guidance from DNS Accountants, ClearBooks can make a great difference to businesses in the UK.
ClearBooks review and rating
In a latest review conducted in January 2017, ClearBooks has received an overall rating of 9.13 out of 10. The rating was based on various parameters and stated that ClearBooks is an accomplished accounting software for small businesses and sole traders in the UK (the input dates are also in the UK format). From a number of people surveyed, ~50% of the people gave a 5 star rating to ClearBooks for its ability to resolve queries quickly. Few of the survey notes are as follows:
Gardner, a grocery store owner, states that "ClearBooks is simple and spontaneous accounting software which has helped him grow his business. It saves time and enables him to access accountants anywhere, anytime, from any device"
Knight, a sole trader, states that "As a sole trader - I would be completely hassled without Clearbooks. I will rate it 5/5 for reporting and customer help. Without doubt it is accounting for dummies"
Justin, a freelancer, states that "It is an excellent cloud based accounts system. Extremely recommended!"
Clearbooks Login
Small businesses and sole trader can login to ClearBooks Online Software through the online login form – this can be done by using the username and password used while registering with ClearBooks. In case, someone forgets their login details, they can simply use the 'Forgotten password' option at the bottom of the form to generate a new password. For any additional query, users can get in touch with DNS Accountants. ClearBooks keeps all the accounting data safe and secure. To login, please click here. New businesses can register for a new account by clicking here
Clearbooks Support
ClearBooks has a very effective and experienced customer service team. The software helps ease the accounting tasks. For example:
If a user is using double entry ClearBooks accounting software, for each entry the software will compute the other side (sales or purchase) automatically, enabling the double entry accounting to function easier
To raise a support ticket with ClearBooks, the below mentioned steps can be followed:

Click on the "?" icon present on the top right corner
After that, click on "Send us a message"
Generate a support ticket – Generate an e-mail ticket by entering a title and the query under 'body of the message'. Once done, click on the Send button. The support team aims to take action within 2 hours
Small-business can click here to and follow the instruction on the page to raise a support ticket within ClearBooks. Businesses in the UK can click on this link to get guidance on any topic within ClearBooks
Clearbooks Training
There a various online forums that pretend to offer online ClearBooks training. However, it is advisable to contact DNS Accountants with regards to any ClearBooks training. The team offers apposite training for each module and through live case studies helps new users get well acquainted with ClearBooks. DNS also provides guidance with regards to ClearBooks mobile App, and Clearbooks API
DNS Accountants – the ClearBooks accountants
DNS is reputed accountancy practice in UK, offers full range of accounting &bookkeeping services including auto enrolment, payroll management, tax advice management accounts, self assessment, RTI & payroll, construction industry scheme (CIS), landlord property tax and more. If you have a query related to clearbooks software or want to know more about accounting solutions offers by us, kindly drop us a line. You may also get in touch with us on our social media handle (Twitter) and pages (Facebook and LinkedIn)
HMRC Offices