Charity Commission for England & Wales
What is Charity Commission
The Charity Commission for England and Wales is the regulator and registrar of charities and philanthropies in England and Wales. The Commission is a self-governing government department which is answerable to parliament. The Commission is also accountable for the implementation of its quasi-judicial powers to the High Court and First-tier Tribunal (Charity). It is responsible for making a decision with regards to organisations being termed as 'charitable' and whether it should be added or removed from the Register of charities. The Commission operates a clear officially authorised framework and works in-line with the published procedures and policies and procedures to make certain that it is impartial in its approach. As of 31 March 2016, there were total of 165,334 charities (in addition to 6,455 subsidiaries) and the Charity Commission regulated £70.93 billion charity income in FY2016.
The UK Parliament, through the Charities Act 2011, gives the Charity Commission five statutory objectives.
The objectives are:
To increase public belief and assurance in charities
To promote understanding and awareness of the operation carried out, that are for the public benefit
To promote compliance by charity trustees with their legal obligations in exercising control and management of their charities
To promote effectual use of charitable resources
To augment the accountability of charities to beneficiaries, donors, and general public
As new charities registrar and regulator, the Charity Commission carries out quasi-judicial functions subsequent to the common law which govern charities. The Commission adopts an exact approach in exercising its powers, act proportionately and also provides reasons for its decisions. In case a law is dated, uncertain or vague, the Commission approaches the case in a similar manner as they think the courts would. The decisions of the Charity Commission can be appealed to the First-tier Tribunal (Charity) and also some of its decisions can be openly challenged in the HighCourt.
The Charity Commission for England & Wales Aims to Focus on Four Strategic Priorities:
Priority 1: Defend charities from abuseor unprofessional conduct
Priority 2: Enable trustees to run their charities efficiently
Priority 3: Encourage better transparency and accountability by charities
Priority 4: Operate as an efficient, specialist regulator with sustainable funding
Task Performed by a Charity Commission in England and Wales
Registering a Charity: Take a decision on whether a charity meets the legal test for charitable status
The Charity Commission formally assesses all applications for registration on a scenario-by-scenario basis using its Risk framework. The Commission aims to protect faith and poise in a charity by restricting the registration of only those organisations that appropriately clear the legal tests. It has strengthened its approach of assessing whether applicants are indisputably charitable. The new approach is more rigorous and it is also making the process more streamlined to identify which organisations might raise governance or compliance concerns, though being charitable
Maintaining a Register of Charities
The Charity Commission in England & Wales aims to make certain that the Register of charities is correct and up-to-date.Its data is also used by many other charities and research organisations, and public bodies to derive analysis about the charity sector in England and Wales. For reasons of responsibility and simplicity, the Commission requires charities to provide key public information, at the appropriate time. Users can search for registered charities on the online portal and with their key information. It also highlights on the charities Register, the charities which fail to act in accordance with basic information requirements - these include filing annual returns and accounts on time, charities with qualified accounts, and charities that are subject to a legal investigation.
Give Permissions and Consents
Sometimes it so happens that charities need permission to perform certain tasks such as disposing their property, making payment to the trustees, authorising large transactions in regards to land. The Commission has initiated work to make it more streamlined to get low risk permissions.For any significant changes, the trustees should consult with stakeholders or discuss with their advisor such as DNS Accountants before approaching the Charity Commission
Monitoring Charities in England and Wales
Monitoring includes proactively working towards anticipated problems. Tasks may include desk-based research, interacting with or conducting interview with trustees, visiting the charity's premise and examining its books and records. This may result in providing the charities with regulatory recommendations, thereby ensuring that the advice is followed and an action plan is set-up
Governance structure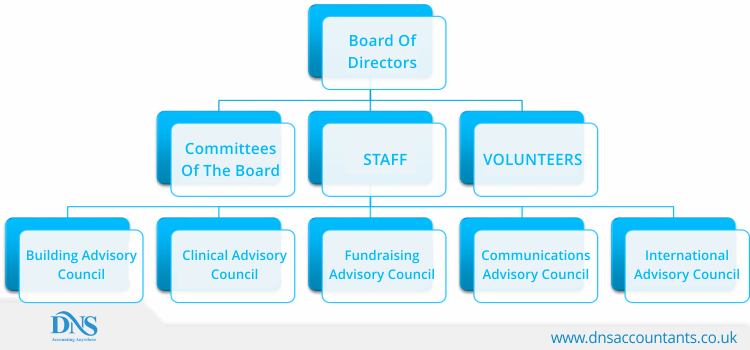 Charity reporting and accounting: the essentials
There are different needs for different types of charity depending on their size and structure. To comprehend what applies to a charity, below mentioned are a few check-points:
Along with being a charity, whether or not, it is also a company (registered with both the Charity Commission and Companies House) or a charitable organisation only registered with the commission
Charity's income for the present financial year
Value of charity's assets
Depending on the size of a charity, is it mandatory to register a charity with the commission.



It is imperative to make certain that the charity's trustees understand:

What type of accounts needs to be prepared
What information needs to be sent to the commission
What information is needed in the trustees' annual report
Whether the accounts need an independent examination or a statutory audit
Types of charity accounts in England and Wales
A charity has the option to prepare either accruals accounts or receipts &payments accounts. The type of charity account will depend on the income of the charity and whether it has been established as a charitable company or not
Accruals Accounts
Charities with gross income above £250,000 during the financial year can use this method. All charitable companies have to prepare accruals accounts that act in accordance with the applicable Statement of Recommended Practice (SORP). The SORP to be considered will depend upon the charity's financial year. Accruals accounts contain a balance sheet, a detailed declaration (statement) of financial activities, and explanatory notes. These accounts are necessary in accountancy terms to show an 'accurate and fair view'
Receipts and payments accounts
This is the easiest of the both the methods of accounts preparation. This method is used when a charity has a gross income of £250,000 or less during a financial year. Receipts and payments accounts contain a declaration summarising all the amount received and paid out by the charity in a financial year, and a declarationproviding details of its assets and liabilities at the end of a financial year
Sending a charity's annual return
For charities registered in England or Wales, it is a must to send their annual returns. This annual return is different from charity tax return.
If your income is under £10,000
Sending an annual return is not required if your charity's income is under £10,000. However, you must keep your details updated like income, expenditure, trustees and contact details.
If your income is over £10,000

send an annual return within 10 months of the end of your financial year
keep your charity's details up to date
Charities in England and Wales – 31 March 2017
Total Number of charities:
| | |
| --- | --- |
| Main charities | 167,222 |
| Linked charities | 16,088 |
| Total | 183,310 |
Charitable spending
| | |
| --- | --- |
| | £bn |
| Spending on income generation | 9.23 |
| Charitable spending | 61.91 |
| Retained | 3.13 |
Income
| | |
| --- | --- |
| | £bn |
| Voluntary income | 22.79 |
| Trading to raise funds | 7.41 |
| Investment income | 4.03 |
| Charitable activities income | 38.37 |
| Other | 1.67 |
| Total | 74.27 |
Spending
| | |
| --- | --- |
| | £bn |
| Generating voluntary income | 2.83 |
| Trading to raise funds | 3.59 |
| Investment management | 0.67 |
| Charitable expenditure | 61.91 |
| Governance | 0.77 |
| Other | 1.37 |
| Total | 71.14 |
Total assets & liabilities
| | |
| --- | --- |
| | £bn |
| Own use assets | 79.90 |
| Long term investments | 133.55 |
| Short term investments and cash | 33.53 |
| Other assets | 12.76 |
| Other liabilities | 45.77 |
| Pension fund asset/liability | -4.91 |
People
| | |
| --- | --- |
| Trustees | 951,119 |
| Employees | 1,584,801 |
| Volunteers | 3,521,958 |
Source: Charity Commission Website
Search the charity register
On charity commission website, now you can find information about registered charities in England and Wales such as:
name and address
trustees
work and aims
finances
Search Charity Now in England & Wales
Change your charity's details
It is important to keep all your charity details up-to-date. In case of any changes to details, it is possible to update details online with the Charity Commission.
These changes might also be required to be reportedto HMRC and possibly Companies House.
Changes You Must Report
You must wait 30 days after you've told HMRC about a change before making a claim, for example for Gift Aid.
You must report changes to your charity's:
name
governing document
Phone and address details
bank account details
legal structure
managers including authorised officials, responsible person, nominees, agents or trustees
operations, for example what it does or who it helps
Before You Start
You'll need:
the charity registration number
the charity's password if you've previously registered your details online
You can use the charity commission website service to change:
contact details
email addresses
trustee details
website address
financial year end
where your charity operates
the charity's classifications - what it does, who it helps and how it does it
the description of your charity's activities
bank or building society account details
Informing Charity Commission about Changes in Your Details:
If your charity is a company
You must report changes to your charitable company's name to:
then Charity Commission
then HMRC
Get help using the Charity Commission online service
You can contact the Charity Commission if you have a problem using the service.
Charity Commission Helpline or Contact Number
Monday to Friday, 10am to midday and 1pm to 3pm
Informing HMRC about Changes in Your Details:
Tell HMRC about any change to your charity by completing form 'ChV1 – HMRC Charities change of details'.
Setting up a charity: How to setup a Charity in UK
Want to set up a charity in UK? You need to follow 6 steps in order to setting up a charity.
First step is to finding trustees for charity you are going to set up. You usually need no less than 3 trustees in order to proceed.
Ensure the charity has 'charitable purposes for the public benefit'.
Pick a name for your charity.
Work out onthe structure for your charity.
Next step is to create a 'governing document' for charity
You can register as a charity if your annual income is over £5,000 or if you set up a charitable incorporated organisation (CIO).
Closing a Charity in England & Wales
There can be numerous reasons behind shutting down a charity, such as:
a merger with another charity
Meeting the purpose of charity
losing funds or funding
Not meeting members requirement
Transforming into a company or charitable incorporated organisation (CIO)
Legal Requirements: Closing a Charity
Legal requirement: If you are closing your charity, there are regulations as per which you must inform the Charity Commission, and the charity commission must remove it from the register of charities.
Charity Commission Website: Charity Commission Login
Having trouble logging into charity commission website? Forgot a password or need to get a new one? Now, continue your charity's annual return or registration application, our guide will help youget a new or replacement password.
Log in to start or continue your annual return
Charity Commission Online Services Login
Enter your charity number and password when prompted.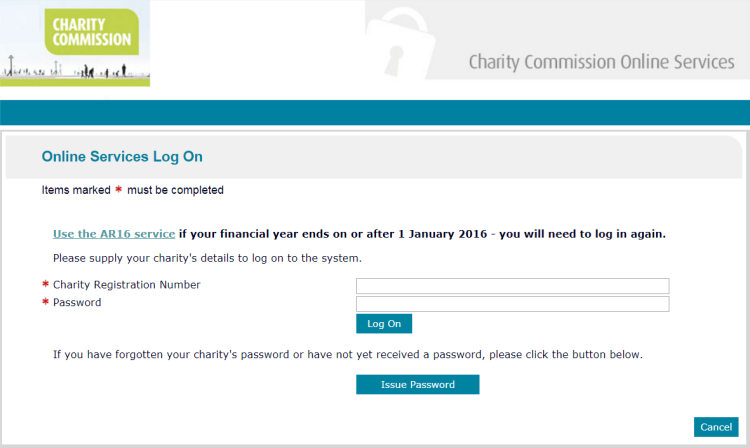 Log in to Charity Commission website to update your charity or trustee details
You're required to enter your charity number and password when prompted
Log in to continue an application to register a charity
Select 'Continue an application to register a charity' when prompted.
Request a new or replacement password
Enter your charity number to email your password to your charity's main contact.
Charity Commission Login Password Recovery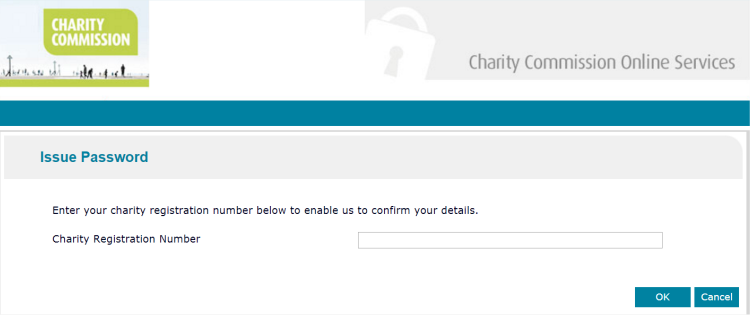 Contact Charity Commission: Support & Helpline Number
Support for online forms
Phone: 0300 066 9197
Helpline (available 10am to midday and 1pm to 3pm, Monday to Friday)
Enquiry form
Contact form: http://forms.charityco...
Make complain about a charity
Contact form: https://www.gov.uk/com...
Report a serious incident
Email: rsi@charitycommission.gsi.gov.uk
Phone: 0300 065 2199
*24 hour voicemail service
Whistleblowing
Click here for Review
---
(Overall Score 3.7 /5 Based on 1100 rating)
Trending pages

---
---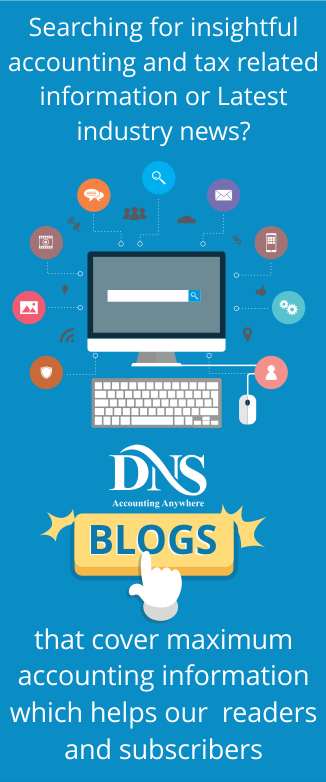 Charity Commission Offices