What do you mean by Scrapping a Vehicle?
The scrapping of vehicles is a common process of dismantling cars and removing the various parts of the cars. At the end of its life, a car's value is decreased to only the amount of money the car's spare parts can get. This value of the broken down or dismantled car fetches good value. The vehicle dismantling industry is huge and can make use of any vehicle.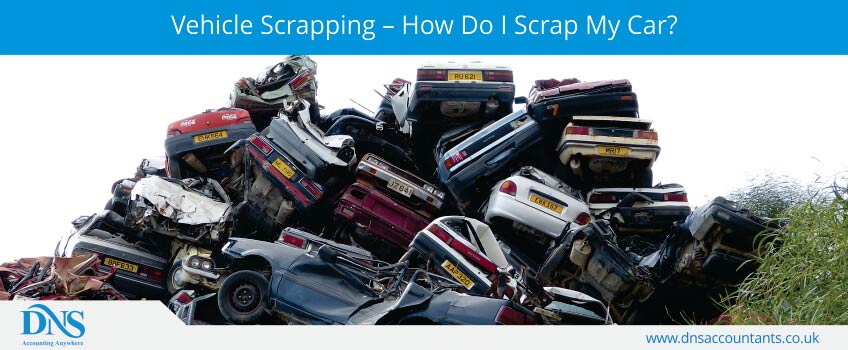 How are these Cars Dismantled?
The process of dismantling cars is quite simple. First, the cars are stored. Parts such as wheels and tires are separated right away. Then hazardous wastes are removed from the car. Furthermore, other parts such as whole engines, electronic modules and other parts that are still usable can be removed and sold separately.
Additionally, when only the skeleton of the car is left after taking away all that is useful from the car, a car crusher is used to flatten the car and to ship this flattened car to the steel industry.
Can Car Scrapping be called Car Recycling?
By all means, car scrapping can be called car recycling. The reason for this is simple. When a car is scrapped, the parts that can be used are sold to mechanics, mechanic shops or all those who need such parts. Apart from that other parts such as the engines and electronic modules are also sold to the same kinds of people, who would further sell it to those who need these parts in future. Other than this, the useless shell of a car that remains in the end is flattened and sent to the iron mills. In this manner, nothing is wasted, and all parts of the car are used properly.
How do I Scrap my Vehicle or Vehicles?
When your vehicle reaches the end of their useful life, you might want to scrap your vehicle. Any person who wants to scrap their vehicles should get the vehicles scrapped only at an authorised treatment facility (ATF).
How do you Scrap your Vehicle without keeping any parts from it?
Here are some steps to Scrap your Vehicles:
When you need to scrap your vehicle, the first thing you will need to do is apply to get your car or vehicle's registration off.
You can scrap your vehicle at an authorised treatment facility (ATF). This procedure is usually free of any charge.
You must give your vehicle's log book to the ATF. However, you must keep the yellow slip from the logbook (V5/C)
Inform the Driver & Vehicle Licensing Agency (UK) that you have scrapped your vehicle.
What is the Procedure for Scrapping Vehicle while keeping some parts of the Vehicle?
When you decide to keep some parts from scrapping your vehicle, here is what you will be required to do:
You will need to inform the Driver & Vehicle Licensing Agency that you are taking some parts off your car. Apart from this, you will need to keep the car off the roads in a garage or on private land.
Next step is to apply to have the vehicle registration taken off.
Next, scrap your vehicle at an ATF. If you have taken away some important and essential parts of the car, the ATF may charge a fee.
Then you will need to give your vehicle's log book to the ATF and keep the yellow slip for yourself.
Now you will need to inform the Driver & Vehicle Licensing Agency of the scrapped car.
What does ATF stand for and what do they do?
If you are planning on scrapping your vehicles, then you must come across the term ATF. ATF is a body and is monitored by the Environment Agency (EA). An ATF or Authorised Treatment Facility is responsible for making sure that your vehicle is scrapped properly and is not polluting the environment.
How much will your Vehicle Value at Scrapping?
There is no hard and fast rule for calculating the value of your vehicle. The prices of junkyards are dynamic, and since these prices are not published anywhere, the prices may vary from one person to another. The best way to understand these prices is to use the help of some paid tools and online scrap value calculators to find out an estimated price.
The usual rates for your areas may vary a lot, make sure you read about these prices and sell your car. However, one thing that you must remember while scrapping your vehicle is that the longer you wait, the less price your vehicle will fetch.
Are there some valuable parts of the Vehicle that should be removed?
There are some valuable parts of a vehicle that do not go bad even when your car is at its end of life. These essential parts can be re-used later on or can be sold separately, whatever the owner wants to do with these. Here is a list of such essential parts:
Car doors and windows
GPS systems
Car Batteries
Cooling Systems
Exhaust systems of your car
Bumper
Windshield wiper arms
It is a good idea to remove some parts of the car or vehicle that you know will sell well for cash as the scrapyard will not offer you too much money for these parts. Furthermore, you need to be sure that you are skilled enough to remove these parts without damaging the parts of the car.
What if I don't have a Log Book?
It is a common thing to misplace certain important documents when a car or a vehicle has been used for a long time. A missing log book is a common problem among people who intend to scrap their cars. Furthermore, you can write to the Driver & Vehicle Licensing Agency with your car's registration number and model number. Additionally, you will need to give the exact date on which your car has been scrapped along with the address and the name of the scrapyard.
When you scrap a car, you will need to inform the Driver & Vehicle Licensing Agency about the car being scrapped. Furthermore, if your vehicle has any pre-existing taxes paid on it, all auto-debits for your car will be halted. Once the Driver & Vehicle Licensing Agency is intimated that your vehicle has been scrapped, the amount that you have already paid will be sent to you via a cheque. This cheque will be sent to the registered address of the log bookkeeper as mentioned in the log book.
What will I need to do if I want to keep the Registration of the Car?
There are times when the owner of the car wants to retain the registration of the car. The car's registration number can be retained by writing to the Driver & Vehicle Licensing Agency. The owner of the car can keep the car's registration and use it in future. However, the owner will need to check whether such person is eligible to apply for retaining the registration of the car or not.
Fees and charges may be applied to such retention of the registration of the car. If you apply through online means, then you the cost for application amounts to only £80.
Where can you Scrap Your Car?
You can scrap your car at any ATF. The ATF will take over your car and will do as you instruct them to do. Furthermore, you can also tell the ATF to both repair the car and sell it themselves, or have them scrap your car completely.
What will happen if your Vehicle is completely Scrapped?
Once your car is completely scrapped off, the ATF will give you a certificate for "destruction" within 7 days. However, this certificate is given only to the following types of vehicles:
Car,
Light van, and
3-wheeled motor vehicles.
It must be noted that you will not be eligible to receive a certificate of destruction is you intend to scrap some other kind of car or vehicle.
Furthermore, this scrap certificate is proof that your car has been scrapped. But it must be kept in mind that although you have scrapped your car, you will still be liable to pay:
Any kind of unpaid taxes on your vehicle,
Pay all kinds of outstanding traffic offence penalties, if any.
How will the Payment of the Scrapped Vehicle be processed?
In England and Wales, it is illegal to pay for scrapped vehicles in cash. The payments for scrapped vehicles are to be done via cheques and bank transfers only.
What happens when the ATF Sells your Car?
When the ATF sells your car, you will not receive a certificate for such sale. However, you will be entitled to a payment, which can be processed via a bank transfer or can be paid in cash.
What happens if you are covered under an Insurance Plan?
If your car or vehicle is covered under an insurance plan and you make a claim for damages there are two options for you, and they are:
Your car being written off, and
How much will the company pay you?
When your car being written off, the company will pay an amount equaling the current value of the car in the market and not the costs of repairing the car.
What needs to be done when your car has been written off?
If the insurance decides to sell your car, you will need to furnish the company with the log book. Other than this you will need to write to the DVLA about keeping the registration or to get it off your car.