The Chancellor's Spring Budget – Has he done enough to get the UK back on track?
"Today I'll present a budget … helping those who want to work hard & get on."
(George Osborne's first ever tweet, 20/03/12)
There are always winners and losers in the Budget, but in this year's Spring Budget, Chancellor George Osborne has tried to please everyone. Osborne delivered a good Budget overall, but a safe one, at a time when this country badly needs a courageous, intelligent, insightful Economist at the helm – a Winston Churchill – if you like, to guide the country through the storm. To my mind, this chancellor should have stated his allegiance with the private sector, entrepreneurs, contractors with specialist skills, and SMEs of all sorts by making them the winners of this Budget. With that, he would have inspired confidence, made lending to small businesses viable, attractive, and mandatory even, and he would have made the UK a more attractive proposition for global investment.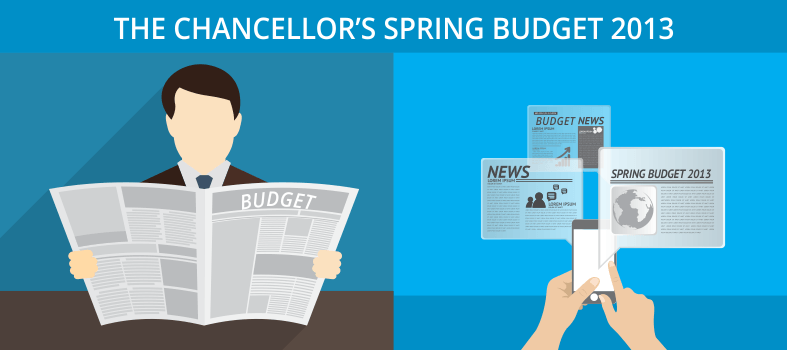 Highlighting the winners, losers, disappointments and missed opportunities of the 2013 Spring Budget
The Winners
1.Larger businesses
From April 2015, the main rate Corporation Tax and small profits rate are to align with the current small business rate of 20%.
2. Employers
The chancellor took "Tax off Jobs" to help businesses get ahead, and said that he recognises that the cost of employing people is a huge burden on small firms. His surprise move came with National Insurance relief of £2,000 – the so-called Employment Allowance – which, he said, means that 450,000 small businesses – one third of all companies in the UK – can employ one person earning £22,000 or four people earning the minimum wage, without paying any National Insurance.
3. Working families earning under £150,000
The introduction of tax-free childcare vouchers worth £1,200 per child is welcome. To take advantage of this, the family opens an on-line "voucher account", but to be eligible "all parents in the household must be working, not receiving tax credits or universal credit, and neither earning over £150,000 p.a."
4. Low earners and all taxpayers
Everyone who pays income tax will benefit from an early increase in the personal allowance to £10,000. The personal allowance – the amount of tax-free income you can earn annually – was due to reach £10,000 in 2015/16; now, a year early, everyone will benefit in April 2014.
5. Homebuyers, the construction industry and the building trade
The chancellor announced the "Help to Buy" scheme, whereby government provide an equity loan worth up to 20% of the value of a new-build home to anyone looking to get on or move up the housing ladder. This incentive is not just for first-time buyers or low-income earners, but is applicable to everyone buying a new-build. As the scheme is only applicable to new-builds, this initiative helps the construction industry and the building trade in general.
6. The motorist
Good news for motorists again, the fuel duty rise is scrapped at a projected cost of around £3.9 billion over the next five years. This is particularly welcome to haulage, building, courier, and taxi firms, and to all other motorists who have been suffering the prices at the pump. Not such good news for those bothered by heavy traffic congestion, and environmentalists, who hoped to see higher fuel prices as a disincentive to private-vehicle owners.
7. Innovative companies
April 2013 brings two new schemes to promote innovative UK businesses, the Patent Box (Intellectual Property) and the Research and Development Expenditure Credit. Introduction of R&D Credit at 10% for non-SMEs qualifying expenditure, incurred on or after 1 April 2013, represents a very positive benefit to small businesses. R&D, together with the Small Business Research Initiative, purportedly, will aid small businesses in gaining a larger portion of lucrative public-sector contracts.
The Losers
1. Tax dodgers
The Budget contained plenty of rhetoric about the government's clampdown on tax avoidance, with the introduction of a General Anti-Avoidance Rule (GAAR) and measures to stop companies "buying" losses (to offset against tax) and other unscrupulous means. The chancellor hopes the war against non-compliance and fraud will raise around £4.8 billion in five years.
2. Members of Final Salary Pension Schemes
Workers could risk seeing these schemes close with the introduction of the flat-rate State Pension, worth £144 a week, brought forward to 2016.
3. Families with children earning over £50,000
From 7 January 2013, child benefit for households where one person earns £60,000 or more is effectively withdrawn, and starts to be withdrawn if their income is over £50,000. This rule applies to married couples and civil partners, but also, importantly, for unmarried couples living together. Normally, child benefit is payable to the mother, but if she continues to claim it once the threshold has been reached it will be retrieved through the tax system from her partner or husband.
4. The UK infrastructure and the economy in general
Capital spending will increase by £3 billion a year from 2015–16 to make improvements to the UK's infrastructure. New roads, better transport links, world-class airport facilities, high-tech, smart and efficient public facilities, such as improved utilities' mains supplies and information technology all come at a high price. Many commentators are saying that the chancellor simply did not pledge enough to make the UK attractive as a business destination for multinationals.
5. The 40%-band taxpayer loses out to the top-rate taxpayer
The 40%-band taxpayer definitely looses out to the top rate taxpayer again, just as they did in the last Budget. The chancellor decreased the top rate from 50 pence to 45 pence for those earning £150,000 and the higher earnings threshold, currently £41,451, will now rise below inflation. 
Missed opportunities
The Chancellor put in place a few incentives to please small businesses, such as the £2,000 NI rebate and the temporary increase in the Capital Allowance, but he did very little to kick-start lending, or inspire confidence in the UK's economy. One thing is clear: until SMEs start investing, no significant job creation is foreseeable. Unfortunately, SMEs in the UK cannot invest without finance from banks, so George Osborne missed a beautiful opportunity to do something in this area in order to get the economy back on track. With some banks still part-publicly owned, the chancellor could simply have asked them to lend more to businesses, but he took no such action. The extension of the Seed Investment Enterprise Scheme (SEIS) and R&D tax credit will not inject enough money into the economy to put the UK back on its feet. Osborne has never been bold, and the last four Budgets reflect his tentative indecisiveness.
Another big opportunity the chancellor missed was to simplify the highly complex UK tax system. This could have reduced the burden of monitoring it, closed loopholes, and allowed the chancellor to reduce the additional resources currently pouring into anti-avoidance (£900 million). As an accountant, I always keep half an eye on the number of pages that make up the tax legislation: 11,520 pages to date of convoluted notes, legislation, guidelines and pitfalls. My team and I understand it more than most, but for the layperson, it is maze. The whole thing needs paring down, clearing out and simplifying.
While all businesses welcome the reduction in Corporation Tax to 20% from April 2015, there is general disappointment that businesses will have to wait two years before this comes into effect. It would have been preferable to see Corporation Tax reduced sooner to deliver immediate benefits to businesses, thus speeding up economic recovery.
Had the chancellor reduced VAT to 15% he would have given businesses the immediate boost they need and seen an immediate upturn in the economy. This, in turn, would bring confidence levels back for businesses and increase spending on the high street.
Other highlights of the 2013 Spring Budget worth noting
Business expenses
In 2012, Osborne also announced that there would be further consultation on standardising business expenses, allowing claims of fixed amounts rather than recording actual amounts. Government will introduce a new cash basis for small, unincorporated businesses to calculate their income tax from next month.
Simplifying Self employed NICs
The self-employed currently pay income tax and Class 4 NICs through the Self Assessment system and Class 2 NICs separately. Government will consult as to whether to collect Class 2 NIC through the Self Assessment system.
Emissions
April 2015 will see the introduction of two new CCT bands at 0-50 grams/kilometre of carbon dioxide and 51-75 g/km CO2.
Universal Credit
Universal Credit will replace child tax credits, working tax credits, income-based job-seekers allowance, income-related employment and support allowance, income support and housing benefit. The new system will begin initially in Greater Manchester and Cheshire in April 2013, and nationwide from October 2013.
Has the chancellor done enough to put the spring back in the UK economy?
Chancellor George Osborne has tried to please many sections of society, doing so in bits and pieces without a single revolutionary policy. He could have reduced VAT to 15% for one year; he could have brought Corporation Tax down to 15% for small business owners; he might have provided a £10,000 overdraft to businesses who can offer two or more jobs to new employees. He made no such bold move, however, which would have had a direct and immediate impact on UK growth. Tax relief on employer NI of £2,000 is of some help, but all business owners are aware how far that will go in a year. Will it create even one additional job? I doubt it.
Until SMEs start investing and stop worrying, the UK will continue to struggle. With UK debt forecasted to rise by more than £61.5 billion, the situation is worse than forecasted and it will continue slide – down not up.
If you agree with me that the UK's trump card lies with the private sector, specifically with SMEs, I am sure you will agree that the chancellor did not demonstrate his confidence in the private sector's ability to help him lift the UK economy out of the doldrums. There are some big winners: among them low-earners, some families with children, larger businesses, and the wealthy. The losers were the middle classes as usual: always stretched to help the less well off and thumped to keep the wealthy sweet. The biggest loser is the whole of the UK, however, because without supporting investment in SMEs there can be no renewed confidence, and without these two things there will be no lending. If UK businesses are to remain global leaders and retain their influence then government needs to do more. Businesses require a bold plan and not a hodgepodge of concessions for the electorate in general. Businesses in the UK are losing patience as we watch "our patch" lose its edge in an ever-expanding and growing global economy.
This Budget lacks the spice and vibrancy of a chancellor who is aware of his duty. He has a duty to lead this once great country through all the difficulties of the twenty-first century boldly and with a clear objective. Only the strength and will of the public can create the magic that will bring the UK back to its glory days. Without a doubt, the performance of the global economy will have an effect on the UK economy, but we cannot sit back and blame our losses on pressure from outside. Competition is what drives business and if there is no courage of conviction, you lose. Should I happen to meet the Chancellor I will ask him what stopped him taking the bold measures necessary; I will also ask him why he let his ship sink slowly and never tried to rescue all the passengers. In any game, you play to win but if you lose, even badly, you were in the game – at least you were in the game – and going for the win created positivity. This Budget did not make the headlines because it was a Budget designed simply to keep the chancellor going up until the next election.