The Spring Statement is a new format in the parliamentary year—not a budget but a statement. Chancellor Philip Hammond had nothing new to add in the statement, really, but he did confirm quite a number of points. And he offered a few potential carrots (he might increase spending and loosen up on austerity when he announces the budget in the autumn). There was a whole shelf of consultations in the offing: about the cash economy, compliance, training, the environment, etc. There was a lot of a feeling that we must wait until the autumn.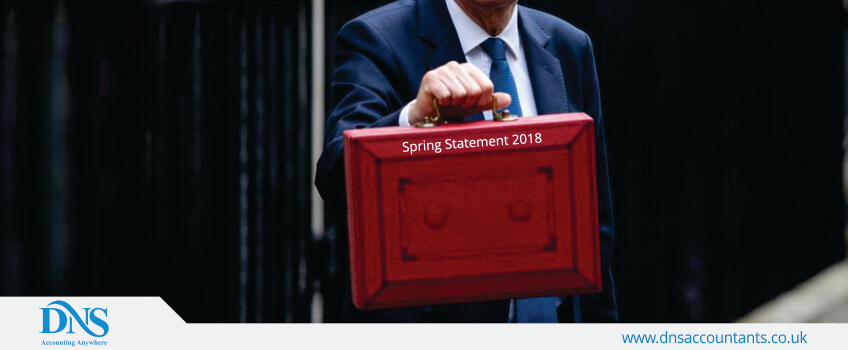 The book Winnie-the-Pooh came up (strangely). The chancellor felt more like Tigger (the positive one) than Eeyore (the gloomy and depressed one, which, allegedly, colleagues have likened him to in the past) where the UK economy's concerned.
Where the UK economy is concerned Mr Hammond is confident that the economy is stable and that it will withstand come what may. Some of the Tory Party's critics, meanwhile, did point out the obvious: that there was absolutely no mention of Brexit.
The chancellor promised a fifteen-minute statement and it did amount to about that time. The other nearly fifteen minutes was aimed at the opposition. The opposition he said was "talking down" the UK. Not today could he, the Chancellor, be accused of being Eeyore, he was, quote, "optimistic", and here is why:
Business, employment, training
He'll bring forward the next business rates revaluation from 2022 to 2021;
He'll introduce assistance to help the least productive businesses catch up with those that are more productive (in consultation);
There will be measures put in place to eliminate late payment (which relates to the collapse of Carillion), but there was no mention of pensions and protecting those from people like Carillion's bosses and the likes of BHS's former boss Philip Green;
There was no mention of any major tax changes, be he did confirm that :

The NLW will rise to £7.83 in April 2018; NLW rates for under 25s and apprentices will also rise. Over 2 million people are expected to benefit.
The tax-free personal allowance will rise to £11,850 from April 2018; a typical taxpayer will pay £1,075 less income tax than in 2010–11.

Employment has increased by 3 million since 2010; the rate is close to a 40-year low;
To help people improve their skills, to benefit both individuals and the wider economy, the government is looking into extending the current tax relief to support self-employed people and employees when they fund their own training. See Taxation of self-funded work-related training.
£500m for T-levels and £50m to help employers roll out T-level student placements;
£80m to support small businesses apprenticeships.
Compliance
As more people choose digital payments over cash, views are being sought on how to make sure people who need to pay with cash are able to pay with cash, and how to prevent the use of cash for tax evasion and money laundering.
The government to consult on a new VAT-collection mechanism for online sales, to ensure the VAT paid by consumers reaches the Treasury.
He wants to look closely at the way multinational businesses pay tax on profits; and change the tax system to introduce a fairer system to tax digital businesses in the UK. See consultation: Cash and digital payments in the new economy; the digital economy
Growth
The forecast growth figures were better than expected, up from 1.4% to 1.5% growth for 2018;
Borrowing has fallen by three-quarters since 2010;
2018/19 will bring a reduction in inflation that will help produce real wage-growth;
Housing and infrastructure
Confirmed a housing investment programme of at least £44 billion over the next five years, hoping to raise the supply of homes to 300,000 a year on average by the mid-2020s;
Confirmed that he'll improve the transport infrastructure in English cities in consultation with city mayors;
Confirmed improvement of the UK's digital connectivity and allocated the first wave of funding of over £95 million for 13 areas across the UK.
Environment
Government is looking at how best to use the tax system to encourage the responsible use of plastic. See consultation: Tackling the plastic waste problem
£20m available now to businesses and universities to stimulate new thinking on the subject of plastic waste;
Air quality consultation on reduced vehicle excise duty for greenest vans
Comments
When you look at it, much of what featured in the Spring Statement was heard in the autumn. A few things struck me about it though, which I'll comment on below.
Off payroll
It was a relief that there was nothing new said in relation to off-payroll working in the private sector. Although I feel this is something that will probably come up in the autumn, it does inspire some hope that no new legislation is likely until after April 2019.
Brexit
I for one would have liked the chancellor to create a bit of clarity regards Brexit. In this respect I felt that his critics were quite right: I along with many business owners and investors in tech are very concerned about the loss of talented contractors to the European Union without a clear, or even a draft roadmap for what Brexit means for overseas workers in the UK.
Finally, I was disappointed that the chancellor mentioned nothing about helping struggling families suffering because of the effects of inflation. Food has gone up significantly in the last year; childcare costs have soared; fuel costs have risen, and all of this effects families in really negative ways. He could have announced some plans for more help with childcare costs or offered the prospect of some other sweetener come the autumn, which his supporters would have expected and supported.
It's all very well confirming the NLW and the extra increment on the personal tax threshold but families could have done with more than this.
On a positive note I was glad to hear that the chancellor will loosen austerity and increase public spending nominally in the autumn if things continue as they are. I appreciate his "balanced approach" to spending and am looking forward to seeing the content of his spending review in 2019.
Clearly this government, this chancellor, must keep a cool head: the government's got questions being thrown at it from all sides on Brexit; and the chancellor's been getting it in the neck from the opposition about investment in the NHS, schools, social care, prisons … I have a feeling the Mr Hammond will announce something positive to do with salaries and investment in these public sector areas in the autumn.
Finally, the upskilling issue is a quite shrewd announcement in my view. Had he partnered that with something about retaining and building on skills post-Brexit, he'd have been on to something. It's great news for sole traders and freelancers though, if the chancellor can offer a tax break for them when they spend money on training.