Telephone Banking is a computerised service that permits users to access their bank account details and carry out mundane transactions via a touch-tone telephone. In order to setup a telephone banking service a customer can follow the below mentioned steps
Call the bank customer care number
When prompted, enter the SSN (Social Security Number), and press the pound (#) sign
At the next prompt, select a 4-digit PIN (Personal Identification Number) and press the pound (#) sign
At the next prompt, select the account
At the next prompt, enter the prime account number and then again press the pound (#) sign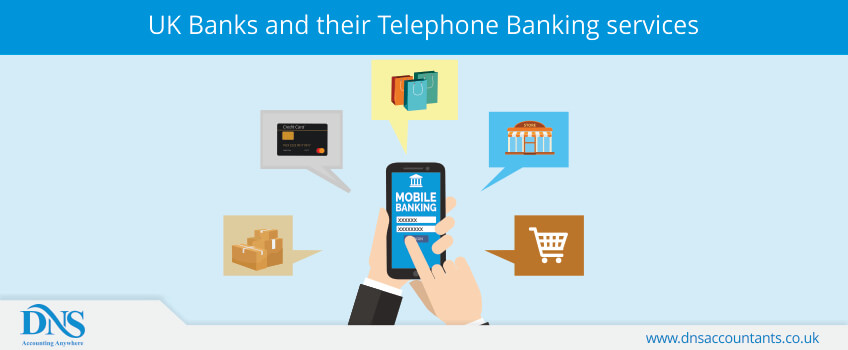 Personal Identification Number (PIN) for Telephone Banking
An individual's PIN (Personal Identification Number) is a 4-digit number arrangement which is only known to the individual who has set the PIN, and by entering the correct PIN user can access the account details through an Automated Telephone Banking system. Personal Identification number (PIN) is selected when an individual uses the telephone banking services the initial time.
Services available through Telephone Banking
Usually, most banks in the United Kingdom provide the following telephone banking services to their customers:
Bank account balance inquiry
Account history information
Bankcard activation
Branch hours and locations
Check reorders
Credit Cards
Interest earned/paid prior year
Make payments to loans/lines of credit
PIN (Personal Identification Number) changes
Stop payments
Transfer funds
UK Banks and their Telephone Banking services
Customers can enjoy benefits of instantaneous automated telephone banking services which is available 24 hours within a day, 7 day a week. Below is a list of banks in the United Kingdom and the services offered by them:
Barclays
Barclays offers a secure and confidential telephone banking service and its customers are given a passcode and membership number when they join the bank. In order to access Barclays Telephone Banking, customers need to register by simply dialling in 03457-345-345 and the bank will send a passcode and membership number inside 5 working days. Once an individual has received these details, he/she can use Barclays' Telephone Banking service any time by calling 03457-345-345. Through its fast-track service customers can access the following:
Get details regarding the available bank balance.
Check the most recent bank transactions – information about what is credited or debited.
Details of Direct Debits and standing orders.
Pay Barclaycard bill.
Look for specific payments.
Transfer money from one Barclays bank account to another Barclays account.
By interacting with an adviser at the bank, customers can avail the following services:
Arrange a Barclay loan
Arrange a personal overdraft
Change personal or business address details
Get information about Barclays' services and products
Order a new chequebook
Order travellers cheques
Pay bills
Stop cheques
TSB bank plc
Customers of TSB Bank PLC can dial-in 03459-758-758 with their card details or bank account details. After receiving this information, the bank will post the 6-digit Security Number to the customer. The following services can be accessed through telephone banking:
Set up standing orders and get details about Direct Debits; it also allows to cancel standing orders.
Check recent transactions and up-to-date account balance.
Order a replacement PIN or a debit card.
Make bill payments.
Transfer money from one's own bank account to another United Kingdom bank account.
HSBC
HSBC enables its customer to check their account balance, pay bills, update bank details, transfer money, make payments, and set up standing orders. The service is available 24 hours and can be set up through a telephone banking security number. In case of any general customer queries, HSBC UK can be reached at 03457 404 404; lines are open 8 A.M. – 8 P.M. and the banks' advance customers receive 24*7 customer service. HSBC Premier Customers can call the bank services at 03457 707 070 and premier customers receive the service 24*7.
Automation and telephone banking
It is anticipated that by 2021 approximately 46,000 jobs in customer support services will be replaced as firms focus on automation. In 2017, a study was conducted by the Institute for Public Policy Research (IPRR), the United Kingdom's foremost progressive think tank and cautioned that professions making a third of yearly pay in the United Kingdom were at jeopardy of being programmed. The study concluded that almost 44% of United Kingdom professions could practicably be automated, corresponding to in excess of 13.7mn individuals who collectively earn ~£290bn. It was also recommended that middle-income professions such as factory workers, secretaries, and call-centre staff could likely be facing the brunt.
Barclays' most recent iOS app includes a new feature which assimilates Siri into the banking activities – this means directing an Artificial Intelligence (AI) assistant to perform a payment transaction can be as easy as saying "Siri, pay Henry ten pounds with Barclays". Barclays has stated that the precise phrasing wouldn't be a challenge, as long as the request defines the specific amount, the recipient's name and states 'Barclays'. Barclays is the first United Kingdom bank to roll-out this feature.