Jeremy Corbyn (Leader of the Labour Party), Theresa May (Leader of the Conservative Party since July 2016), and Tim Farron (Leader of the Liberal Democrats since July 2015) have dissimilar views of utilising the taxes they collect. DNS Accountant aims to analyse their key pledges and lays emphasis on the important changes that might take place.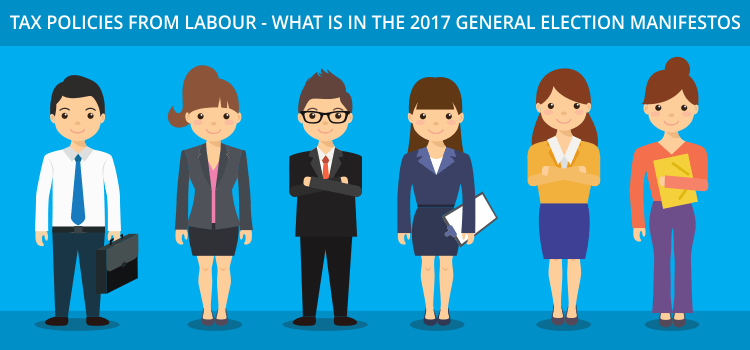 The Conservative Party
The Conservative Party, lead by Theresa May, has vowed to lower immigration, increase NHS funding, and increase the tax-free personal allowance in their general election 2017 manifesto. As a result of the policies the Conservative Party aims to deploy, middle-class pensioners will lose benefits to fund social care while means-testing might commence on winter fuel payments. The Conservatives will also aims to pass a legislation to make sure that no one in the UK will have to sell their place of domicile to pay for their care throughout their lifetime, and new rules will permit pensioners requiring nursing home treatment. Below mentioned are the key highlights from the Conservative manifesto:
Social care
Under the 'winter fuel payments' for pensioners, individuals will have to pay extra towards home care visits (this is done to plug the £2.8bn gap in social care funding). Additionally, pensioners will not have to pay for their own care once their savings and assets have gone as below as £100,000 (currently, only £23,250 is protected). However, an individual's place of domicile will be considered among their assets when they are means-tested for domiciliary care. Also, as stated above, no individual will have to sell their place of domicile throughout their lifetime, as they will have a provision to borrow money which will be paid-back from an individual's estate after their bereavement.
Tax
As stated by David Cameron's tax 'triple lock', which assured there will be no increase in income tax, national insurance (NI) or value added tax (VAT), will be scrapped in support of a general statement that aims to lower tax and make simpler the tax system. However, there will be no increase in the level of VAT.
Income tax
A promise to increase the tax-free personal allowance to £12,500 by 2020 will stay. The Tories will also keep their promise to increase the threshold for the 40p tax rate to £50,000 by 2020
Pensions
Aims to continue the triple lock pension guarantee until 2020, and later replace it with a double lock – this will mean pensions will increase in-line with inflation or earnings, whichever is highest. Tougher punishments will be given to those fixed for making a mess of pension schemes. Pensions Regulator will have new powers to issue 'disciplinary' fines on those found to have 'wilfully left a pension scheme under-resourced' and, if essential, powers akin to those held by the Insolvency Service to disqualify the appropriate company directors. A new criminal wrongdoing will be considered if company directors 'intentionally or irresponsibly put at risk' a pension scheme's capability to meet its requirements
Key points to be noted:
The vow to have no new welfare cuts has been abolished – as an alternative the policy says there are no plans for further radical welfare reform
A million more differently abled people will get into work over 10 years
Changes to statement made towards pledges on child poverty. The document in 2015 document stated that 'party will work to eliminate child poverty', however, now it has changed to 'reduce levels of child poverty
There are no plans to invalidate cruel Tory welfare cuts
Employers will get a 12-month holiday on paying National Insurance (NI) in case they hire ex-offenders or individuals who've not been employed for a year
The Labour Party
The Labour Party, lead by Jeremy Corbyn, has made the following commitments:
Disability assistance Personal Independence Payment (PIP) will be extended for 165,000 people costing £3.7bn in-line with a court decision
£30-a-week cuts to disability assistance Employment and Support Allowance (ESA) will be upturned
Bedroom Tax will be abolished
Cuts to bereavement support payments will be abolished
Cuts to Universal Credit work allowances will be reviewed; a £2bn fund to revise how Universal Credit works
The benefit sanctions regime will be scrapped
Re-assessments for severe lifelong conditions will be abolished
The state aims to fund child burial fees for bereaved parents
Housing benefit for under-22s will be re-established
The 'rape clause' making women denied benefits for a third child prove it was non-consensual will be abolished
Work capability and PIP assessments will be abolished and reinstate with a personalised system
The Labour Party aims to provide fair rules and rational management of migration' and reject counterfeit immigration targets. The party looks not to scapegoat migrants, differentiate between individual on the basis of different creed or race or put an allegation on them for economic failures.
Additionally, a new migration system will be based on the economic needs of the UK, recognising specific labour and skill scarcity in discussion with unions and business. A Labour administration will be entitled to take action to put an end to abuse of migrant workers, stop overseas-only employment packages and boost examination for paying below the minimum wage. Also, the Labour Party will reinstate a Migrant Impact Fund to lessen strains on public services in areas with high numbers of incomers. Furthermore, income thresholds for visas would be substituted by a ban on admission to public funds
Liberal Democrats
Liberal Democrat Leader Tim Farron launched the party's Election Manifesto. Following are the key highlights:
The Tory benefit freeze will be stopped - so benefits will increase by inflation again
By lowering thresholds, more parents can earn Universal Credit
Tory cuts to UC work allowances will be reversed
The two-child limit and 'rape clause' in Tax Credits will be abolished
The Bedroom Tax will be abolished
Housing benefit for under-22s will be re-established
£30-a-week cuts to disability benefit Employment and Support Allowance (ESA) will be upturned
Work capability assessments will be abolished and reinstated
Additionally, Tim Farron's Liberal Democrats party will stage a yearly parliamentary discuss to identify the relocation needs to meet skill and labour shortfalls. It would permit high-skilled immigration, and restore work visas after studies for some out of the country graduates. A centrally-funded Migration Impact Fund (MiF) will aim to help local communities get acquainted to migration and there would be extra government funding for English lessons for new arrivals. The party aims to enable Britain to continue to provide assistance to refugees, thereby, providing secure and legal route to the UK for refugees. A new limit of 28 days will be placed on immigration detention. Place of safety (shelter) would be offered on the basis of gender or sexual orientation