The taxes paid from April 2018 onwards in Wales are regulated by The Welsh Government and the National Assembly to some extent. This present system was reframed and in Wales all Income Tax is now paid to the UK Government so as to generate the fund across the UK, however the tax rates is set by the Welsh Government. The Welsh Government will be able to vary the tax rate which will continue to be poised by HMRC. This means that the payable tax rates in Wales could be differ to the other parts of the UK. This would be done due to reducing the basic and including the additional rates, set by Welsh Government.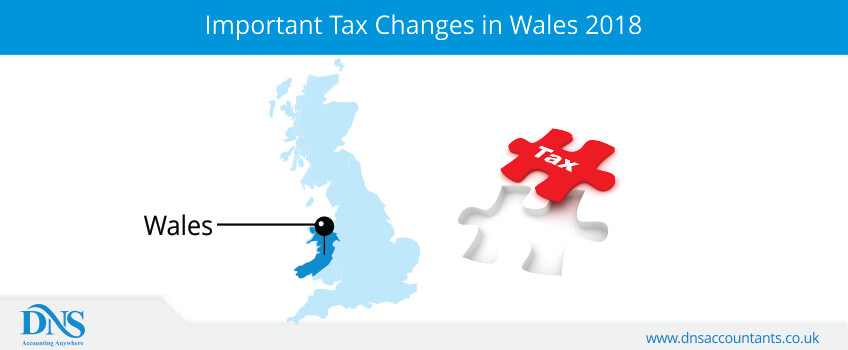 Further, the UK Government also set to reframe the aggregates levy and partially the income tax also to Wales. This is a duty charge on the commercial consumption of rock, sand and gravel in the UK, which could rise by £32m if decentralized in 2018-19 as expected by Office for Budget Responsibility (OBR). This signifies the further changes in other tax segments too, influenced by the basic tax rate alteration. This summarizes that the overall tax scenario has changed in 2018 in Wales and will precede so.
Significant Changes in the Tax Rules in Wales
From April 1, 2018 significant changes have been made to certain taxes in Wales, affecting all individuals and trades within or outside Wales, affecting the sale or transfer of business, land and property and so affect the other factors dimensioned with these tax categories. Here are some major areas, affected with the tax change in Wales:
Land Transaction Tax
From April 1, the Land Transaction Tax(LTT) has replaced UK Stamp Duty Land Tax (SDLT),
Most of the Welsh taxes have already proposed and the Vacant Land Tax also been listed in the same under Wales Act 2014. However, it was also focused at liberating land, deferred from development, controlled by the builders.
LTT like SDLT is payable on buying or leasing a building or a land over a set price, affecting house buyers or sellers, agents and estate businesses.
The said changes are precisely made for – simplification of the tax at the fairest level; efficient and effective tax system and Welsh needs and primacies.
The LTT will be payable to Welsh Revenue Authority (WRA), for which the LTT tax rates are given as:
New LTT Rates in Wales
Residential
Non-Residential
Up-to £150k
No tax
Up-to £150k
No tax
£150k - £250k
-2.5%
£150k - £250k
-1%
£250k - £400k
-5%
£250k - £1m
-5%
£400k - £750k
-7.5%
Above £1m
6%
£750k - £1.5m
-10%
Above £1.5m
12%
Income Tax
The non-taxable income also known as personal allowance will rise from £11,500 to £11,850, which will exempt numerous low earners from the tax.
Tax was paid before at 30p rate will also boost up that will rise from £45,000 to £46,350.
UK government will reduce each of the 3 rates of income tax viz., basic, higher and additional rate, paid by Welsh taxpayers by 10p, reflecting Wales' unique social and economic environments.
Moreover, Council Tax is too increasing in every part of Wales, where the maximum proposed rise will be 12.5% Pembroke shire council.
Vehicle Tax
The Car Tax calculation also changed in Wales precisely based on CO2 emission this time. The owner has to pay the rate from its registration time on or after April 1, 2017.
The rates are segmented on the types of vehicles, viz.,
For petrol or diesel vehicles £140 a year
For other fuel vehicles (hybrids, bioethanol and LPG) it is £130 a year
Vehicles with zero CO2 emissions are benefitted with no tax.
Travel Tax
On increase of Air Passenger Duty (APD) the flights become more expensive in UK. The levy will apply on the flights departs from UK.
The ADP rates mainly works in two bands; Band A for the flights travels 0 to 2,000 miles which will remain frozen and Band B comprised of flights over 2,000 miles which may rise up.
Three ADP rates also mentioned in the tax process:
Reduced Rate implies on the lowest class on air travel rose by £3 to £78.
Standard Rate is for travel in any other class of travel may rise by £6 to £156.
Higher Rate is for carrying fewer than 19 passengers in a plane of 20 tons or more. The rates will increase by £18 to £468.
Communication Charges
The broadband, phone and TV bills also face the rise in the new financial year.
The increased rate will jump to around £2.50 a month or included £30 in a yearly bill.
Passport Duty
The passport application also emerged in the new increased tax rates segmented in different slabs.
The passport request for a child will go up from £46 to £58.50 almost an increase of 27%, whereas the cost for passport application for adult will increase from £72.50 to £85.
For "fast-track" application process will make an additional charge rise by £39 for adults to £142, while it will range to £122 for children.
People born before 2 September 1929 are usually either excused from fees or pay a reduced rate as per the guidelines.
Educational Loan – Graduate Assistance
As per UK government new directives, graduates not needed to repaying loans until reach the limit to £25,000 or more earning, however till before 9% on the earnings of £21,000 or above was payable.
The figure is raised to £25,000. That means a graduate of 2012 will not have to pay tax on £3,999 if earning exactly £25,000.
Sugar Tax
A new Sugar Tax is also introduced focusing on the health factor, to reduce obesity and poor health, as approx. 8000 and more diabetes cases are incurred in a year due to frizzy beverages.
As per new guidelines, all drinks contain total sugar of 5g and above per 100ml will be burdened at 18p a litre. On the same side, sugary drinks will be levy at 24p a litre with more than 8g of sugar contained per 100ml.