SPRING BUDGET 2017 HIGHLIGHTS
Business rates

- £435.00mn of additional support for organisations affected by increase in business rates

Growth

– The growth estimated to be 2.0% in 2017, 1.4% up from the previous estimate

Dividends

– From April 2018, the tax-free dividend allowance for shareholders will be decreased from £5,000.00 to £2,000.00

Income Tax

– From April 2017, the personal allowance will be increased to £11,500. Also, the higher rate threshold will be raised to £45,000

ISAs

– From April 2017, the annual ISA allowance will increase to £20,000.00

Industrial Strategy Challenge Fund

– To keep pace with the changing Information and Communication Technology (ICT) space £270.00mn investment in new technologies, such as robotics and driverless cars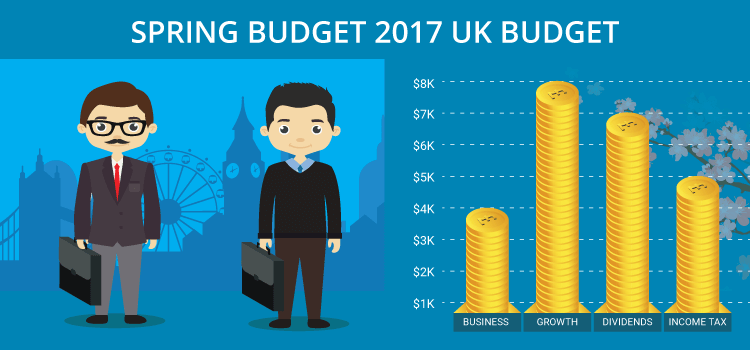 THE BUDGET
The Chancellor, Philip Hammond presented the UK Budget in the Parliament. Below mentioned are the key announcements from the Spring Budget 2017:
Business Measures
Business Rates
The UK government, in addition to the £3.6bn transitional relief announced in November 2016, will provide £435.00mn as extra support for businesses dealing with considerable increase in bills due to the English rates revaluation from April 2017. This will include:
limiting the yearly increase for small businesses trailing Small Business Rate Relief to the greater of £600.00
£300.00mn business rates hardship fund to facilitate local authorities to grant optional relief to individuals hardship cases
one year business rate discount of £1,000.00 for public houses with a rate-able value of upto £0.1mn
This will be applicable from 1 April 2017, and the discount of pubs will last for one year and the added support will continue until the subsequent revaluation in 2022.
Employee benefits in kind and expenses
The Chancellor has announced that the government will publish a call for evidence and consultation on 20 March 2017 to better understand the use of Income Tax relief for employee's expense, including unreimbursed expenses.
DNS Accountants view
Both, employers and employees, will be affected with this announcement and this may permit for a simpler and fresh system to be developed in the future.
Lease accounting changes
The government will seek advice on the legislative changes required as a response to the introduction of International Financial Reporting Standards (IFRS) 16 – the new lease accounting standard which will come into effect starting 1 January 2019. This will affect businesses with machinery and plant leases and prepare accounts under IFRS, or which report under UK Financial Reporting Standard 101 (FRS101).
DNS Accountants view
In our opinion, these changes will affect different businesses (extent may vary) depending on how their lease preparations are treated under current tax legislation.
Corporation tax: deductibility of corporate interest expense
Post the publication of draft legislation (to limit the UK tax deductions which companies can aver for their interest expenses) the government has announced a small number of changes will be reflected in the Finance Bill 2017 to avoid certain unintentional consequences or superfluous compliance burdens. These amendments will be beneficial to those with losses in some years, including start-ups; banks and insurers; groups with inter-company guarantees; and infrastructure groups. These amendments will be reflected in the Finance Bill 2017, which will be released on 20 March 2017.
DNS Accountants view
Since these issues have been raised with HM Revenue and Customs (HMRC) and HM Treasury by many stakeholders we acknowledge the government's announcement of addressing these issues and we hope that amendments will be appreciated by the people of the UK.
Making tax digital
Until April 2019 the UK government has delayed making tax digital for unincorporated businesses and landlords with turnover below the Value added tax (VAT) threshold. This delay will help businesses as it offers more time to get ready for the necessities of digital record keeping.
Income Tax IHT, ISAs & Pensions
Below is a summary of what can be expected for tax-free savings, inheritance tax, and income tax and inheritance tax in April:
Income tax thresholds
Starting 6 April 2017, personal tax rates will be effective and the Personal Allowance (the amount an individual can earn before paying income tax), will increase from £11,000.00 to £11,500.00. The threshold for paying higher-rate 40.0% tax will also increase from £43,000.00 to £45,000.00. However, the threshold for paying additional-rate 45.0% tax will remain at £150,000. The personal allowance will be gradually removed once earnings hit £0.1mn and fall to zero for those earning £0.12mn or more
ISA allowances
From 6 April 2017, the overall ISA allowance will be increased to £20,000.00, up from its current level of £15,240. Individuals can split the allowance between different types of ISA. Money detained in a Cash ISA, Innovative Finance ISA, and Stocks & Shares ISA all count towards the overall limit. The allowance for Junior ISAs will also increase after April as well, from £4,080.00 to £4,128.00
Pension allowances
These is no change in the Lifetime Allowance (the maximum amount that can be held in a pension without incurring tax charges), even though, from April 2018, it is scheduled to rise with inflation. The Annual Allowance will remain at £40,000.00 in 2017-18. However, prior cuts to the Annual Allowance mean the amount that can be contributed through 'carry forward' will fall by £10,000.00 post April
Inheritance tax
From 6 April 2017, there will be an additional allowance for inheritance if the deceased passes at a primary residence. This "family home allowance" will boost an individual's Nil-rate band for Inheritance Tax by £100,000.00. This amount gets added to the obtainable £325,000.00 Nil-rate band for estate, which means that each individual can pass on £425,000.00 without paying inheritance tax if the estate includes a primary residence
Indirect Tax measures
Aggregates levy
This is a kind of tax levied on the commercial exploitation of sand, rock and gravel. The rate for aggregates levy will remain the same until 2017-18 and stand at £2 per ton.
Air Passenger Duty (APD) rates
The new rates will be applicable from 1 April 2018 to give the aviation industry advance notice. These new rates will affect travel and aviation industry and traveler.
Bands and distance from London (in miles)

Reduced rate

(for lower class travel)

Standard rate

(other than lower class travel)

Higher rate

Band A (Between 0 – 2000 miles)

£13

£26

£78

Band B (above 2000 miles)

£78

£156

£468
Insurance Premium Tax (IPT)
As announced earlier in the 2016 Autumn Statement, the rate of IPT will increase from 10% to 12% in June 2017. Post the new rates, the anti-forestalling measures will come into effect straight away and will be applicable to insurance companies who are registered for IPT.
We believe that the burden of the increased IPT rate will fall on the policy-holder than the insurance companies
Tobacco Duty and Minimum Excise Tax
The government has introduced a Minimum Excise Tax (MET) to target cheap cigarettes. The rate will be £268.63 per 1,000 cigarettes. This means that following will be the rice change:

A 30g pack of hand rolling tobacco will go up by ~42 pence
A pack of 20 cigarettes will go up by ~35 pence
10g of cigars will go up by ~17 pence
The new MET will come into effect on 20 May 2017.
VAT: Registration and De-registration threshold
From 1 April 2017, the taxable turnover threshold for VAT will increase to £85,000 from £83,000 present. Also, de-registration threshold will increase to £83,000 from £81,000 at present.
Other changes
£2.0bn for adult social care over the next three years

– This will ease the pressure on the NHS and help councils to provide high quality social care to more people

£425.0mn investment in the NHS in the next three years

– £325.0mn will be invested in an initial set of the best local Sustainability and Transformation Plans (STPs). The additional £100.00mn will go to A&E departments in 2017-18. (STPs are the NHS's plans for improving patient services in local regions, made collectively by NHS service leaders and their local partners)
The rate of

National Insurance contributions (NICs) for the self-employed will increase as from 2018

; Class 2 NICs will be abolished. Class 4 NICs will be increased to 10% in April 2018 and to 11% in April 2019, from the current rate of 9%. This means that only a self-employed person with earnings over £16,250.00 will have to pay more as a result of these changes

From April 2018, Tax-free dividend allowance will decrease from £5,000 to £2,000

– This will decrease the tax dissimilarity between a self-employed individual and those working through a company
ABOUT DNS ACCOUNTANTS IN THE UK
We are a leading taxation and accounting firm in the UK and our clients range from small-businesses to freelancer and contractors. Our services include:
Accounting and bookkeeping services
Business and individual taxation
Self assessment
HR and payroll services
Auto enrolment
Value added tax (VAT) planning, along with others
Guidance on Inheritance tax
For any business related inquiry, please get in touch with us at www.dnsassociates.co.uk. You can also follow us on Facebook, LinkedIn, and Twitter.