Spring Budget 2014, Savers are the Winners
The positive move in the economy should uplift business and investment in the UK. According to the Chancellor, the UK is the fastest growing economy in the developed world, ahead of Germany, Japan, and the US. He said that the UK had seen the biggest upward growth between budgets for thirty years and that the UK deficit is down a third from 11 per cent to 6.6 per cent. He wants to see no borrowing at all in 2018/19.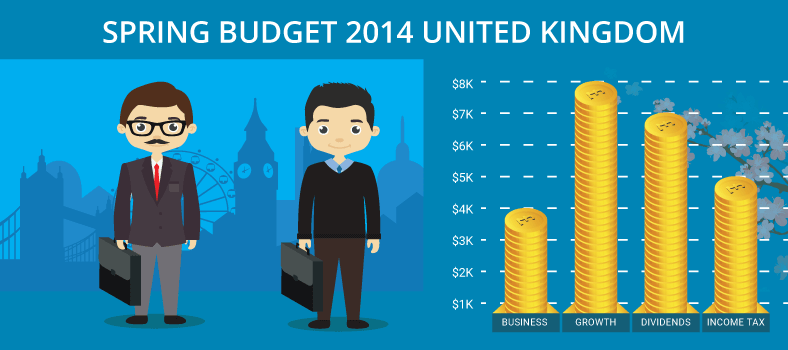 Savers are winners in this budget: the Chancellor said that his government planned to promote savings and investment across Britain, "The message from this budget is this: You've earned it, you've saved it. This government is on your side."
Pensions
"This is the most far-reaching reform to the taxation of pensions since the regime was introduced in 1921." (the Chancellor)
Around 13 million people in defined contribution pension schemes no longer need to buy an annuity, they can withdraw from their their pension pots as they wish to invest or spend.
Taxation on these withdrawals will be reduced; anything over the 25 per cent tax-free cash rate will be taxed at normal marginal rate, not 55 per cent.
The changes to limits take effect from March 27 2014.
From January 2015, the Chancellor announced the creation of a new Government pensioner "bond" paying interest of up to four per cent a year and run by NS&I.
ISAS and tax-free Savings
"Britain's people should keep more of what they earn, and more of what they save." (the Chancellor)
In the new combined ISAs, savers can save up to £15,000 a year tax free.
Junior ISA limit raised to £4,000.
Abolishment of the 10p rate of tax for savers
Cap on Premium Bonds to be lifted from £30,000 to £40,000 in June and £50,000 in 2015, and number of £1 million winners to be doubled.
Taxation
Personal tax allowance to be raised to £10,500 next year = £800 less in tax for the average taxpayer.
Threshold for 40p tax up from £41,450 to £41,865 from April 2014; and to £42,285 in 2015.
Tax allowance for married couples to rise.
Around 1.9m parentswill be eligible for a new system of child-care tax breaks to replace the current voucher system. This equates to a benefit worth £2,000 for each child and exceeds the maximum saving of around £1,516 under the current childcare voucher scheme.
Sweetners for businesses
"Businesses keeping more of their money to create jobs in future." (the Chancellor)
Business tax rate cut to 21 per cent in two weeks' time.
Every business to get £2,000 cashback on jobs in what's called the Employment Allowance.
Investment allowance will be doubled to £500,000; business in Britain will not pay any tax up front when they invest.
Support for small businesses to have over 100,000 more apprentices.
Energy /"green" tax and fuel duty
Changes to the way environmental charges are placed on energy bills could save consumers £15 a year over and above the £50 annual saving from the earlier deal with energy companies.
Fuel duty rise planned for September halted.
Bigger discount for green vehicles.
£7bn package to cut manufacturers' energy bills.
Stamp Duty/Compliance
"Many of these are empty properties held in corporate envelopes to avoid stamp duty." (the Chancellor)
More foreign millionaires buying properties in the UK will be caught in the stamp duty net. Government is clamping down on the practice of making purchases through companies.
The Chancellor had already imposed the duty on all properties bought through a "corporate envelope" above £2m. From midnight on 19/3/2014 it will fall to just £500,000.
That will mean that practically every property in London bought for investment purposes by the international rich through companies will fall into the 15 per cent tax bracket.
Compliance
Mr Osborne said he was increasing HMRC's budget to stop non-compliance. "We will give HMRC modern powers to collect debts from bank accounts of people who can afford to pay but have repeatedly refused to, like most other Western countries."
People who sign up to tax avoidance schemes will be required to pay their taxes upfront while HMRC/the courts decide whether they are legal. If approved after that process, the tax will be repaid with interest. That move alone should bring forward £4bn of tax revenues.
To sum up, overall, I feel the Chancellor's delivered a good budget for growth in the economy, but HMRC's approach towards accelerated payments reminds me of Hitler's government in Germany in the 1930s. This approach by the UK government is going to put many tax payers under a huge burden; increasing the powers of HMRC worries me a lot and should worry us all.