Pay and work rights helpline and complaints
If at any time an employee has a complaint about the work or workplace or about someone they work they can always take help of legislations framed by the government to protect them. But then not all workers can be treated as employees. Those being:
Self Employed
Agency workers
Homeworkers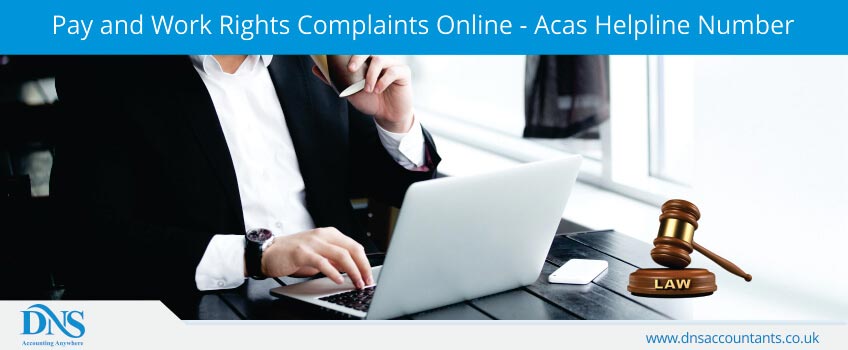 Classification of a Grievance
If any employee has a concern, problem or complaint with regards to pay or work, the employee is always at freedom to take up the matter with the employer. This is called raising a grievance and an employee can raise a grievance about things like:
Tasks or work the employee is being asked to do as part of the job.
Issues with the terms and conditions of the employment contract, for example the pay.
Treatment at work, say for instance the employee is not being given a promotion even though he deserves it.
Discrimination at work, say like the employee feels he is being bullied because of his age, race or sexuality.
The best case scenario could be to possibly sort out the complaint by simply talking to the employer in an informal manner. But then it might not be always possible for an employee to sort out the complaint in such a way and he might even want to make a formal grievance. This can be made by either lodging a complaint online with Acas. Standing for Advisory, Conciliation and Arbitration Service (Acas) is considered as a crown non-departmental public body of the United Kingdom government.
Its primary objective is to not only improve the workplace environment but also the working life of professionals via promotion and facilitation of strong industrial relations practice. As an independent and impartial organisation that does not side with a particular party, the body helps parties reach an agreement through arbitration or mediation. In short, the Acas is best known for adopting a range of collective conciliation measures.
Role of Acas
Role of Acas is to give employers and employees free unbiased expert advice through its Helpline and Helpline Online services. Last year alone, the body took one million calls and queries through the Helpline and Helpline Online. The result being around 86% of callers took aclear action based on advice given by Acas.
Mediation
But before roping in Acas it is better the employee and the employer might want to give mediation a chance. Completely voluntary and confidential, Mediation involves an independent and an unbiased person helping the employee and the employer reach a solution that is acceptable to both of them. At times the mediator might come from within the organisation or the employer might want to consider bringing in an external mediator into play. But external mediation involves a fee that needs to be paid by the employer.
Seeking Help Online
For those who don't want mediation, seeking help online might be the best way of going around and doing things. Be it the employee or the employer, anyone can get in touch with the Acas helpline for free and seek unbiased consultation. The helpline provides clear and confidential guidance about any dispute or query any party might have about relationship issues within work environment. The Online help is a repository of FAQs and answers for both employees and employers. As an automated system it is designed to give a straight response to a query.
But in case you don't find an answer to your query on Acas website you canalways get in touch with an Acas Helpline Adviser for resolution of a dispute or a problem in your workplace. But before calling the Acas helpline take some time to go through the employment law and relations guidance related to your call. It would also be worth making a note of guidance pages visited as they might come in handy to you and your adviser if you need to refer to any information during the conversation. However, before making the call please make sure you have with you:
A paper and a pen
The employment contract
Notes about information you intend to discuss
Pay and Work Rights Complaint Acas - Helpline Number: 0300 123 1100
For those having impairment that makes it difficult to discuss things on the phone can tell Acas what needs to be done and the advisers will respond accordingly. The Acas helpline number is 0300 123 1100 and is available Monday to Friday 8am-6pm.
Making an employment tribunal claim
For those who have tried everything and asolution is not on the cards then making an Employment tribunal claim is all that is left. They have been specifically established to sort out disagreements between employers and employees.But then it is recommended that employees and employers should always try and sort out their problem without going to an employment tribunal, if at all possible.
Related Links: Self Employed Contractor Wins Case Against Employer Pimlico Plumbers