What is NHS Self – Certification?
Self-Certification is a form provided by an employer company to its employee to certify or prove oneself of being ill or injured and requiring a specific time to recover to get back to work; if the period lasts more than three days to a maximum of seven days. However, usually a well being-note submitted by the employees is sufficient enough for most of the companies, still has been incorporated in the guidelines by National Health Service (NHS), a publically sponsored nationwide healthcare organization in the United Kingdom. Alongside to the NHS, private health support may also be taken which is too paid by private insurance. Though most of the companies have their own self-certification forms, yet HM Revenue & Customs have also supported employees with a template and can be downloaded from UK Government website for Statutory Sick Pay (SSP): Employee's Statement of Sickness (SC2) purpose, which is essential to fill as medical evidence, if an employee remains lacking for more than seven days.
Download Self Certification Form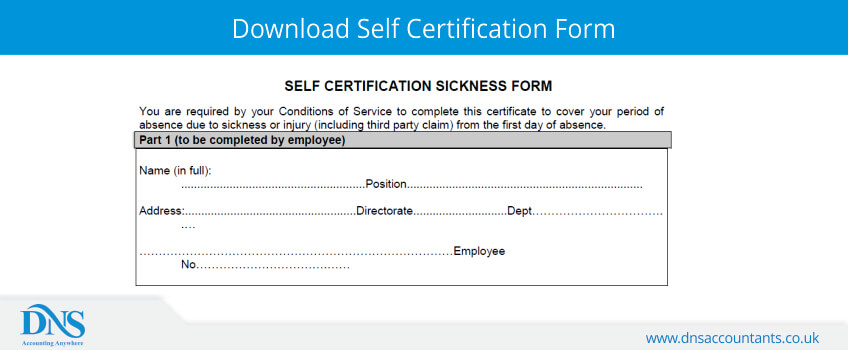 Furthermore, some basic details are too required to complete the self-certification form, regarding:
Reason of illness or injury,
Basic information about the illness or injury,
Duration, in which the illness was endured or medication been taken in.
How to Process Self-Certification Form?
Self-Certification Form may be requested from concerned managers, GP Surgeries or Community Pharmacies. Before to proceed with the self-certification form, one must exclude weekends or day-offs while calculating for number of days of nonappearance. A "Fit Note" issued by a certified doctor is also asked along with this form for a verification purpose in case of 7 days or longer sick absence. Though the form comprised of basic details, still needs to mark the options with accuracy. Generally the form comprised of two or three sections to be filled with.
Basic details of the employee including with the absence tenure and reason is to be filled by the employee oneself. Here the relevant supporting documents are required to be enclosed with.
Another section comprising the indicators details is filled by the concerned manager. Here the indicators with number of incidents occurred in a certain period is set by the company department. This section helps the manager to identify the frequency of absence and also aids with the sickness absence management procedure. Setting such indicators decides the appropriate action to be taken against the submitted form.
Completed self - certification form should be signed by the employee and then submitted to the authorized manager at the very first day of rejoining the work. The original copy is then forwarded to the concerned department which is uploaded to the employees HR-ER record and a copy of the same is retained with employees' database.