The 2017 Finance Bill set out the new rules for carried-forward losses for corporation tax purposes and brought in some key changes. Under the old rules, corporation tax losses carried forward could only be used by the company that incurred the loss, and some losses carried forward could only be set against profits from certain types of income.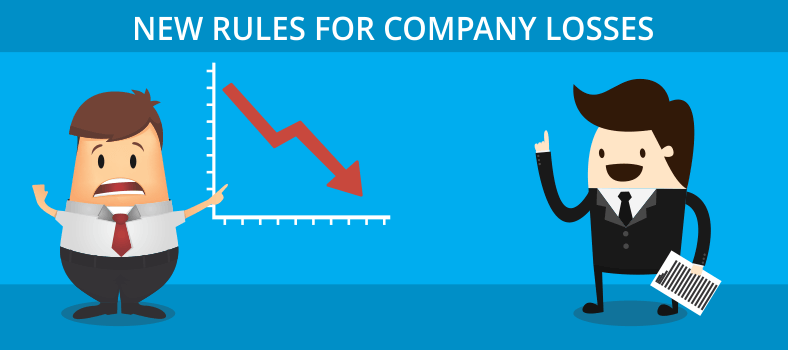 The changes to company losses rules give greater flexibility so that businesses can use carried-forward losses against profits from other income streams or other companies within the same group of companies.
These are the main points of the new rules
Tax losses after 1 April 2017 can be carried forward and be offset against most types of taxable profits irrespective of which activity the losses relate to.
Tax losses can be offset and the brought-forward losses can be set against taxable profits of other companies in the same group of companies (and consortia).
From 1 April 2017 a £5 million annual loss allowance applies to each group of companies or consortia. According to HMRC the annual allowance of unrestricted profit will ensure most companies are unaffected by the new rules.
Once this allowance is exceeded by a company or by a group of companies, the amount of taxable profit that can be relieved by carried-forward losses will be capped at 50%.
And this is how the new rules may have an impact:
Where a trade becomes small or negligible, trade losses can be carried forward to offset against profits, but only of the same trade.
Companies can surrender carried-forward losses to other companies in the same group of companies, but only if the company surrendering has assets that could produce income.
Companies that cease trading can offset the remaining carried-forward trade losses against profits arising in the last thirty-six months without restriction, but the carried-forward losses cannot be offset against profits of accounting periods starting before 1 April 2017.
Losses arising as of 1 April 2017 can be carried forward and set against the total taxable profits of a company and its group members. This is known as "loss relaxation".
The loss restriction and loss relaxation will apply to trading losses, non-trading deficits on loan relationships, management expenses, UK property losses, and non-trading losses on intangible fixed assets.
Flexibility in how corporation tax losses can be used changes the tax system and should allow more companies to offset losses usefully. At the same time, for larger groups of companies, their ability to offset losses has been curtailed, which might represent a tax cost for these companies.
Although the original consultation documents suggested that terminal loss relief may expire when the company goes into liquidation, existing terminal loss relief rules are not changing at least for now and so will work in parallel with the new rules (dependent upon circumstances).
Please contact your account manager to discuss further any matter related to this. DNS Accountants is always on hand to provide the best solution using the latest legislation.