Application Notice and when is it Used?
An Application Notice is a document used by applicants stating their intention to seek court order. When a person or a party wants the court to make an order then an Application Notice is required. Generally, whosoever seeks court order has to apply by completing the N244 form, available from court or can be downloaded from the Court Service website.
Make Application by Completing form N244
Preliminary Process
On the top right hand corner of the N244 form you should mentioned the name of the appropriate court. The rule generally followed is one has to make an application in the court where the claim is proceeding. This court may be the different one from the one in which the proceedings began.
The applicant should also mention the claim number at the top right hand side of the claim form. Can also mention any warrant number. The warrant number is available only if enforcement action has been initiated.
Check for the N244 form as it may be different based on the court you are applying to.
N244 Application and Emergency Hearings
The N244 form is used by country courts for numerous different applications. It is an official Court Application Form used to apply for an Emergency Court Hearing.
It helps you in getting your case in front of a Judge so that the court can decide on your emergency hearing likes whether or not to postpone your Eviction Notice that is secured against your by your Lender.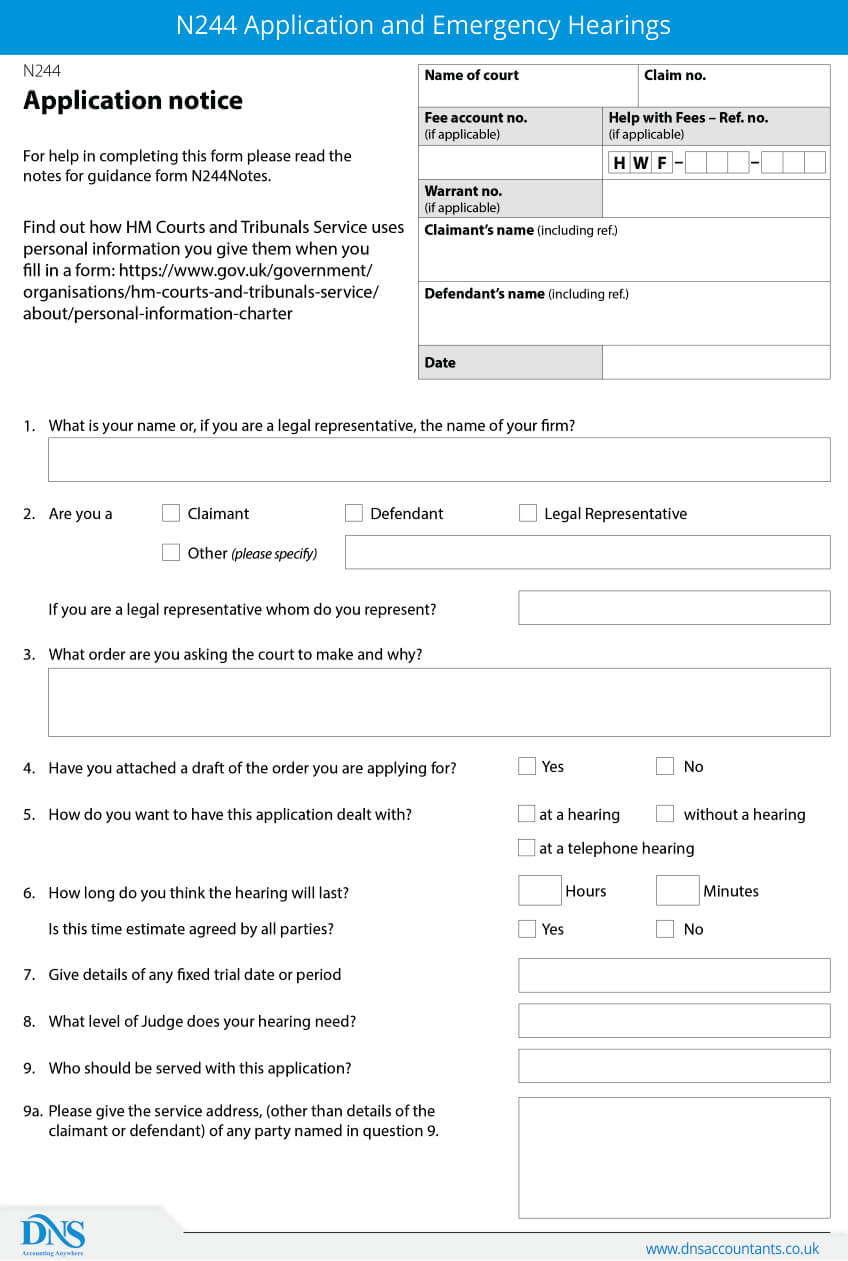 N244 Application for is the most ideal way to achieve emergency court hearing that can interfere in many orders and give you relief from hassles in no time. It keeps your request in front of the judge in the court for emergency hearing.
This 'application notice' is used by the applicants to ask the court to leave behind or differ the date of the judgment, or even suspend an enforcement procedure.
If you have doubts about the process then you can hire a professional who can help you get your problems resolved easily and successfully. Professionals can be of great help due to their long term involvement in the subject.
They have good experience and can guide you well through the process to make it easier for you. Since they know the procedures well they can even help you fill the gaps so that there is no difficulty in the completion of the process. With professional guidance by your side you can be very sure of winning your cases without much fuss.
How to Download Form n244?
You can download form n244 online directly from hmrc website.