The recent budget has confirmed what was being anticipated since long. It is now assured that significant VAT changes for the building and construction services will be introduced from 1 October 2019. The Domestic Reverse Charge ('DRC') has been designed with the express purpose of eliminating missing trader VAT fraud in construction industry labour supply chains.
The domestic reverse charge works by depicting that the customer has accounted for the VAT by showing that it has made the supply. This absolves him of the responsibility of paying VTA by claiming it as Input tax, which means the HMRC receives no tax.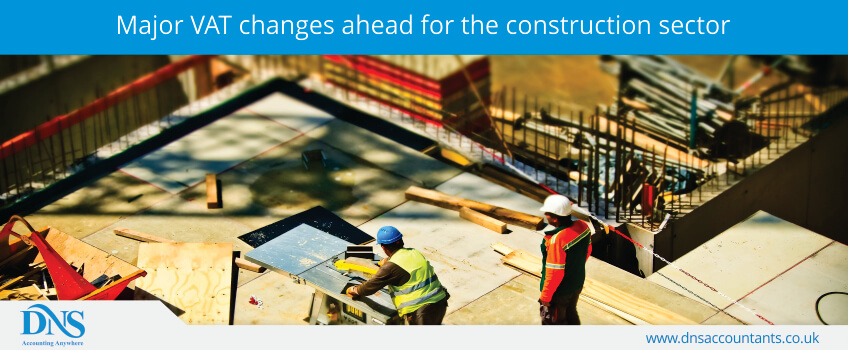 What Necessitated the Measure?
VAT fraud in construction industry labour supply chains offers high level of risk for the Exchequer. It came to the notice of the Government that organized criminal gangs criminal gangs either illegally take over or form their own shell companies in order to evade VAT whilst operating alongside actual construction services, in a practice commonly referred to as 'missing trader' fraud.
The government announced a consultation at Spring Budget 2017 to address this and published a summary of responses in December 2017. At Autumn Budget 2017, government announced that it would be taking forward the measure. A technical consultation on the draft legislation and its impacts took place in June and July 2018.
The VAT changes for the building and construction industry were first announced in the Autumn Budget 2017. It was necessitated by the nefarious activities of crime groups who exaggerated supply chains within the construction industry sector in order to shirk from their duty of paying VAT. It is believed that the Domestic Reverse Charge ('DRC') eliminates the possibility of dodging the rightful VAT owed to the HMRC.
End users will not have to bear any brunt of the new changes as normal VAT charges will be applicable for them. End users are used to refer to those customers who use the building or construction services for their personal use rather than sell it to a third party for business purposes. Apart from end user there are certain other services that have been kept outside the purview of the Domestic Reverse Charge.
They are mentioned as following:
Construction services supplies that are zero rated
Supplies that are forwarded to a third party by the recipient and
In case where the supplier and recipient are either landlord or tenant or for that matter tenant or landlord.
Also, HMRC has mentioned that within the first six months of the introduction of the Domestic Reverse Charge, the offenders will not be dealt severely in order to give them enough opportunity to mend their ways. Contractors who are working for main contractors have to be specific about when they should not charge VAT.
The HMRC in consultation with the industry has published its guidance regarding the implementation and operation of the Domestic Reverse Charge.
Operative Date
The statutory instrument was published in November of 2018 and the DRC is going to go into effect from 1st October, 2019.
What Does it All Signify?
Not getting it right could create an actual VAT cost. In case VAT is charged incorrectly by a sub-contractor, HMRC may rule that the contractor cannot recover the cost and as a consequence the business may have to suffer the loss. Moreover, under such circumstances the HMRC may levy penalty and interest charges.
Businesses that are VAT-registered indulging in supply of standard or reduced-rated building services of in the supply chain will not be subjected to normal invoice; the exception will be payments that are routed through the (CIS) Construction Industry Scheme
DRC will be applicable in case of supplies between sub-contractors and contractors as defined by the Construction Industry Scheme. As mentioned in the above paragraphs, there is an exception made for the supplies made to the end user. End users are used to refer to those customers who use the building or construction services for their personal use rather than sell it to a third party involved in building/construction services.
Economic Impact
Introduction of Domestic Reverse Charge it is expected is not likely to have any significant macroeconomic impact
Impact on individuals, households and families
Individuals will not be affected at all as the new legislation is only for businesses. This measure is unlikely to have any bearing on family formation, stability or breakdown though it is expected that some small family owned businesses may have to bear any additional costs understanding the new system and making suitable changes to calculate the reverse charge owned by the business.
What Type of Work Will be Affected?
The Domestic Reverse Charge applies to work like construction, demolition, excavation, site clearance, civil engineering works, installation of heat, light, water and power systems, alteration, painting, decoration, erection of scaffolding, foundation works, etc. What work will fall under the ambit of DRC has been taken directly from the Construction Industry Scheme (CIS) legislation.
What Works Are Excluded?
Some works are exempted from the DRC and there will be no change in invoicing for such works. For now, the entire list has not been clearly defined though it is known that certain works that are exempted are professional services of architects or surveyors, engineering consultants, building consultants, etc.
What Steps You Need to Take in View of the New Rule?
Here we have provided a brief overview of the changes proposed in the VAT for construction industry. However, it is in no way complete and businesses involved in construction and building industry are advised to do their own work to fully comprehend the implications of DRC and the way it is going to affect their business. It is important as DRC is likely to have a bearing on a business's invoicing, accounting and VAT reporting. Additionally, businesses will also have to take into DRC impact on billing arrangements categorization of how mixed supplies (i.e. how it needs to be treated).
As mentioned above, the new rules will come into effect from 1 October 2019, but experts suggest it would be judicious for businesses to conduct a thorough review without delay. There is a reason behind as a thorough review now will give businesses enough time to implement changes to system processes and VAT reporting.