Introduced in 2008 by the Labour Chancellor Alistair Darling, Entrepreneur's Relief (ER) is a generous tax break for entrepreneurs retiring or selling their business. It is a valuable relief, because if an individual qualifies for the relief, Capital Gains Tax (CGT) payable on cumulative gains up to £1 million (£10 million before 11th March 2020) could be reduced to 10% (instead of 20%).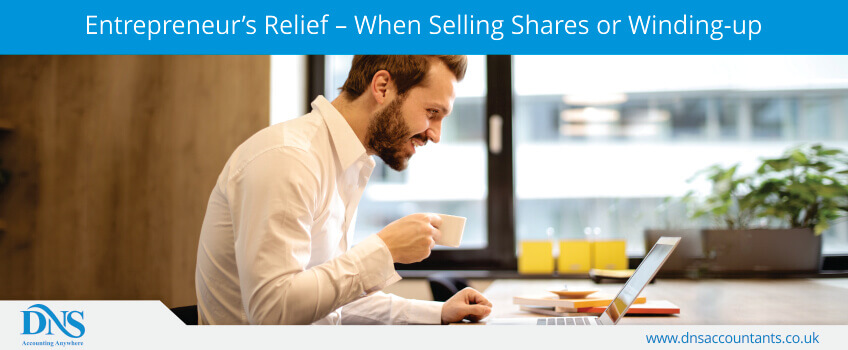 This article covers the following:
Qualifying conditions for Entrepreneur's relief when selling shares or winding up company
Time limit for claiming the relief
Important learning from Mr and Mrs Potter vs HMRC
Qualifying conditions for shareholders
Qualifying conditions are the conditions which you need to meet in order to be eligible for Entrepreneur's relief. If you are a shareholder, the following conditions should be met:
Personal company – The company should be your personal company, where you own at least 5% of the ordinary shares of the company, 5% of the voting rights and be entitled to 5% of the net asset on winding up.
Trading Company: The company should be a trading company or preparing to trade, meaning investment activities or non-trading activities should not be substantial.
Employee/Officer: You should be an employee or officer (Director/Company Secretary) of the company
The above conditions should have been met for 24 months leading up to the date of disposal.
In case of winding up, the distribution of assets and reserves should take place within 3 years of cease trading or else you will fail to qualify for the ER.
What HMRC means by trading company?
As per section 165-A3, a trading company is a company involved in trading activities and does not include substantial extent activities other than trading activities.
Many companies and groups perform such activities which are not considered as trading activities, but such companies & groups are still counted as trading in case their activities do not include "Substantial extent" activities other than trading activities.
Now, the question arises that how to measure company's non-trading activities in order to assess whether they are substantial or not? There is no specific formula to measure the substantiality of non-trading activities but usually the test used is 20%, which is measured against the indicators given below
Income from Non-trading activities – A company will not be considered as a trading company if the company receipts from investment activities are 20% or less of the total income. For example – If a company is involved in trading activities also renting out investment properties, if the total income from renting does not exceed 20% of the total revenue, then usually this condition will not be breached.
Company's asset base – Company's asset base is also one of the measures or indicators taken into account in order to review the company's status. A company will not be considered as a trading company in case if company's values of non-trading assets are more than 20% of the total assets. A trading activity is an activity in which company not only retains but also uses its previous assets for trading purpose. If company retains the previously used asset but does not use it longer for trading purpose, it may not be considered as a trading activity. Sometimes, in considering company's assets, it may be considered appropriate to take intangible assets into account which are not shown on balance sheet. For ex – Goodwill. Current market value and amounts may be considered as appropriate measures of the relative extents of company's trading & other activities. In between the two, which of the measure is appropriate depends upon the facts related to each case.
Time or expenses spent by the officers and employees of the company in undertaking its activities - Time or expenses spent by officers and employees of the company will also be considered as one of the measures in order to evaluate the company's status. If the maximum proportions of the company's expenses are incurred on non-trading activities, the company will not be considered as a trading company. A company will also be considered as a non-trading company, when a company devotes more than 20% of its time, cost or staff resources on non-trading activities.



HMRC would always look at the history of the company as seasonal variations may affect the substantial income requirements in a particular year. Moreover, balance of indicators is also considered useful in identifying if there is any substantial overall non trading activity going on or not. Sometimes one indicator points in one direction and other indicator points in the opposite direction. In such cases, you must weigh up the relevance of each case to identify what is more relevant in this context.
How to claim the relief?
You can easily claim entrepreneur's relief on your self-assessment tax return in the section 'capital gains summary'. In case you missed specifying entrepreneur's relief in your tax return, you may claim it by writing a letter to HMRC or filling section of the claim for entrepreneur's relief form. It is recommended you seek professional advice before claiming the relief to avoid nasty surprises from HMRC.
Time Limit for Claiming the relief
There is a strict time limit for claiming the relief, or you could lose out on the generous tax benefit the scheme offers. The relief should be claimed within 1 year of 31st January, following the tax year in which the shares are disposed, or the assets are distributed. For example:
| | |
| --- | --- |
| Tax year | Time Limit |
| 2018/19 | 31 January 2021 |
| 2019/20 | 31 January 2022 |
| 2020/21 | 31 January 2023 |
Case Law – Mr and Mrs Potter vs HMRC
If you take the recent case of Jacqueline Potter and Neil Potter against HMRC, HMRC denied the entrepreneur's relief which both Mr. & Mrs. Porter wanted to claim. In November 2015, Mr. & Mrs. porter (Directors & shareholders of Gatebright Ltd.) liquidated their company and claimed Entrepreneur's relief which was denied by HMRC on the following grounds –
As per HMRC, the company ceased to trade when the last invoice was issued in 2009 and was only eligible to claim ER within the gap of three years period (before November 2012) as specified in Section B of the section 169I of TCGA 1992.
HMRC also said that the activities carried out by the company "Gatebright Ltd." had become investment activities due to the investment of reserves in the bonds.
FTT Decision
Final tax tribunal (FTT) rejected HMRC's arguments and said that the activities carried out by "Gatebright Ltd." after November 2009 counts as trading activities, because although the company did not generate any income, the company was actively searching for new business and preparing for trade continuation after improvement in the market conditions.
FTT also told HMRC that temporary discontinuation in the trading activity due to poor health of Mr. Potter doesn't mean that the company has ceased to trade.
Investment done by the company in corporate bonds was not considered as a non-trading activity as no money, time or effort were spent on these activities.
Decision's impact
The impact of this decision made by FTT shows positive sign for the entrepreneurs as preparation for trade may qualify as a trading activity and investments where the business is not spending significant time or money, may not jeopardize the company's trading status.
Entrepreneurs' Relief is also available to sole traders/partners disposing their business or selling business assets. The rules are different and expert advice should be sought. For any queries related to Entrepreneur's relief & the qualifying conditions, Contact DNS at 03330602437 or you can also e-mail us at info@dnsassociates.co.uk
Also Read : IR35 Tax Efficient Termination