The Chancellor's Budget Statement Rests Mainly on Economic Security
This is the chancellor's seventh budget announcement but his first as Chancellor of a conservative majority government. While he celebrated the fact that the UK is growing faster than any other developed economy with the creation of 2 million new jobs, he stressed that the UK's deficit problems are not solved. Looking to Greece, the chancellor pointed to how important it is for a country to be in control of its borrowing, which as we watch the fate of Greece, virtually bankrupt and with zero liquidity in its banks, surely no one would dare argue against this.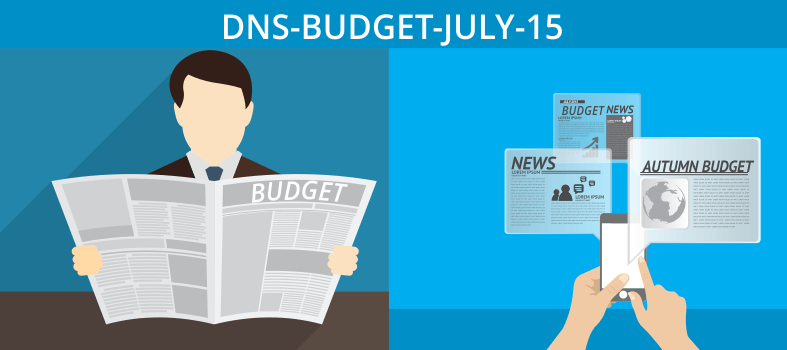 Below is a review summary of some of the highlights, such as a new Living Wage and tax cuts for companies and individuals.
Corporation tax
Mr Osborne offers a fresh carrot to attract investment in the UK:
Corporation tax
Cut to 19% in 2017
Cut to 18% in 2020
Comment: At a time when UK Corporation Tax is lower than any other members of the G7, this sweetener to businesses may offer the balance between putting pressure on companies to raise wages for the lowest earners (see below) so that the cuts in the welfare budget, particularly in-work benefits such as Tax Credits, don't hit the low-paid so hard.
Pay, from the National Minimum Wage to the new Living Wage
Government is to introduce a new National Living Wage (NLW) for all workers over 25, which is thought will cost businesses 1% of their corporate profits:
The New Living Wage
£7.20 p.h. from April 2016
To reach £9 p.h. by 2020
Comment: this is a bold move, to set against the cuts in the welfare budget (see Welfare summary below).
Personal tax threshold, higher rate tax threshold and employers' NI contributions
Personal tax allowance to rise to £11,000 from April 2016;
The 40 pence tax threshold to rise from £42,385 to £43,000 next April 2016;
NI employment allowance for small firms to be increased by 50% to £3,000 from 2016.
Comment: this is good for all taxpayers, including those on the higher income bracket, and good for small owner-managed businesses. It's widely hoped that the slight rise in the higher rate income tax threshold is a first step to lowering the rate in the future. The NI allowance increase is another sweetener, butnot a good one for one-man band companies because they will lose this allowance.
Annual Investment allowance (AIA)
From January 2016, the AIA is to be set at £200,000 rather than falling to £25,000 at the end of the year.
Comment: As an amount of tax businesses can claim back on investment in equipment or other development capital, the AIA has gone up and down like a yo-yo since its introduction in April 2008. Its current rate of £500,000 was set to expire on January 2016; from that date, now, it will be drastically cut to £200,000 but the allowance will be preserved in a permanent state. While the preservation of the allowance is welcomed, many businesses regret that the current rate was not maintained or even increased.
Tax planning / tax avoidance
Warning: £7.2bn to be raised from clampdown on tax avoidance and tax evasion with HMRC tax investigation and non-compliancy budget increased by £750m.
Non-Domiciles
From April 2017, permanent non-dom status will be abolished, so that anyone who has lived in the UK for 15 of the past 20 years will pay the same level of tax as other UK citizens.
Comment: This reform does not eliminate the tax status, but prevents individuals from claiming non-dom status in their tax affairs. This has much to do with government's long-term goal to raise more tax revenue by eliminating aggressive tax avoidance and tax evasion.
Dividends
Osborne announced a major overhaul of how dividends are taxed from April 2016. Dividend tax credits will now be replaced by a tax-free allowance of £5,000 of dividend income for all taxpayers.The rates of dividend tax will be set at:
5% for basic rate taxpayers;
5% for higher rate taxpayers;
1% for additional rate taxpayers with an increase of 7.5% when this income exceeds £5,000;
Dividends held in ISAs and pensions will continue to be tax free.
Comment: See the welfare and pensions summary below as well: is this government rewarding saving and investment and trying to raise tax revenue and cut down on tax avoidance? The dividends overhaul looks like a major shake-up to stop tax avoidance through use of personal service companies, but this is also a major blow to many small owner-managed and one-man-band consulting companies. Taxing dividends at the flat rate, which is around 7.5% more than the current band, would surely make the choice between sole trader and a limited company a more difficult one to justify as this move reduces the benefit of incorporation. DNS will keep our small business posted shortly with a table showing how much they will loose on withdrawals by using a dividend tax calculator. DNS will be working closely with clients on how to mitigate taxes.
Other important tax issues
Inheritance tax threshold will be increased to £1m from 2017;
Mortgage interest relief for buy-to-let homebuyers to be restricted to basic rate of income tax;
Rent-a-room relief scheme to rise to £7,500.
Comment: Raising the inheritance tax threshold is an unpopular measure surprisingly, but with so many London properties now easily worth far more than that, it seems sensible. While the mortgage-interest relief restriction is sorry news for investors, many property experts believe it to be an appropriate measure to protect the housing market. In light of the government's announcements on the student maintenance grant, the rent-a-room relief scheme (rising to £7,500) is a very good way to part-fund children at university.
Welfare
Working-age benefits to be frozen for four years, including tax credits and local housing allowance;
Higher-income households in social housing will be required to pay rents at the market rate;
Tax credits and Universal Credit to be restricted to two children, affecting those born after April 2017;
Income threshold for tax credits to be reduced from £6,420 to £3,850.
Comment: The reforms to welfare are radical and only the most relevant are listed here. The new tax credits thresholds will affect many working families, but the number of children that a family can claim tax credits for is a radical step in the welfare provision for families that tend to have large families without any financial planning.
Pensions
State pension triple lock to be protected and Green Paper to be published on proposals for "a radical change" to pension saving system;
Annual tax relief on pension contributions to be limited to £10,000 a year;
The amount people can contribute to their pension tax-free to be reduced for individuals with incomes over £150,000.
Comment: Osborne has set the scene to make some radical changes to the pensions and taxation systems. We know this government wants to encourage people to save for their retirement. The changes made to the dividends' tax-free allowance and, no doubt, other changes announced today are paving the way, I would dare suggest, for more radical pensions and investments statements in the Autumn Statement. Let's wait and see.
Fuel and Road Tax
No rise in fuel duty with rates continuing to be frozen until the end of the year;
Major reform to vehicle excise duties to pay for a new road-building and maintenance fund in England;
New VED bands for new cars to be introduced from 2017, pegged to emissions - 95% of car owners will pay £140 a year
Comment: the nil-rise in fuel duty is good for the economy, but the new VED bands for new cars will be a blow for new car buyers and business car owners. We will return to this issue in more detail later in the year.
Students
Student maintenance grants to be replaced with loans from 2016?17, to be paid back once people earn more than £21,000 a year;
The maintenance loan will increase to £8,200;
Comment: The National Union of Students are of course livid, saying that this will prevent students from lower income families studying at university. Personally, I think students will still want to study, and in order for the UK to sustain the education economy this has to be done in order to maintain education budgets for mandatory education. A tax on higher education maybe, but I don't feel this will deter students studying at degree level.
Devolution
With greater powers of devolution given to Scotland, the chancellor has offered a similar freedom to other regions:
Control over fire services, planning and children's services to be handed to consortium of 10 councils in Greater Manchester;
Discussions on devolution of services to Sheffield, Liverpool, and West Yorkshire.
Comment: The Northern Powerhouse is an important Political teddy bear to nurse during this parliament. The Conservatives want to see the Northern powerhouse glow and take credit for it.
Defence
Government to spend 2% of GDP on defence every year, meeting Nato target;
Spending on defence to rise in real terms every year during the Parliament;
New £1.5bn Joint Security Fund to be created.
Comment: This will please the generals and admirals! However, in view of recent events and anniversaries it's about time the UK listened and raised its defence budget to meet the level of threat. Good security is good for business and investment. Expect a lot more battles over the next few months and years between the Conservatives and SNP over defence budget spending.
Conclusion
Seldom would we include devolution, defence, and even students in our budget summary, but free from the constraints of coalition government, the Chancellor delivered a budget in line with the Conservative manifesto. He clearly wants to attract investment in the UK; support business, and reward work. He has hit the "loungers", the long-term unemployed, while rewarding the workers. Unfunded giveaways were not there, but he did offer some token gestures for savers and pensioners, and made further steps to encourage employers and relieve the burden on small businesses.Disappointed by some of the measures the chancellor has taken, even so, looking back to Greece, whichever political viewpoint one takes, I know where I'd rather put my hard work and investment.