Assigning Guardianship in your Will
One in three people in the UK die without making a will and the professional advice website unbiased.co.uk shows that two-thirds of parents with children under 18 haven't written a will and assigned Guardianship. What would happen to your children in the event that one or both of his/her parents were not around to take care of them?
If you die without a will (intestate) you leave your family vulnerable:
Family and friends can experience acrimony and confusion;
Costly legal battles may ensue;
Your beneficiaries will have to pay inheritance tax (IHT);
You may end up giving everything you own to the Treasury;
Your children may be left without adequate financial provision and become wards of the State.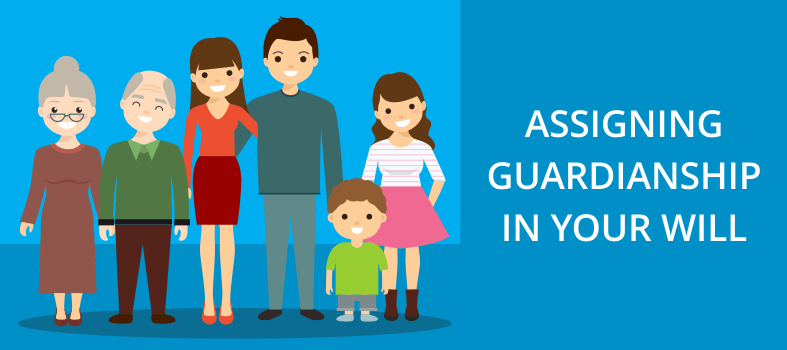 The last of these points is the most damaging on the human scale. If you die intestate leaving children under 18 without a parent or guardian, the state will make the decision about who will look after them. This is why you must name a Guardian in your will.
What is a Guardian?
Someone appointed by you and given parental responsibility. They will have the power to care for and make decisions about your children under 18;
Guardians often personally look after the children in the event of both parents' death.
How do you appoint a Guardian?
You must check with your proposed Guardian in advance that they are happy to be nominated and are clear about their responsibilities and your wishes for your children.
The Guardian is often – but need not necessarily be – the same person as the Executor: an Executor deals with the financial arrangements, whereas the Guardian makes decisions about the wellbeing of the children.
Who should you appoint?
If the Guardian is not the same as the Executor, s/he should be able to cooperate with the Executor.
You should choose someone as Guardian who can offer the best care for your children; a close relative with whom the children are familiar or a friend who has agreed to and understands the responsibility.
You should consider nominating a Guardian that lives close by; it will be best for your children if they can stay in a familiar neighbourhood with their friends and attend the same school.
What complications can occur?
Custody: if you were not married to the other parent when the child was born;
Custody: if you or the other parent have already been or become (after the will was made) divorced from each other;
Custody: if a court order already exists or is made in the future relating to where the child is to live or to parental responsibility for the child.
Can writing a will help avoid complications over custody?
Yes, if you write a will and update it regularly you can mitigate complications arising from the points on custody suggested above.
Also, if you write a will you ensure that there is adequate financial provision for your dependants and for the Guardian to care for them in your absence.
You can decide how your estate is split and how your children are cared for if they are under 18; there are stringent rules as to who inherits when you die without a will, and in some cases this means the Treasury ends up with the lot.
You can name your common-law husband or wife (partner) as beneficiary; some unmarried couples that have cohabited for years have been disinherited by children, siblings, or even an uncle and aunt.
You can avoid costly inheritance tax: if you die intestate the first £250,000 goes to your spouse, half the remaining balance goes into trust to be shared among your children, and the balance is liable to IHT, but if you are married and die with a will you have a Nil Rate Tax Band (NRTB) of £325,000. More importantly, if you are married or in a civil partnership, the NRTB can be transferred to your spouse or civil partner who can then make use of it on their death.
Do not be tempted to save money on legal fees by drawing up a do-it-yourself will downloaded from the internet or bought at the stationers. Your will must be accurate to the letter and reflect changes to your circumstances. It must also name all beneficiaries and the Guardian/Executor and your children just as they are named on their birth certificates; lastly if you bequeath something to someone, you must be specific about who it is for and exactly what it is you intend them to inherit.
Call DNS today to find out more about making a will.
Open on Saturdays, and in the evenings, for one-to-one meetings at your convenience … Join Us