A brand new website and an even better referrals programme
Stop! Please stop what you're doing for a moment and visit www.dnsassociates.co.uk.
DNS launches its redesigned website today with a cleaner, fresher look and easier navigation: we have simplified procedures, such as referrals; made important documents more accessible, resources and templates for example, and the upgrade of our online portal will be announced very soon.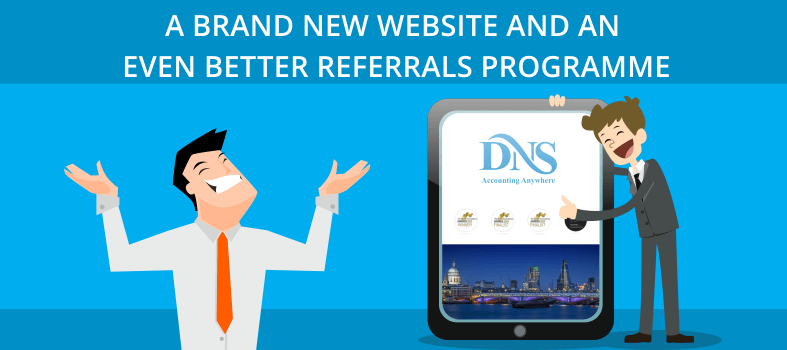 We have also introduced a new Try us Free service, which means that new introductions take zero risk before joining us. Our blog will be our way to communicate with you: a great tool for our customers and an opportunity for all our clients to comment and get involved.
NEW referrals programme: you win, your friends win, and there's an extra twist.
It means a lot to us that you have the confidence in our services to refer us to your friends, colleagues and family. Please visit the referrals page to see how the scheme is slightly different now: we offer a 50–50 incentive shared between you and your referral. You get £75 (by BACs transfer and no more cheques) when your referral has joined up and paid their first month's fees; your referral gets a £75 discount off their first month's fees too. So it's fairer to both you and your referral.
You may have thought that it couldn't get any better. Well it can, and here's how.
If you refer four clients in a single year you get one month FREE on your current package;
If you refer six clients in a single year: you get two months FREE on your current package;
If you refer ten or more clients in a single year: you get four months FREE on your current package.

*
*Please note that this offer is on top of the £75 you receive for each referral. Terms and conditions do apply. See our terms and conditions for full details.
Please log your referrals online to ensure a better service
To help us keep up to date with our busy referrals' traffic, please enter them online. We can then automatically update everything, and most importantly, the number of referrals you have sent us, thus minimising errors and omissions and ensuring you receive your dues.
Templates and resources
Resources and templates are still easily accessible via our website: so many useful forms; so much essential information to make things easier for you, and to provide you with the correct information on tap just when you need it.
What about the online portal?
Upgrade work on our online portal is underway and will soon be complete: the greatest benefits of the upgrade will be seen in all the additional features, such as a monthly management report, quarterly reports, and a full list of transactions at the press of a button. With the launch of the new upgraded portal, small business will be the biggest winners, so just watch this space: we'll announce it as soon as it's live.
Try us Free
The Try us free feature on our redesigned website offers users access to our portal and full support for a whole month FREE. We must all up our game to succeed in this difficult economic climate, and with HMRC on the warpath with an increased army of inspectors, the portal minimises the chances of misreporting, while maximising tax-planning opportunities by providing DNS with real-time information.
In the meantime, enjoy our new referrals programme and introduce as many friends as you can to our new Try us Free service. We will continue to improve our customer service and satisfaction ratings, and please feel free to keep in touch.
Have a lovely evening.
yours sincerely,
Sumit
PS: A potted budget announcement will be with you in the morning.